MLB.com Columnist
Bernie Pleskoff
Flame-throwing Holdzkom a great find for Bucs
Righty was drafted in 2006, but came to the Pirates from independent ball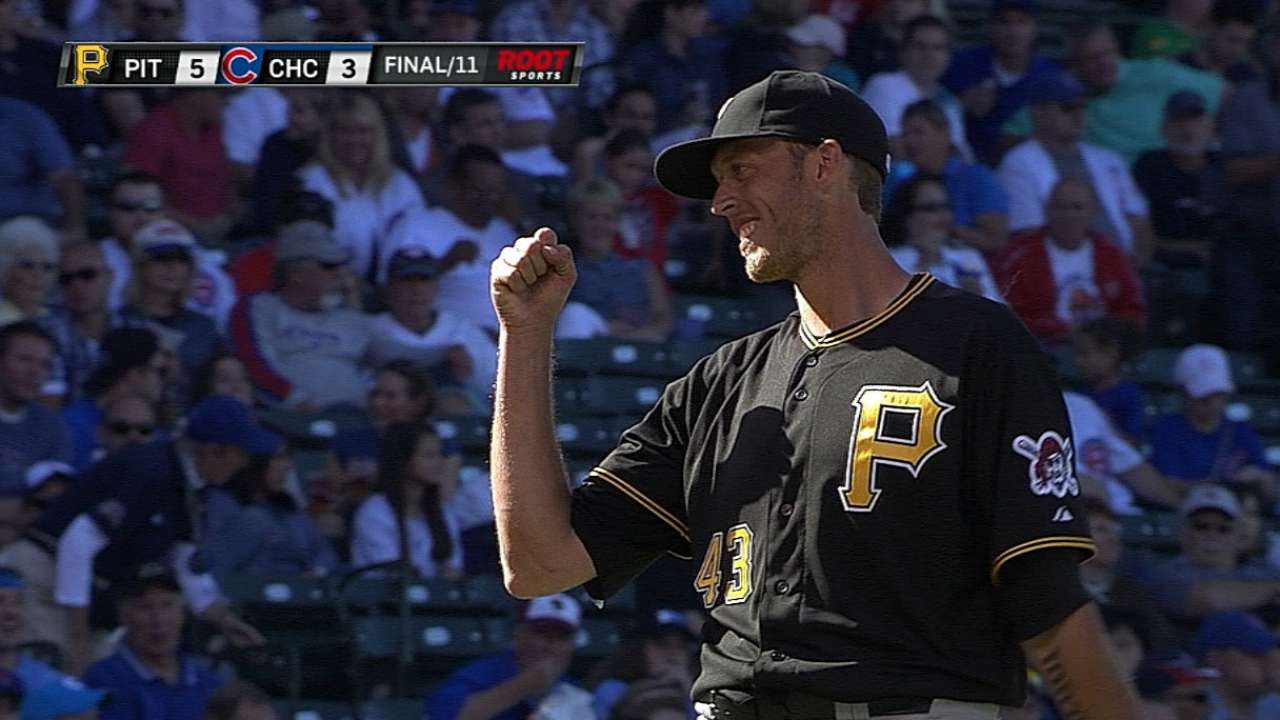 During a recent Friday afternoon contest, I was sitting next to colleague Tom Singer in the Wrigley Field press box, intently watching the Cubs play the Pirates. Singer mentioned the name John Holdzkom, who was warming up in the Bucs' bullpen. He didn't tell me anything about him, only that he was warming up down the foul line.
Then it happened. I got to see Holdzkom pitch. I think every baseball lover should watch Holdzkom pitch. What a treat.
For seasoned baseball fans, Holdzkom reminds me of Dick Radatz, a huge right-handed reliever who spent most of his big league days with the Boston Red Sox in the mid-1960s. He also played for Cleveland, Montreal, Detroit and the Cubs. Radatz was bigger than life at 6-foot-6, 230 pounds. To put it gently, Radatz didn't always know where the ball was going. In his Major League career, he walked almost four players per nine innings, while striking out close to 10 per nine. I think the best term for Radatz was "effectively wild," while falling behind in counts. Plenty of hitters feared facing the hard-throwing reliever.
Holdzkom is taller than Radatz by an inch. Instead of 230 pounds, Holdzkom is only 225. At 26 years old, after years of struggles with his command, control and to some extent his own inner demons, Holdzkom is getting an opportunity. And really, that's all any player wants: a chance. Holdzkom is getting an opportunity to continue pitching professionally. He's pitching on baseball's Major League stage, working late in games from the Pirates' bullpen. Having been dropped off several baseball rosters, Holdzkom is gaining steam as a late-inning reliever in the midst of his team's pennant chase.
Holdzkom can throw his sinking two-seam fastball at 94-96 mph with little to no effort. His four-seam fastball hits 97 with ease. Holdzkom also has a wicked slider. There is little doubt he could fashion a 100-mph fastball any time he wishes. But that's not going to happen very often. The lower velocity helps Holdzkom throw strikes. As does a revised grip on the baseball, as shown to him by a pitching coach named Demetrius Banks.
Banks altered Holdzkom's grip by changing his fingers from a spread position to being closer together. A simple enough fix, to be sure. Lack of command and control, serious issues that were once major hiccups for the righty, are now on the verge of being permanently resolved.
I saw Holdzkom throw strikes. I saw Holdzkom throw high-velocity fastballs with late, sinking life. He dispatched hitters with ease. In fact, in Holdzkom's first five Major League innings pitched over five late-game appearances, he yielded one hit and struck out nine. He walked one. Holdzkom has gone from having control nightmares to providing nightmares for those he must control. He's a force.
Holdzkom went to high school in Rancho Cucamonga, Calif., in the heart of the Class A Advanced California League. The New York Mets selected him in the fourth round of the 2006 First-Year Player Draft. However, command issues and Tommy John surgery in 2008 forced Holdzkom out of their plans. The Cincinnati Reds were the next organization to give Holdzkom an opportunity. Once again, his inability to throw strikes on a consistent basis cost him a role. In 2012, Holdzkom walked an incredible 13.5 men per nine innings with the Class A Advanced Bakersfield club.
Had Holdzkom not been discovered by Pirates scout Mal Fichman while he was playing independent league baseball, he may have gone on pitching in obscurity. But Fichman saw the velocity and the command/control of a renewed, revitalized flame-thrower with San Angelo earlier this season. After having pitched for Amarillo and Sioux City in 2013, Amarillo again in 2014 and finally for San Angelo, Holdzkom got to pitch in the Bucs' organization. Beginning in June this year, he made his way through Pittsburgh's Minor League system and made his Major League debut on Sept. 2.
Like Radatz, Holdzkom can be an intimidating force on the mound. Perhaps he has found a more permanent home with the Pirates.
Bernie Pleskoff has served as a professional scout for the Houston Astros and Seattle Mariners. Follow @BerniePleskoff on Twitter. This story was not subject to the approval of Major League Baseball or its clubs.