Reliance on homers hampering Pirates' efforts
Bucs outslugging opponents, but struggling with runners on during tough stretch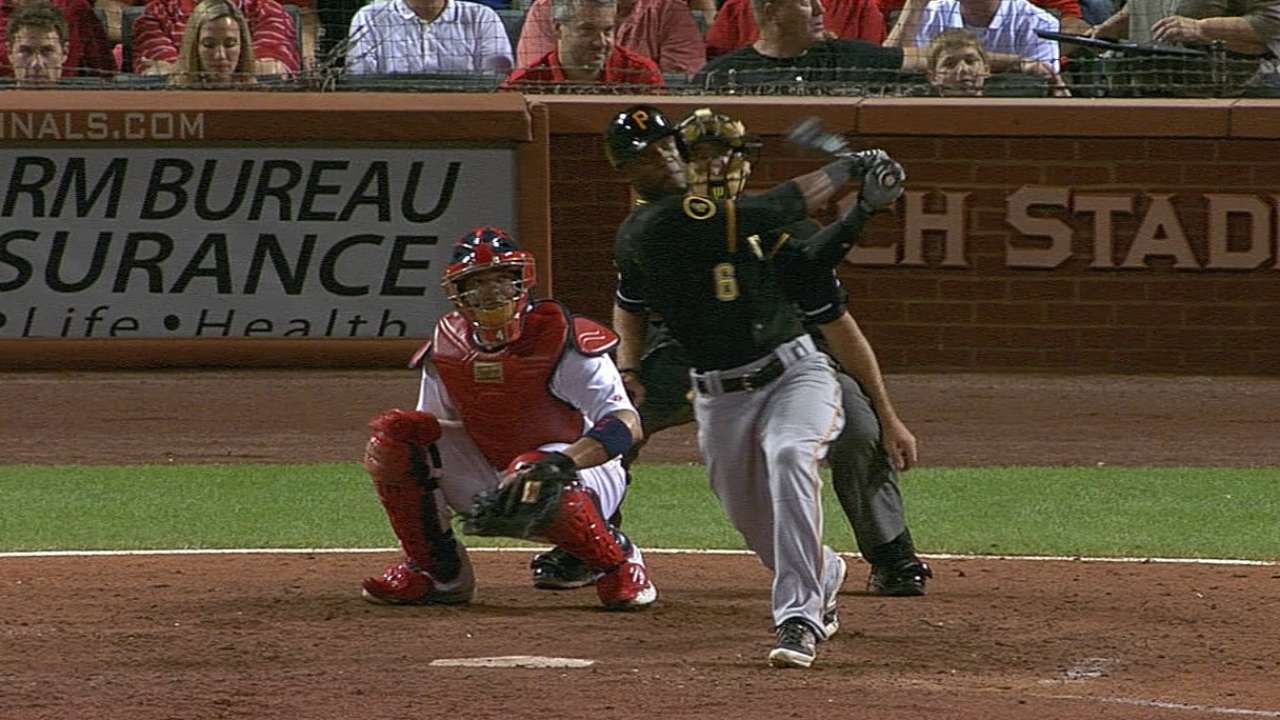 CHICAGO -- In the bottom of the eighth inning last Friday, Josh Harrison tripled to score Andrew Lambo, then himself scored on a single by Jose Tabata. In the first inning on Monday, Neil Walker doubled to drive in two teammates.
So? In the 10 games since Aug. 23, those are the Pirates' only three run-scoring hits not to leave the yard. Pittsburgh has scored 28 runs in those 10 games, 21 of them on home runs (two sacrifice flies and one fielder's-choice grounder drove in three others).
Dropping six of those 10 games, the Bucs squandered a stretch of staunch pitching to which they had looked forward to all season. Their hurlers gave up three runs or fewer in seven of the games -- three of them losses.
In the course of a four-game losing streak that they will try to halt in Friday's opener of a weekend series here against the Cubs, the Pirates have gone 1-for-22 with men in scoring position.
The Bucs outmuscled the Cardinals in six games in that aforementioned 10-game span, clouting nine homers to the Redbirds' two. St. Louis had the only edge that matters -- four wins to again take command of the National League Central.
At the worst possible time, Pittsburgh appears to have reverted to an unfavorable pattern, thus ignoring a call issued long ago in Spring Training by manager Clint Hurdle: Only teams that do the little things on offense get to play the big games in October.
"If you want to play in the playoffs and be a championship team -- one of the yardsticks is taking advantage of opportunities to drive in runs, to score runners in scoring position," Hurdle said Wednesday, when a 1-0 loss at Busch Stadium threw salt into his team's offensive wounds.
The Pirates are 45-35 when they homer, which makes them 26-33 when they do not. An even bigger problem:
"We're hot a home run-hitting team," said batting coach Jeff Branson, approaching it from the perspective of skill sets. "We need to be able to put some big hits together to produce runs other than waiting for the home runs."
Quoting a popular perception, Hurdle often points out that usually "home runs are pitched, not hit." That is, a pitcher's mistake ends up over the wall. If a pitcher is on and not dealing those mistakes, the homers stop. That's why power, unlike fundamentals, is streaky.
Ironically, the Bucs' potential to exploit those mistakes is historically spread throughout the lineup. They are four home runs shy of possibly having nine players with double-figure homers for the first time in club annals: Ike Davis and Jordy Mercer each have nine, and Russell Martin has eight.
So they can do a lot of long-ball damage -- as a byproduct of a sound approach, not as the objective.
"Scoring runs is scoring runs, no matter how you do it," Branson said. "But I would much rather not have us rely on home runs. You don't go up there trying to hit home runs anyway. On the home runs we are getting, we're getting some pitches we can do something with.
"It's a matter of staying consistent with the approach, getting runners on base and taking advantage when we do. We definitely, absolutely, need to do a better job producing runs in other ways."
The lack of production at times has been the product of tough luck. In the seventh inning of a scoreless game Wednesday, Starling Marte barreled up a fastball from Shelby Miller with men on first and third and one out -- but as his bat splintered into several pieces, the liner made it only as far as Kolten Wong's glove at second base.
"Bat doesn't break, that ball's in the gap, to the wall," Marte said with a resigned smile.
Limitations by injury have also played a role. Since sucking up an avulsion rib fracture to return after the minimum 15 days on the disabled list, Andrew McCutchen has jumped four fat pitches for solo home runs -- but otherwise is 0-for-8 with men in scoring position.
"This is no different than what we've talked about all year long," said Hurdle, alluding to a pet phrase of "having to meet the demands of the game."
"When you don't, you put yourself in position to lose the game," the manager said. "The ability to score runners from second base or third base is what gets teams into the postseason. It is one of the separators in this game."
It is definitely the main wedge that has separated the Pirates from the Cards' division lead by five games. Oddly, with the other contenders also sliding, the Bucs' NL Wild Card hopes have not taken a similar hit.
So they have both the chance and the time to get it right.
Tom Singer is a reporter for MLB.com and writes an MLBlog Change for a Nickel. He can also be found on Twitter @Tom_Singer. This story was not subject to the approval of Major League Baseball or its clubs.