Bucs not happy with Miller throwing behind Cutch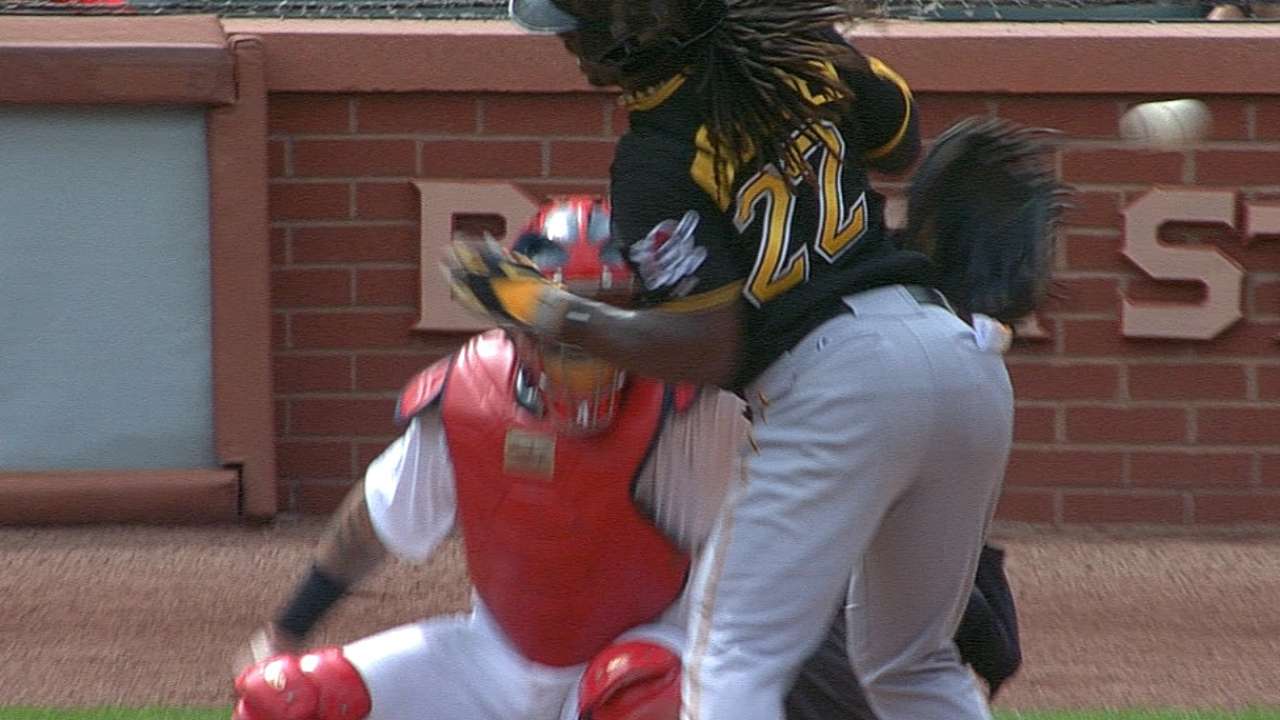 ST. LOUIS -- The Pirates bid farewell to The Gateway City for 2014. But they hope not to have seen the last of the 2014 Cardinals.
Wednesday's 1-0 loss ended the regular-season series between the teams, but the Bucs have a new reason to look forward to a possible postseason rematch.
Shelby Miller's pitch behind Andrew McCutchen in the sixth inning triggered two reactions:
Warnings to both benches by home-plate umpire Ron Kulpa, and angry shouts from Pittsburgh's third-base dugout across the infield.
"They started yelling. We started yelling back," Cardinals catcher Yadier Molina said.
"Their bench took a lot of offense to [the pitch] and started screaming at our bench, which we took offense to," St. Louis manager Mike Matheny said.
After the game, tempers had cooled. But not the words.
"[Miller] is hitting it in a teacup all day, not even near anybody, then you fire that pitch," Pirates manager Clint Hurdle said. "From my perspective, it was an ambush and a cheap shot."
Miller's brush back presumably was in response to Matt Holliday, the Cardinals' No. 3 hitter, being plunked by Edinson Volquez in the fourth with a hard 2-2 sinker. Volquez also hit the next batter, but with a two-strike slow curve that bounced off Matt Adams' shoe.
If the retaliation aspect and the principals sound familiar -- well, it was similar to the Aug. 2 scenario when Arizona's Randall Delgado drilled McCutchen on his spine the day after Paul Goldschmidt had gotten his left hand fractured by an Ernesto Frieri pitch.
Kulpa was behind the plate that day, too. When Delgado's first pitch sailed behind McCutchen, there was no warning. So Delgado threw an outside slider to set up the next inside cutter, which nailed McCutchen.
"He got warned, so he wasn't going to do it again, or he would've gotten thrown out of the game," McCutchen said of Miller. "Without a warning [as in Arizona], he probably would've thrown at me again.
"He missed me, so no harm done, and let's move on from there. And I just missed a homer," added McCutchen, who got under a pitch and flied out high to left to end the at-bat. "Almost ... till next time."
"Volquez isn't trying to hit a guy on the foot on an 0-2 count, or Holliday when he starts off 0-2 and it runs to 2-2," Hurdle said.
"I even told Molina to say, 'Sorry,' to [Holliday]. There's no reason to try to hit him," Volquez said. "He probably understands."
Tom Singer is a reporter for MLB.com and writes an MLBlog Change for a Nickel. He can also be found on Twitter @Tom_Singer. This story was not subject to the approval of Major League Baseball or its clubs.