Tabata returns to Pirates after stint in Minors
Outfielder finds hitting stroke over last three weeks with Triple-A Indianapolis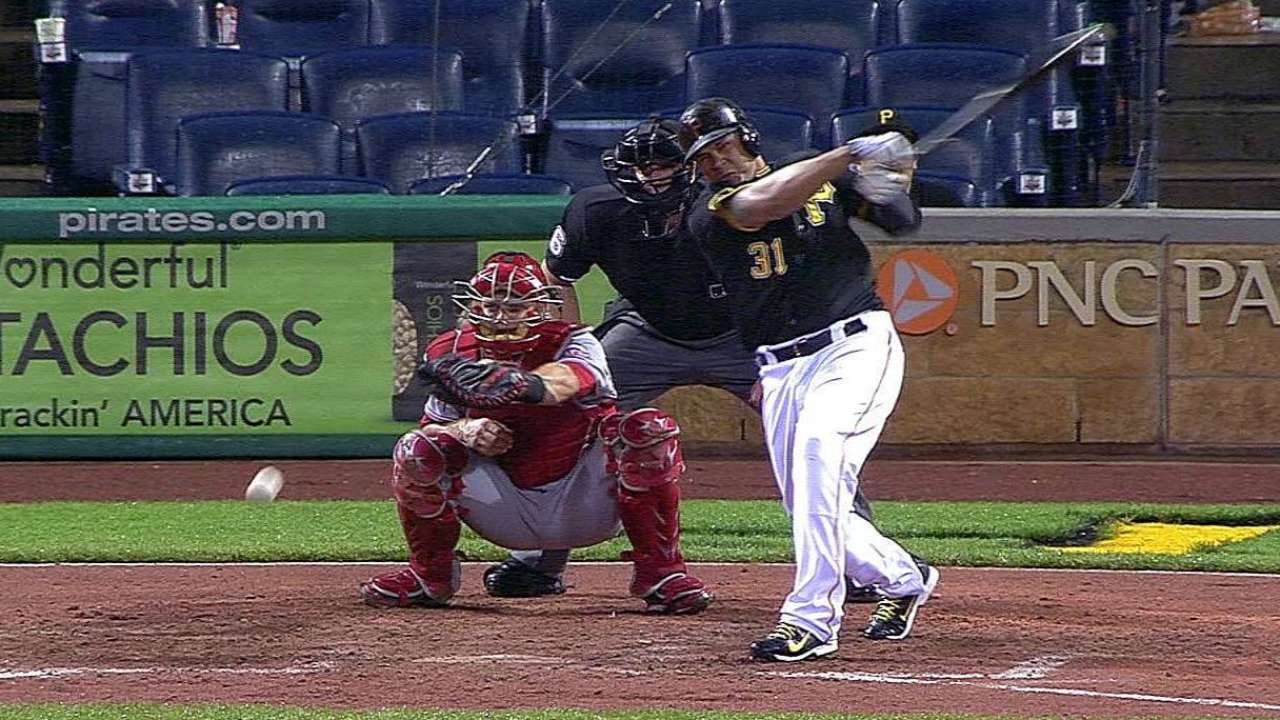 PITTSBURGH -- The Pirates didn't have a place for Jose Tabata shortly after Gregory Polanco was called up in June. But Polanco is going back to Triple-A to refine his swing in the next week, and after two months with Indianapolis, Tabata returned to the Bucs' clubhouse on Monday.
Tabata, 26, has spent parts of five seasons with the Pirates, but he was sent down when the club chose to hang onto Travis Snider as the fourth outfielder following Polanco's debut. Tabata, who had made 464 Major League appearances entering Monday's series opener with the Cardinals, said he stayed in contact with a few Pirates players, including Francisco Liriano and Starling Marte. But until Monday, he had to have those conversations from afar.
"It's difficult because when you play in the big leagues and go [to Triple-A] it's different, it's not the same," Tabata said. "At the same time, you have to be strong. You say, 'I have to get out of here soon, I got to do my job. I got to work more, 100 percent, 200 percent, whatever.' It's frustrating sometimes, but you have to be strong."
Tabata initially struggled after the move, hitting just .190 in his first 17 games. However, in the last three weeks, Tabata hit .362 with an .872 OPS and has had multi-hit games in nine of his last 15 Minor League contests.
Before being sent down, Tabata hit .289 with a .658 OPS and five extra-base hits over the course of 62 games (142 at-bats). Tabata is a career .275 hitter and aided the Bucs in their National League Wild Card playoff berth last season, hitting .320 in his final 28 games of the 2013 regular season.
"Tabata proved himself to be a very good bat off the bench while he was here this year, even last September played a pivotal role in what we were able to do," manager Clint Hurdle said. "He went down, went about his work in a professional manner, he's coming off a very good, solid week -- last two weeks -- swinging the bat."
Stephen Pianovich is an associate reporter for MLB.com. This story was not subject to the approval of Major League Baseball or its clubs.