McCutchen takes swings, on verge of return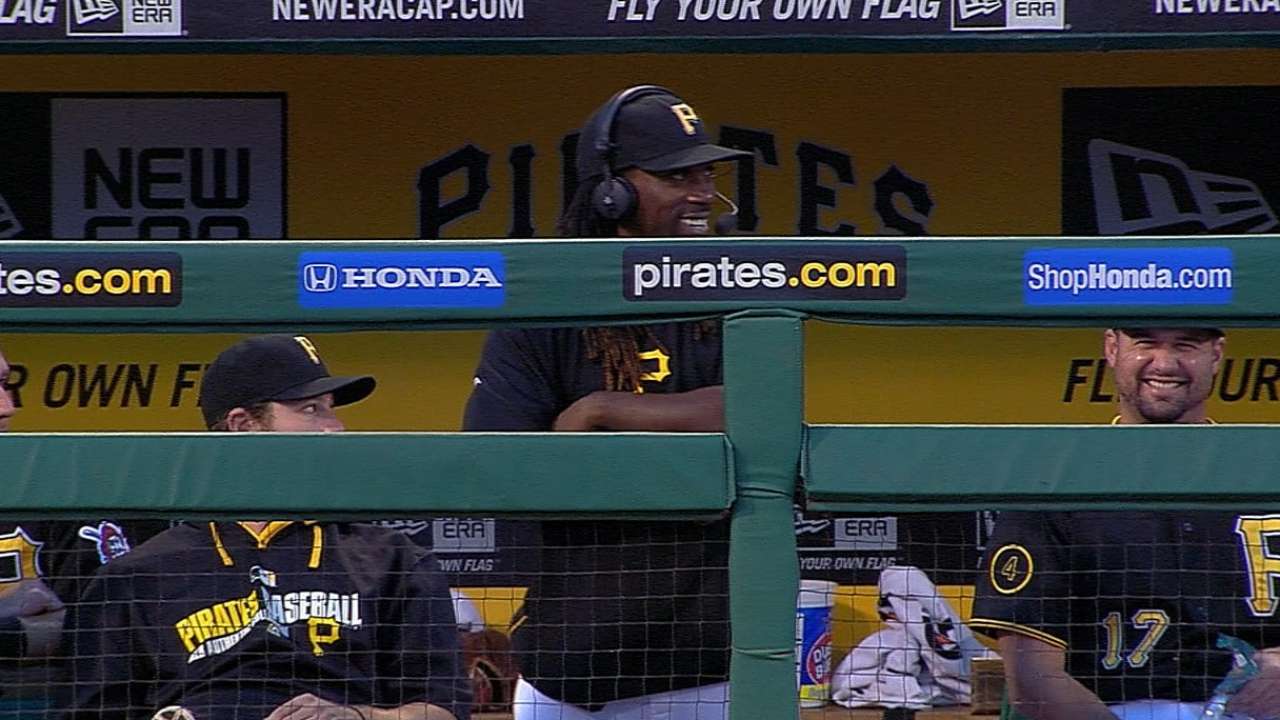 PITTSBURGH -- Andrew McCutchen expects to be back in the Pirates' lineup Tuesday, the first day he is eligible to be activated off the 15-day disabled list.
McCutchen took live swings at PNC Park on Monday, facing a Minor League pitcher. The reigning National League MVP wasn't bothered by the fractured rib in his left side and added "the plan" is to return to playing field Tuesday against Atlanta.
McCutchen caused an avulsion fracture to his 11th rib by taking a mighty swing against the D-backs on Aug. 3 and said this was the last test to ensure he would be ready to return against live competition.
"The way I injured it was by swinging. So swinging is the biggest thing," McCutchen said. "If the swinging feels good, I feel good. And the swinging felt good today."
The star center fielder took about 20 swings against right-hander Jeff Inman, whom the Pirates brought in from Double-A Altoona to give McCutchen more of a game feel without going on a rehab assignment.
Wearing a spandex shirt with extra padding on both sides of the rib cage -- something McCutchen said he'd likely wear the rest of the year under his uniform -- the four-time All-Star drove some balls, took pitches and even swung and missed. It wasn't like normal batting practice, and McCutchen said he could tell he would feel OK after the first swing of afternoon.
As for feeling any soreness later, McCutchen, who is on the DL for the first time in his Major League career, didn't rule it out.
"I have a really high pain tolerance. So, I could be in a little bit of pain but not really feel it," McCutchen said. "If I was a normal person, there might be something there. It's not hindering me from doing anything I have to do."
Both Pirates manager Clint Hurdle and general manager Neal Huntington watched McCutchen's hitting session. Before it, Hurdle said the team was hopeful to have McCutchen return on Tuesday.
"Unless there's some type of setback, we feel optimistic that he could very well rejoin us [Tuesday]," Hurdle said.
The Bucs entered Monday with a 5-8 record since McCutchen has been sidelined. The Pirates were 1 1/2 games back in the NL Central at the time of the injury and a half-game back in the Wild Card hunt. Five consecutive losses, though, have them 5 1/2 behind Milwaukee in the division and 1 1/2 back for the second NL Wild Card.
When McCutchen first got hurt, he said "when I do come back, I'll let it be known I'm back." That would be a welcome sight for the Pirates.
Stephen Pianovich is an associate reporter for MLB.com. This story was not subject to the approval of Major League Baseball or its clubs.