Pirates mulling next step for rehabbing Cole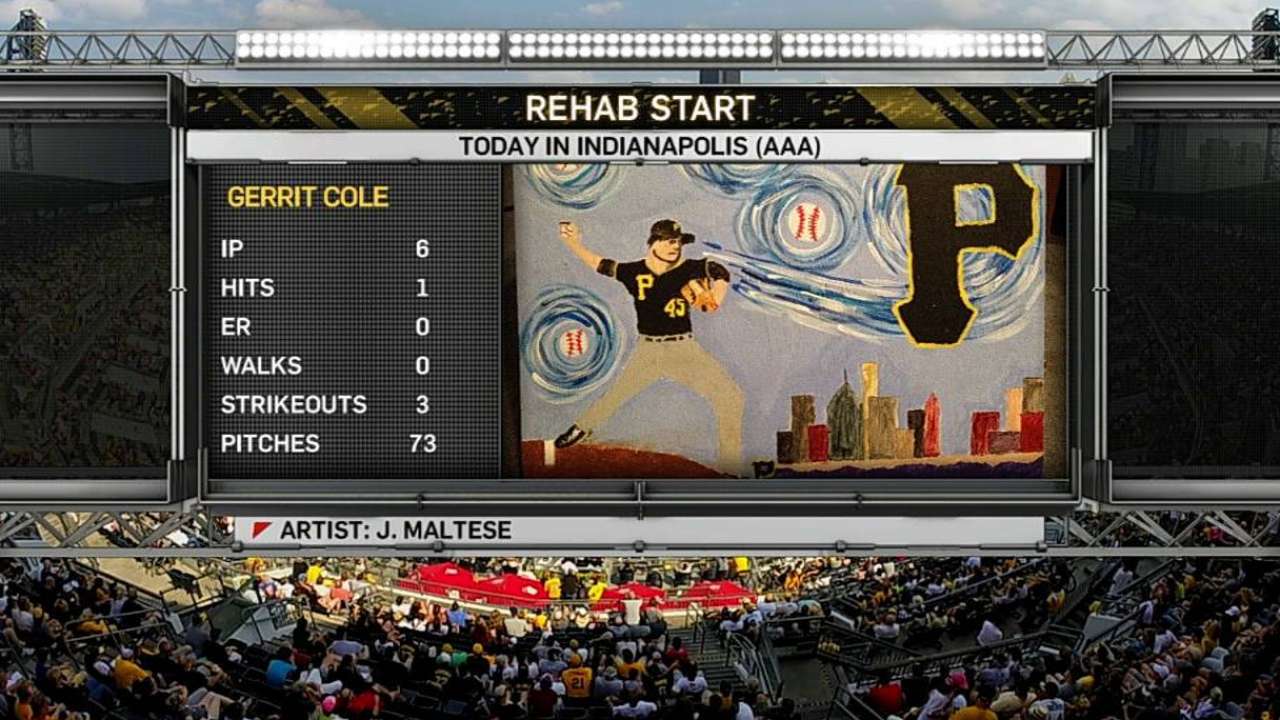 PITTSBURGH -- Gerrit Cole returned to the Pirates' clubhouse Monday with three rehab starts under his belt, as the team tries to figure out the next step for the right-hander.
Cole has been sidelined since early July with a strained right lat, and has started three times for Triple-A Indianapolis in the last two weeks. His third start saw a much better result than his second, as he surrendered just one hit and struck out three over six scoreless innings on Sunday.
"It was good work yesterday, it was efficient," said Cole, who noted he had yet to meet with the team to talk about if his next outing would be in black and gold. "Good location, all four pitches. It was a nice outing."
Pirates manager Clint Hurdle said he would have a conversation with pitching coach Ray Searage and general manager Neal Huntington about Cole's immediate future. Hurdle called the start "very good" and the only thing he aired a concern about was Cole's pitch count of 74.
"The number of pitches is something we'll need to talk about -- how many more can we anticipate from him next time he gets the ball, because that does make a difference," Hurdle said. "But it was a real good step. He added the conviction and the competition."
The six shutout frames came five days after Cole was hit hard in his second rehab appearance -- giving up five runs on 10 hits in 4 1/3 innings. That start was delayed three days as the team wanted Cole to focus on his mechanics -- including his arm slot and what he called "discipline through my delivery."
"It just needed to be cleaned up," Cole said. "Coming back, there are a lot of things on your mind, in terms of mechanics. They just wanted to get a few things nailed down."
In his second Major League season, Cole is 7-4 with a 3.78 ERA and 1.307 WHIP in 14 starts this season. However, he's pitched just twice since June 3, as he also was sidelined for more than a month with right shoulder fatigue.
Cole and the Pirates have been much more meticulous throughout this rehab process. And despite feeling soreness after his initial rehab appearance, Cole said his back felt OK 24 hours after his latest start.
"[It's] a little tight from the plane," he said. "But it's all right. It's good."
Stephen Pianovich is an associate reporter for MLB.com. This story was not subject to the approval of Major League Baseball or its clubs.