Rehabbing Cole throws sim game without issue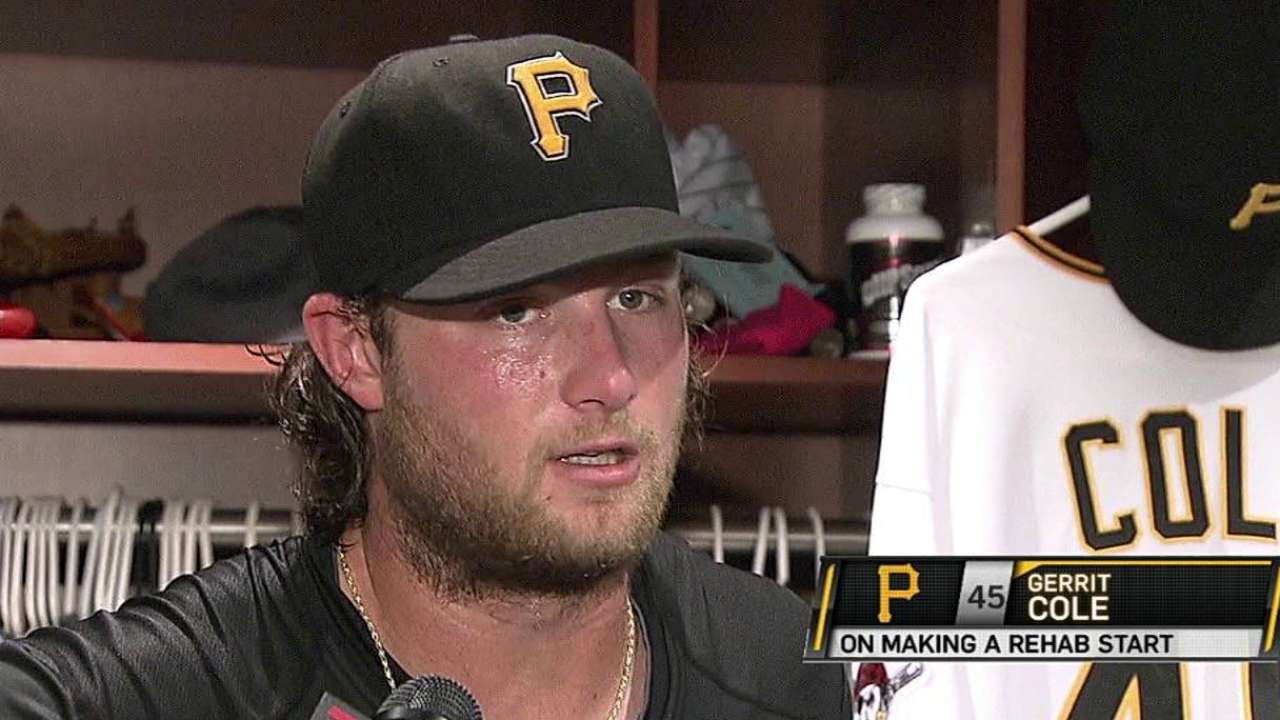 PITTSBURGH -- Gerrit Cole's second and more cautious rehab process of the season saw its first simulated game Wednesday at PNC Park. The hard-throwing righty tossed 70 pitches and said he wasn't bothered by the tight right lat that put him on the disabled list earlier this month.
"It felt good," Cole said. "It was a little rusty in some areas, but it got better as it went on."
Cole (7-4, 3.78, 1.307 WHIP in 14 starts) noted he worked on all of his pitches with Pirate hitters standing in the box. He was unsure what the next step would be, but facing live competition in a Minor League rehab appearance is likely in Cole's near future. He has not pitched in a game since leaving with the injury after five shutout innings against the Phillies on July 4.
Tightness in the muscle located in the middle of the back was an issue for Cole when he left the start, and he said effects of the injury lingered for about a week afterward. But Cole added it was not on his mind while throwing the simulated game, crediting the careful process he's gone through since tweaking it.
"We were cautious with it early instead of really aggressive, gave it time to bounce back," Cole said. "We tried to focus on feeling good when I started throwing rather than working through stuff, and I think it's paid off so far."
A rehab start was not part of the regimen after Cole spent almost all of June on the DL with fatigue in his throwing shoulder. In his first start after that injury, Cole tied a career-worst giving up five runs and did so on seven hits in just four innings. His next start was the one against Philadelphia where he allowed three baserunners (one hit) in five frames before exiting.
While he got back on track one start later, Cole learned a lesson from being touched up by the Mets.
"Coming in against the Mets, there were still some things I needed to clean up," Cole said. "I was able to do it in four days coming back against the Phillies. But at this time in the year, you can't come out not sharp and give games away. … It's important to come back and give quality starts; if it takes longer, so be it."
Stephen Pianovich is an associate reporter for MLB.com. This story was not subject to the approval of Major League Baseball or its clubs.