Cutch needs help to maintain top spot in NL outfield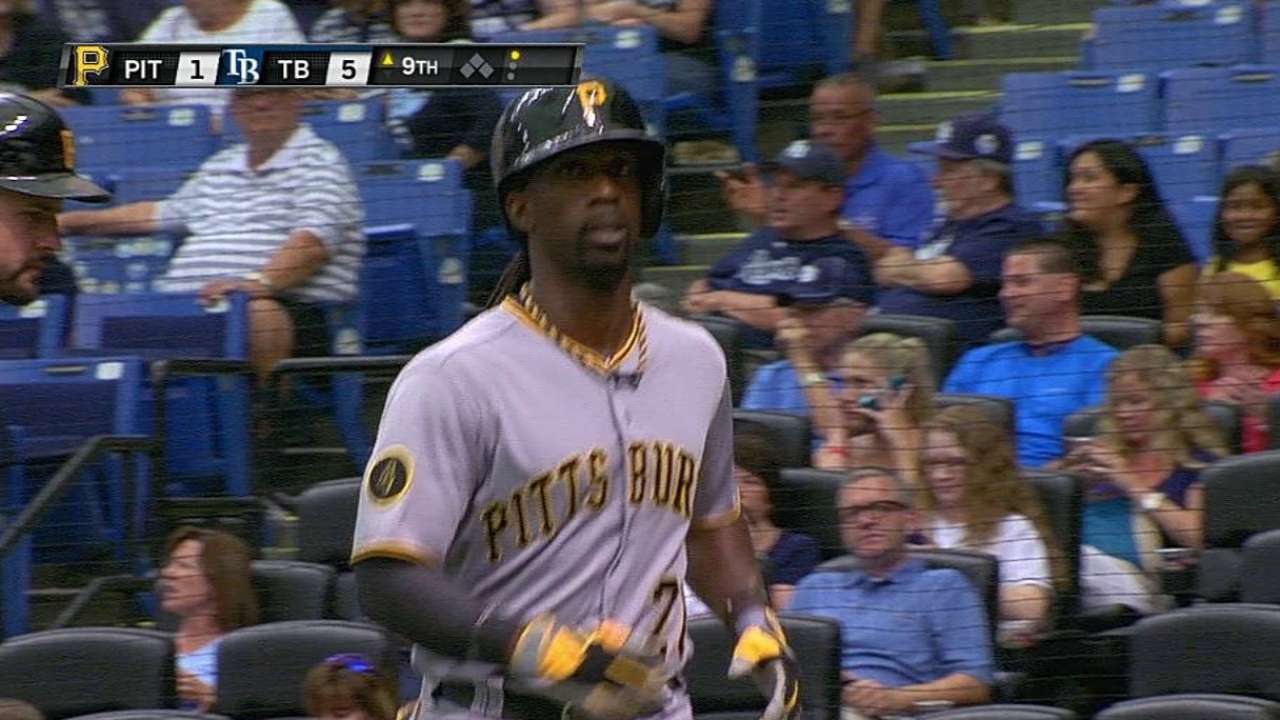 PITTSBURGH -- When Andrew McCutchen enters Target Field in two weeks for his fourth consecutive All-Star Game, he could do so with the highest vote total among all National League outfielders.
As the latest -- and last -- voting update Tuesday afternoon showed, the league's reigning Most Valuable Player is essentially assured of becoming the first Pirates player selected to four consecutive Midsummer Classics since Bobby Bonilla, who between 1988-91 made it once as a third baseman and thrice as an outfielder.
This would also be the first All-Star Game start for McCutchen, who had been part of the NL's bench the last three summers. Jason Bay, in 2006, was the last Pirates player to start the Classic.
"It definitely makes a difference," said McCutchen of being selected by the fans. "The biggest is, you get to start. But to a player it means a lot, being appreciated by the fans. A chance to start is a dream. Really cool to be a part of."
McCutchen indeed has vaulted atop the tote board, and his 3,173,810 votes are comfortably 492,791 ahead of fourth-place Giancarlo Stanton, of the Marlins.
However, McCutchen's lead for top honors is an amazingly slim 4,062 over Milwaukee center fielder Carlos Gomez. Amazing, because after nearly two months and millions of votes, that margin represents 0.13 percent of McCutchen's total.
"That'd be cool," said McCutchen of leading all NL outfielders in votes. "Just to start would be awesome. It shows that the fans see something in me. That'd be really nice, something I'd never done before. It's awesome. I never had an opportunity to start … We'll see what happens when the voting is over with, where I wind up."
Clearly, Pirates fans have to mount a ballot-box defense of his standing, and they have only two more days to do so.
Fans can cast their votes for starters at MLB.com and all 30 club sites -- online or on a mobile device -- using the 2014 All-Star Game MLB.com Ballot Sponsored by Experian until Thursday, July 3, at 11:59 p.m. ET. The 2014 All-Star Game will be played at Target Field on Tuesday, July 15.
Fans may submit up to 25 online ballots, but they can also earn a one-time bonus of 10 additional online ballots. To access these additional online ballots, you must be logged into your MLB.com account when you submit any online ballot. If you do not have an MLB.com account, register on the site in accordance with the enrollment instructions for a free MLB.com account.
Fans this year once again can participate in the Home Run Derby Fan Poll. Fans will have the opportunity to select three players in each league who they would most like to see participate in the Gillette Home Run Derby. The 2014 Home Run Derby will be broadcast live on ESPN, ESPN HD, ESPN Deportes and ESPN Radio in the United States beginning at 8 p.m. ET on Monday, July 14.
The 2014 American League and National League All-Star teams will be unveiled on the Taco Bell All-Star Selection Show on Sunday, July 6, beginning at 7 p.m. ET on ESPN, with further details to follow on MLB.com. Immediately following the announcement of the AL and NL All-Star rosters, fans can begin voting to select the final player for each league's 34-man roster via the 2014 All-Star Game MLB.com Final Vote Sponsored by Experian. Fans will cast their votes from a list of five players from each league over the balloting period.
And the voting doesn't end there. The final phase of All-Star Game voting will again have fans participating in the voting for the Ted Williams All-Star Game Most Valuable Player Award presented by Chevrolet. During the Midsummer Classic, fans will vote exclusively online at MLB.com via the 2014 All-Star Game MLB.com MVP Vote Sponsored by Pepsi, and their voice will represent 20 percent of the overall vote that determines the recipient of the Arch Ward Trophy.
MLB.com will provide extensive online coverage of the All-Star Week festivities.
The 85th All-Star Game will be televised nationally by FOX, in Canada by Rogers Sportsnet and RDS, and worldwide by partners in more than 200 countries via MLB International's independent feed. ESPN Radio and ESPN Radio Deportes will provide national radio coverage of the All-Star Game. MLB Network and SiriusXM will also provide comprehensive All-Star Week coverage. For more information, please visit allstargame.com.
McCutchen, who authored his typically strong June (.343, with eight homers and 25 RBIs in 26 games) to marshall his All-Star support, will be the Bucs' lone starter, but will not go alone to Minneapolis.
In addition to All-Star coach Clint Hurdle and trainer Ben Potenziano, he could also travel with second baseman Neil Walker and lefty reliever Tony Watson.
Although Walker only recently came off the disabled list following an appendectomy, and the lack of visibility undoubtedly impacted his votes, he continues to run a strong second to the Phillies' Chase Utley, who with 2,436,143 votes nonetheless is guaranteed the start.
Tom Singer is a reporter for MLB.com and writes an MLBlog Change for a Nickel. He can also be found on Twitter @Tom_Singer. This story was not subject to the approval of Major League Baseball or its clubs.