Hurdle remains confident with Marte amid hitting woes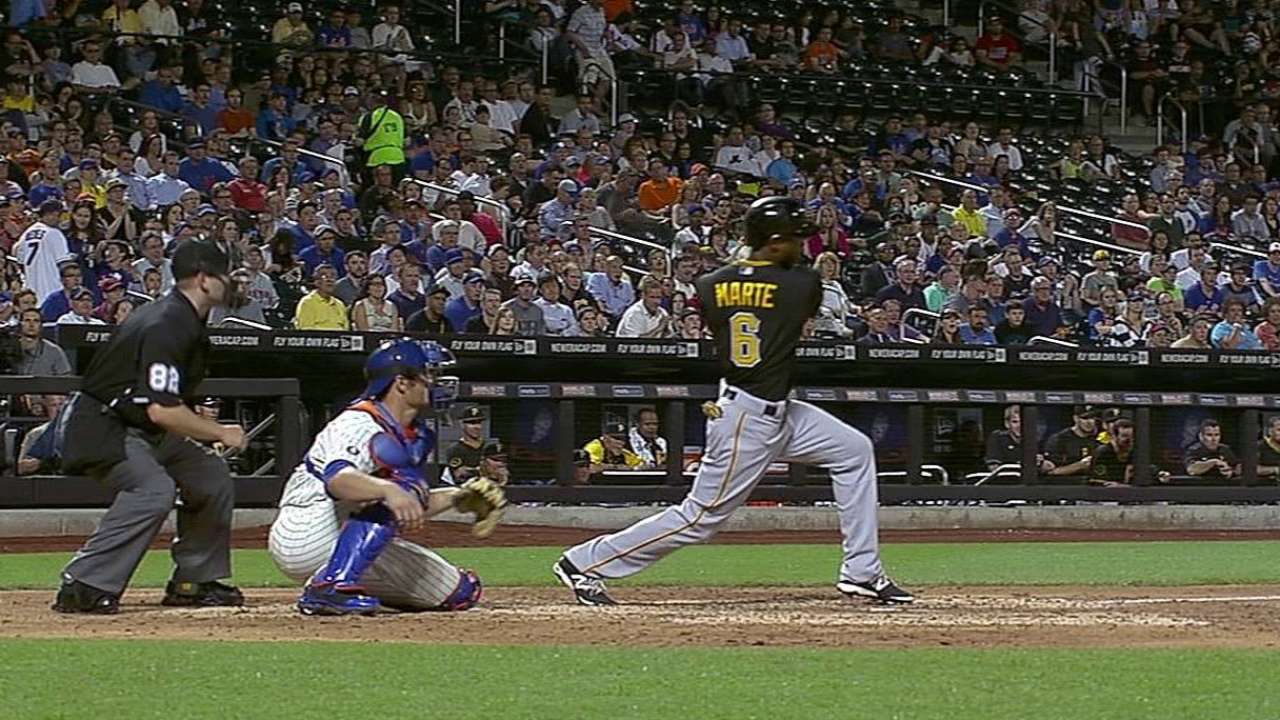 PITTSBURGH -- In baseball, nothing happens in a vacuum. So, as Starling Marte remained on the Pirates' bench Saturday, manager Clint Hurdle inadvertently drew analogies between him and two other members of the organization.
One, Jordy Mercer: The shortstop seemed lost 10 days ago, still dragging a .190 average -- which he has since pumped to .232 by going 11-for-22 through Friday.
"You've got to get to that point where you don't do well [in the Majors], and you have to figure it out," said Hurdle, recalling his message to Mercer, who'd never before experienced comparable struggles at any level.
Marte, who missed his fifth straight start and was hitless in his last 20 at-bats, now deals with that lesson.
"He hasn't struggled like this, anywhere. And that freaks him out a little bit," Hurdle said.
Two, Gregory Polanco: Piitsburgh's top outfield prospect's Triple-A education was at 274 plate appearances through Indianapolis' Friday night game.
Marte, for whom there was a comparable public outcry in the midst of the 2012 season, got the jump to the Pirates on July 26 with a Triple-A resume of 431 plate appearances -- even that considered on the light side by many player development folks.
"[Marte] had a small number of at-bats at the Triple-A level, and that could be a factor now, too, that nobody wants to talk about," Hurdle said. "The league has punched back and finding a recovery period, punching back, is the challenge for [Marte]."
Marte and Polanco passing each other on the Indianapolis shuttle? Even with Josh Harrison now such a lineup linchpin, forget it.
"Triple-A [for Marte] hasn't even crossed my mind," the manager said. "I have confidence he will bounce back and play, and it'll be exciting when he gets his game back."
Tom Singer is a reporter for MLB.com and writes an MLBlog Change for a Nickel. He can also be found on Twitter @Tom_Singer. This story was not subject to the approval of Major League Baseball or its clubs.