Bucs celebrate 35th anniversary of '79 champs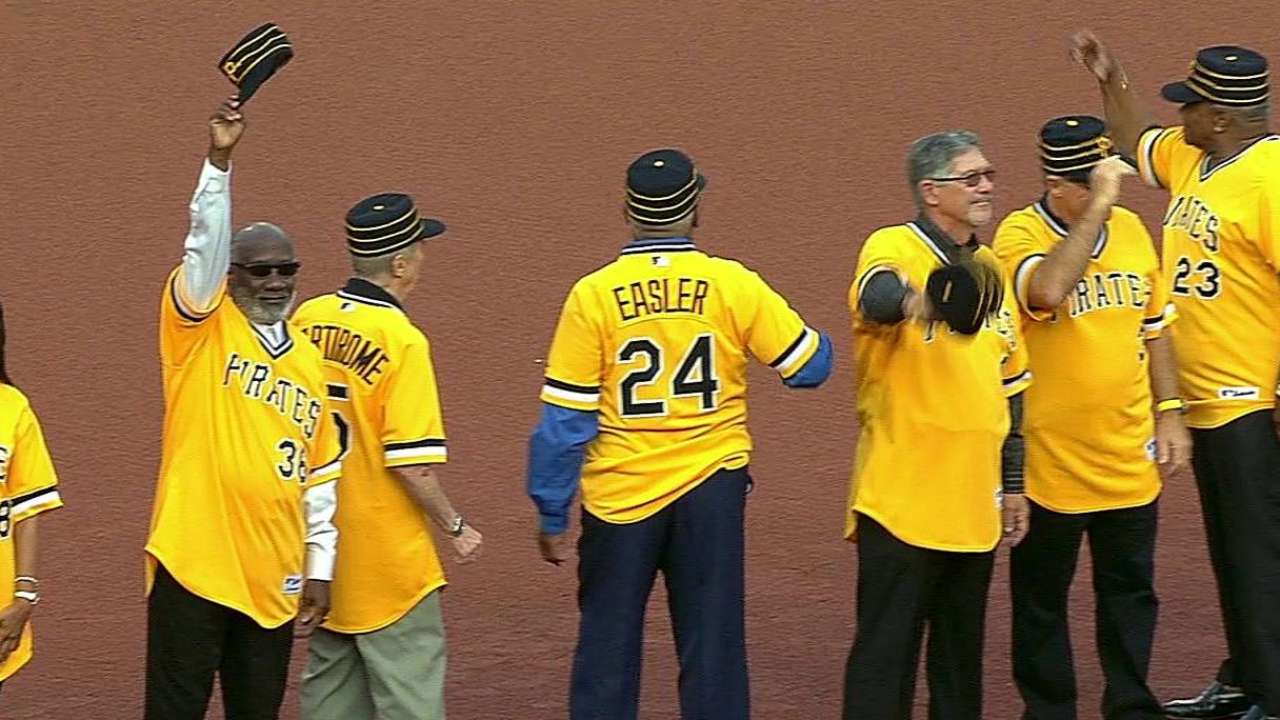 PITTSBURGH -- They filed proudly out of the third-base dugout, serenaded by Sister Sledge's "We Are Family." They formed a golden line that spanned almost from third base to second. Some members of the 1979 Pirates still stood as tall and erect as ever, some were a bit bent by age -- but all waved their caps over wide smiles as Greg Brown introduced them and the crowd showered them with appreciative applause.
The Bucs' celebration of the 35th anniversary of their last World Series championship, prior to Wednesday night's reunion with the Baltimore Orioles team that was the vanquished opponent in 1979, wasn't elaborate.
It consisted mainly of those public introductions, and that was OK, because it was less a public bow than a chance to privately reminisce behind the scenes.
But before they could recede behind the curtain to exchange memories and life updates, they did accept the fans' salutes, so many of those '79 Bucs who helped transform Pittsburgh into the City of Champions.
Highlighted by the late Hall of Famer Willie Stargell's widow, Margaret, this lineup also included former players Dave Parker, Bill Madlock, Manny Sanguillen, Rennie Stennett, Phil Garner, Mike Easler, Tim Foli, Bruce Kison, Matt Alexander, Grant Jackson, Lee Lacy, Omar Moreno, Steve Nicosia, Ed Ott, Don Robinson, Jim Rooker and Kent Tekulve.
Also on hand for the program were coaches Al Monchak and Bob Skinner -- the left fielder on the '60 championship Bucs -- and long-time trainer Tony Bartirome.
Tom Singer is a reporter for MLB.com and writes an MLBlog Change for a Nickel. He can also be found on Twitter @Tom_Singer. This story was not subject to the approval of Major League Baseball or its clubs.