Hurdle, Pirates move on from Sunday's melee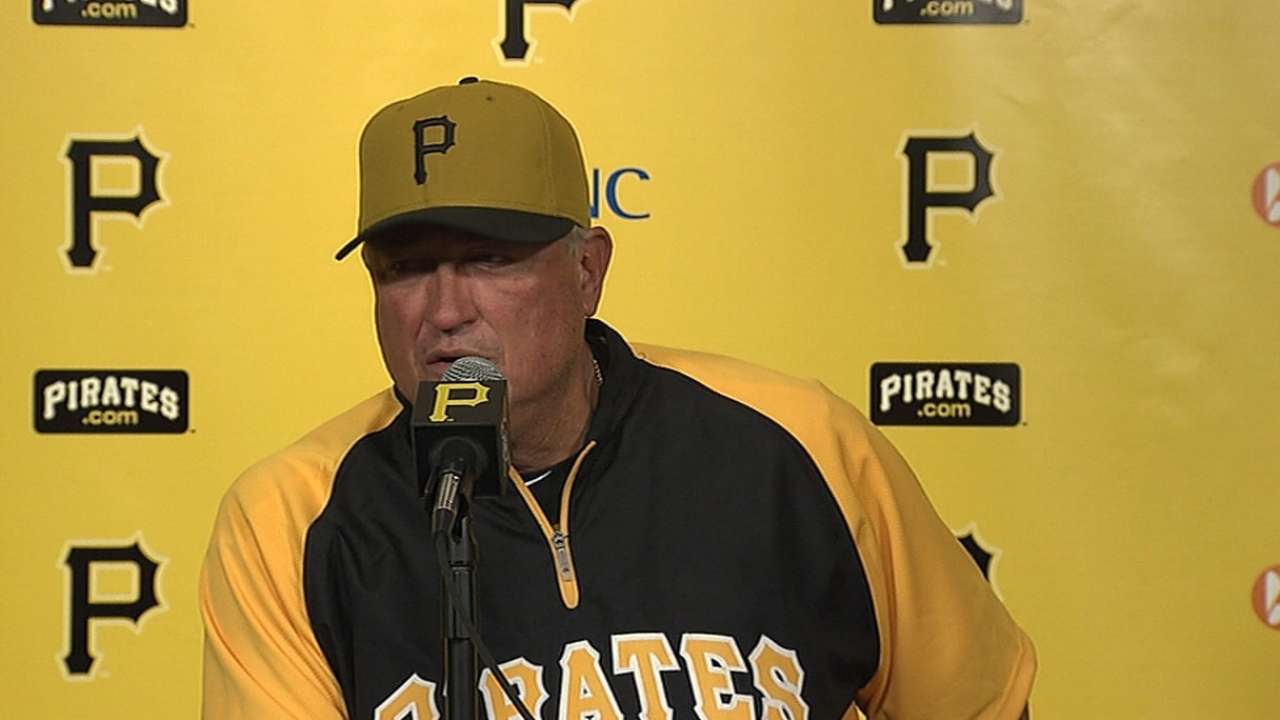 PITTSBURGH -- Clint Hurdle had given Joe Torre, MLB's executive vice president of baseball operations, his take on Sunday's fight between the Pirates and Brewers earlier in the day and he was in no mood to share his perspective with the media.
"I shared my views with Joe, and we'll see how it plays out," said Hurdle. "Sometimes in this game, we do lose respect for the opposition and for the game. That's when it can get complicated."
Hurdle was more willing to expound on the potential effect of such an incident, which saw inactive Travis Snider take charge as the war of words between Gerrit Cole and the Brewers' Carlos Gomez threatened to escalate.
Any effect, that is, beyond the benefit that could result if Martin Maldonado accepts Russell Martin's challenge. The Pittsburgh catcher, still upset at Maldonado's rabbit punch on Snider, wants to get in the ring with the Milwaukee catcher.
"If he wants to have a fight for charity in the offseason, my contract comes up at the end of the season," Martin said. "So before I sign a contract, I can do whatever I want. If he's up for that, I'm down. [His action] wasn't necessary. I know in his mind he's protecting his teammate. But he wasn't. He got a free shot in there. I'm getting a little heated just talking about it.
"In my code, you don't throw a punch at somebody unless they're looking you in the eye."
As for the trite suggestion that such altercations can galvanize and inspire a team, Hurdle didn't shy away from a possibly unpopular view.
"I've played on teams where a spark or altercation actually can help," Hurdle said. "But we're already motivated. We just haven't played well enough collectively to have won more games.
"What was in evidence there is that our guys are going to play with intensity. They will support a teammate when called upon to do so."
Tom Singer is a reporter for MLB.com and writes an MLBlog Change for a Nickel. He can also be found on Twitter @Tom_Singer. This story was not subject to the approval of Major League Baseball or its clubs.