Ishikawa savors shot to resurrect career with Bucs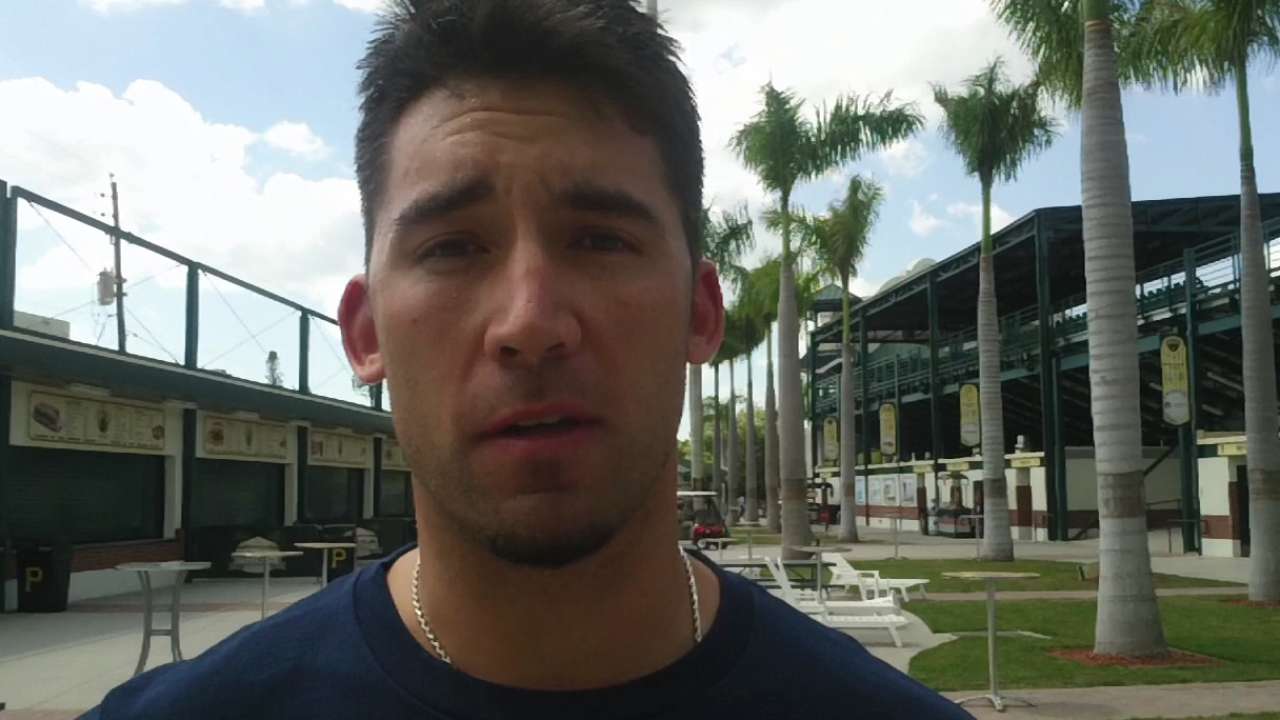 PHILADELPHIA -- Left out in the cold on Opening Day a year ago, Travis Ishikawa will be basking in the 59 degrees that are forecast for the season opener in Pittsburgh on Monday.
"Big league cold is always warmer than Minor League cold," Ishikawa smiled. "Funny how that happens."
After failing to make the Orioles out of Spring Training 52 weeks ago, Ishikawa was in Norfolk on his way to a 19-at-bat big league season with Baltimore and the Yankees. At the end of the 2013 season, he seemingly was headed out of the Majors forever. But barring the unforeseen, he will be standing on the third-base foul line at PNC Park as an Opening Day Pirate this year, which at the beginning of camp was not the expectation.
"After the type of year I had last year, the joy of being back on a Major League club on Opening Day is a joy in itself," said Ishikawa, 30, whose last full season in The Show was 2010 with the Giants. "But even if I had been in the big leagues a number of years, there is something about Opening Day.
"I know they keep talking about making it a national holiday. I definitely think it should be. This is America's pastime. Baseball has so much history in America, Opening Day deserves to be celebrated. It is a special moment for us as players, for anyone who has ever played from Little League on up, or who ever watched a game with his dad as a kid."
To that list, he could have added anyone who ever made a team after starting a camp as a non-roster player. Ishikawa, who still has to be added to the 40-man roster before Sunday's 3 p.m. ET deadline, accepted the Pirates invitation to camp because he felt it was the one that gave him the best chance to make a club. While prospect Andrew Lambo, perceived to be the Pirates' first choice to join Gaby Sanchez in a first-place platoon, struggled, Ishikawa proved to have delivered himself to the right place at the right time.
"I had some calls this offseason," Ishikawa said. "The best opportunity, I thought, was here.
"Most of the other situations, other guys were already established at first base and I would have been a left-handed pinch hitter off the bench. Everything I had heard and read, the Pirates were looking for someone to platoon with Gaby."
After a slow start, Ishikawa hit .290 in 31 Spring Training at-bats, launched three home runs and drove in six runs, good numbers that he said came from not unnecessarily worrying about the numbers, never mind he obviously needed some production to resume his Major League life.
"I have had a lot of Spring Trainings and I have learned that you can't allow yourself to worry about results," Ishikawa said.
"I know I have been a victim of this in the past. But if you start worrying about the results rather than the process, you are focusing on things you can't always control. You end up trying too hard and pressing and maybe making corrections for the worse.
"When I got off to a really slow start, I was able to take positives from each at-bat. I felt I was seeing the ball. The swings I was taking were good, I focused on the positives."
Hanging onto Major League life by a thread, Ishikawa had considerable pressure to ignore. He eased it by not looking at this as his last chance.
"If it didn't work out and I ended up going to the Minor Leagues, it wouldn't have been fun, but I don't have a straight timeline where if I am not in the Major Leagues I am going to quit," he said. "When the time is right, God will put me where he wants me to be."
Jay Greenberg is a contributor to MLB.com. This story was not subject to the approval of Major League Baseball or its clubs.