Cole pleased with progress in second spring start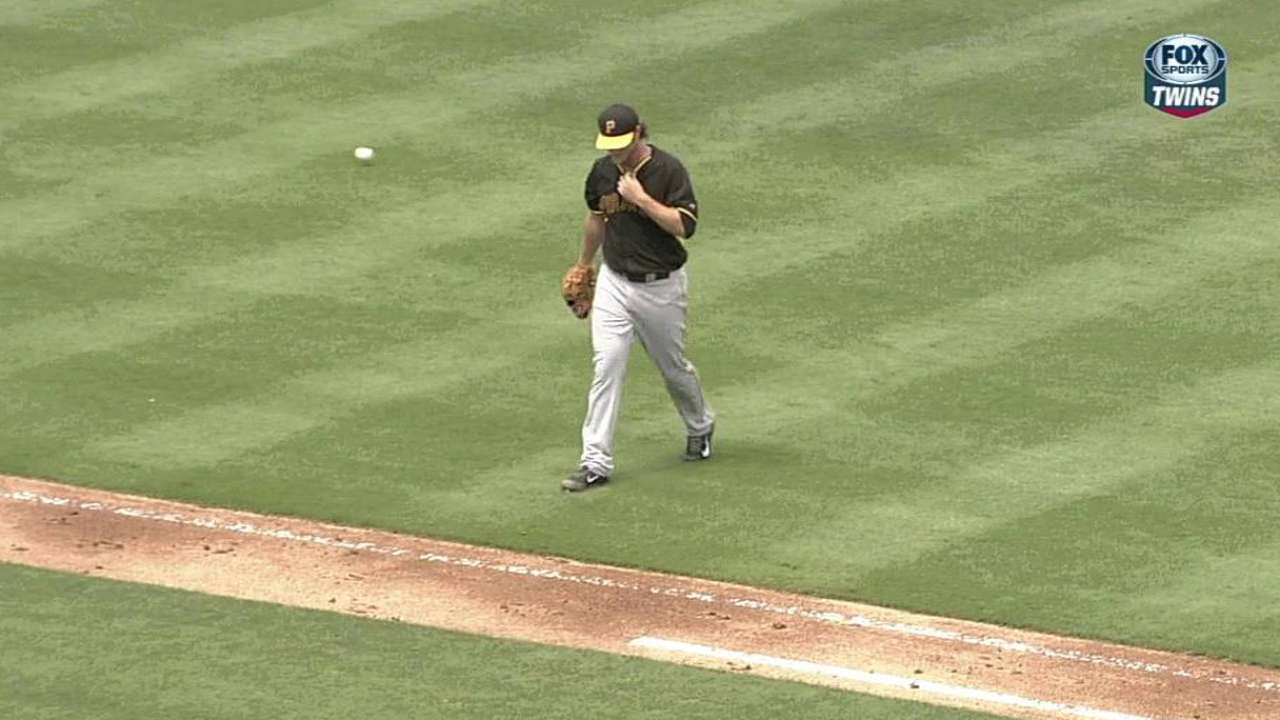 FORT MYERS, Fla. -- Gerrit Cole didn't have everything working on Wednesday. But he also didn't need everything working. Cole, the top pick in the 2011 First-Year Player Draft, stepped to the mound for his second Spring Training start Wednesday and characterized it as a big step forward.
"There were some good things about it, but there are still some things that need to be cleaned up," he said of his three innings against the Twins. "I can command the ball a little bit better than I did today."
Cole threw 59 pitches in Pittsburgh's 8-4 win, and Minnesota reached him for an unearned run in the first inning. The right-hander gave up a single to Joe Mauer in the first inning and later walked the All-Star, but he struck out three batters and stranded three men on base.
Cole, who pitched to a 10-7 record with a 3.22 ERA for the Pirates last season, said that he had some trouble with spotting his breaking ball on Wednesday. Cole throws both a curveball and a slider, and while they're important, he said they don't both have to be working at the same time.
"It just depends what's working that day. That's the luxury of having two," said Cole of his two varieties of breaking ball. "You don't have to throw two every game. You don't have to have a good slider and a good curveball. You can just pitch with your curveball. I think having two can sometimes be a detriment, trying to perfect both of them. You just kind of take them for what you are. If you have them both that day, good. If you don't, you just try to get outs. You just try to get outs as quick as you can."
Cole was most disappointed by a sequence in the third inning in which he threw six straight balls. Four of those balls went to Mauer, and Cole would've liked to make the first baseman swing the bat. But for the most part, he said that he was thrilled with the way his stuff played out on Wednesday.
"I initially was throwing [the slider] a little too hard, so I tried to take a little off," said Cole. "And then I tried to get the curveball working, just trying to get some feel. Not necessarily pitching sequences, just trying to throw quality pitches. If I didn't like a pitch, I repeated it and tried to make it better."
Last year, Cole became the first Pittsburgh pitcher in more than 100 years to win the first four starts of his career. The last guy to do that was Nick Maddox in 1907, and manager Clint Hurdle is convinced that if Cole can stay healthy, he is capable of cracking the 200-inning barrier and fulfill his ace potential.
"A full season. That's a challenge. Sometimes, I think that gets pushed to the side," said Hurdle of the obstacles awaiting Cole. "People want to see bigger, better, faster, stronger. If he can compete and go out there for a full season, I think you'll see a number of things happen. ... But that would be the goal going in: Get him up, get him ready out of the blocks with us and be able to finish."
Spencer Fordin is a reporter for MLB.com. This story was not subject to the approval of Major League Baseball or its clubs.