Taillon among first cuts as Bucs look to the future
Top prospect reassigned to Minor League camp, could re-emerge over summer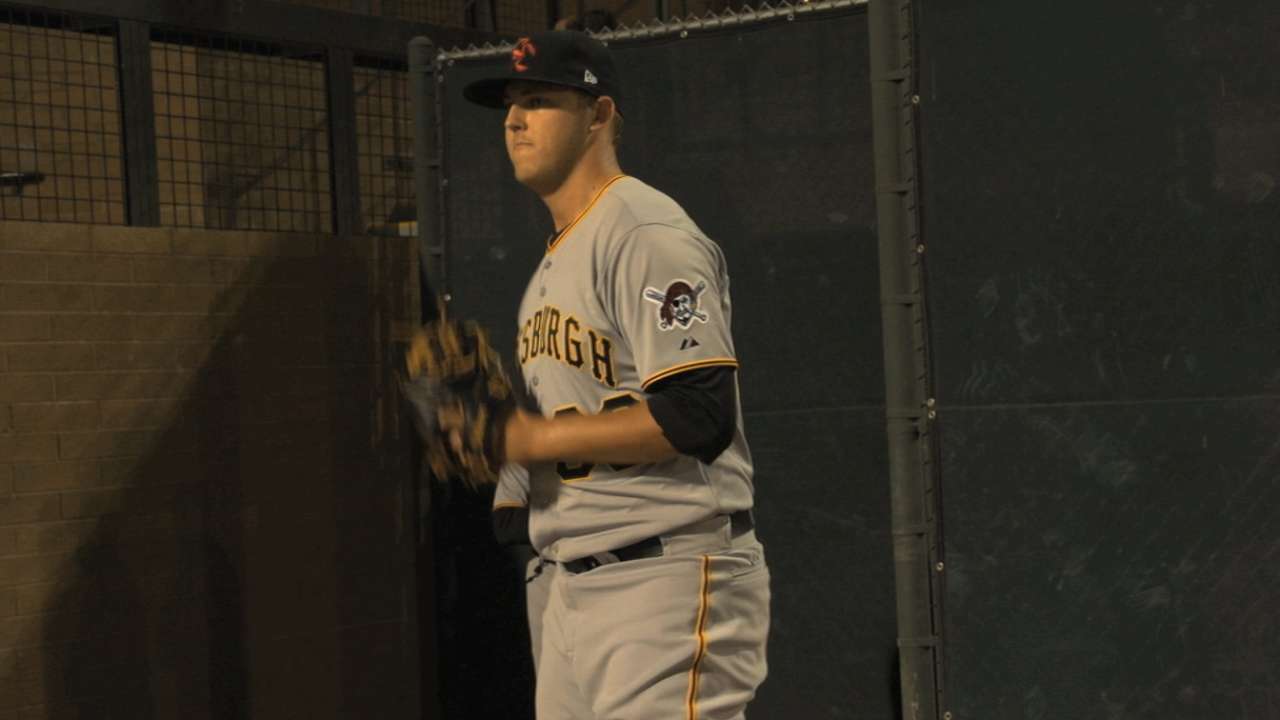 BRADENTON, Fla. -- A trio of pitchers the Pirates can foresee leading off their future starting rotation led off something else on Monday: Cuts from the Major League camp.
Top prospect Jameson Taillon was reassigned to Minor League camp, fellow right-hander Casey Sadler was optioned to Triple-A Indianapolis and lefty Joely Rodriguez was optioned to Double-A Altoona.
"Guys we project as starters in the Minor Leagues are always quickest to get sent out, because we need to get them to throwing 90-100 pitches when their seasons start," said Pirates general manager Neal Huntington, easing the disappointment felt by Taillon as he said his so-longs in the clubhouse.
This should make Taillon feel even better: Huntington said the goal is to get him "ready to help us at some point this summer."
"It's never fun," Taillon said of being sent down, "but I gotta go and get my innings and get ready for an actual season. The reality is, I need to start getting built up. And the closer you get to the season, guys here are going to start going five or more, so I can't get built up going one or two [innings in relief]."
Catcher Carlos Paulino and infielder Matt Hague also were reassigned to Minor League camp, with infielder Alen Hanson being optioned to Altoona. The six moves left 53 players in camp, including 16 non-roster invitees.
Making even easier the decision to include Taillon in the first wave of departures was a blister on his pitching hand, which will delay his next outing. That further closed his window in camp, but the 22-year-old enjoyed the view afforded him.
"Being around these guys, I got to soak up just how hard they work," Taillon said. "I thought my work up here was good. I felt all right. I'm a little ahead of where I was last year, and feeling better, so that's a good thing."
Taillon's early departure does nothing to contradict the popular perception that the 2010 No. 1 Draft pick is on the same timetable as was 2011 No. 1 Gerrit Cole, also among the first players cut from camp a year ago. Cole wound up making his Major League debut on June 11, after returning to the Minors with essentially the same assignments given Taillon.
"The changeup is still a work in progress," Huntington said, "but it's coming along. That will be a big pitch for him, because it'll get people off his fastball. With the breaking ball … the ability to throttle it for strikes as well as bury it for chase.
"The goal is putting him in a position to thrive when he gets to the Major League level. To do that, the changeup will be important for him. So will adding to and subtracting from the curve, commanding different quadrants of the zone with his four-seamer and live down with his two-seamer. It's all coming."
Enough of it was seen in camp to impress everyone with Taillon's progress in a year. He was also invited to last spring's camp -- where his stay was briefer due to his World Baseball Classic participation with Team Canada -- but had since developed in numerous ways.
"His ability to command the running game is better," said Huntington, launching into a list. "The command of the four- and two-seam fastball is better. His maturity and growth continue on and off the field, and it is very encouraging for us. We're looking forward to him being part of our future."
The Cole comparison appears to be unavoidable for everyone, Huntington included. The general manager acknowledged the common perception that it is to a club's benefit to delay a player's arbitration clock with a midseason callup.
"Jameson's progress and how he handles himself and his process is what will dictate his time frame to the Major Leagues," Huntington stressed. "If he's doing the things he needs to do, he'll be in a good spot to come up and help us this summer."
Huntington drew another analogy between the two young right-handers: Cole was willing to curb his "ego" in favor of making the refinements necessary for big league success; Taillon needs the same approach.
"The things that allow you to be successful in Single- and Double-A will hinder you in the big leagues," said Huntington, virtually a scientist when it comes to breaking down the art of pitching. "Once guys show they're ready to take the next step, you can turn them loose. And Jameson is awful close to that.
"Gerrit Cole got to the big leagues as primarily a fastball-slider-changeup guy, then began to use the two- and four-seamers more, and the curve became a weapon for him. In A-ball, Jameson could've probably racked up a lot more strikeouts if we let him throw the curve whenever he wanted to. But if guys become focused [on the wrong things], they lose track of what really matters."
Taillon cracked a couple of Grapefruit League box scores. On Feb. 28, following Cole to the mound in the third inning, he blanked Toronto on one hit for two innings. Three days ago, he allowed three runs, only one earned, in two-thirds of an inning against the Twins.
Off the small sample sizes, both Sadler, 23, and Rodriguez, 22, had more impressive cameos in camp. Sadler threw two shutout innings against Tampa Bay, allowing one hit while fanning three, in his only outing. Rodriguez pitched hitless ball in two appearances, covering three innings.
"None of them did anything wrong," Huntington said. "As we start to get four, five innings from our starters, and with a good number of guys competing for the bullpen, it would've been tough to find them innings here, to stretch them out."
Tom Singer is a reporter for MLB.com and writes an MLBlog Change for a Nickel. He can also be found on Twitter @Tom_Singer. This story was not subject to the approval of Major League Baseball or its clubs.