Pirates first to draw Burnett in his new digs
Former teammates Alvarez, Mercer share laughs in Grapefruit clash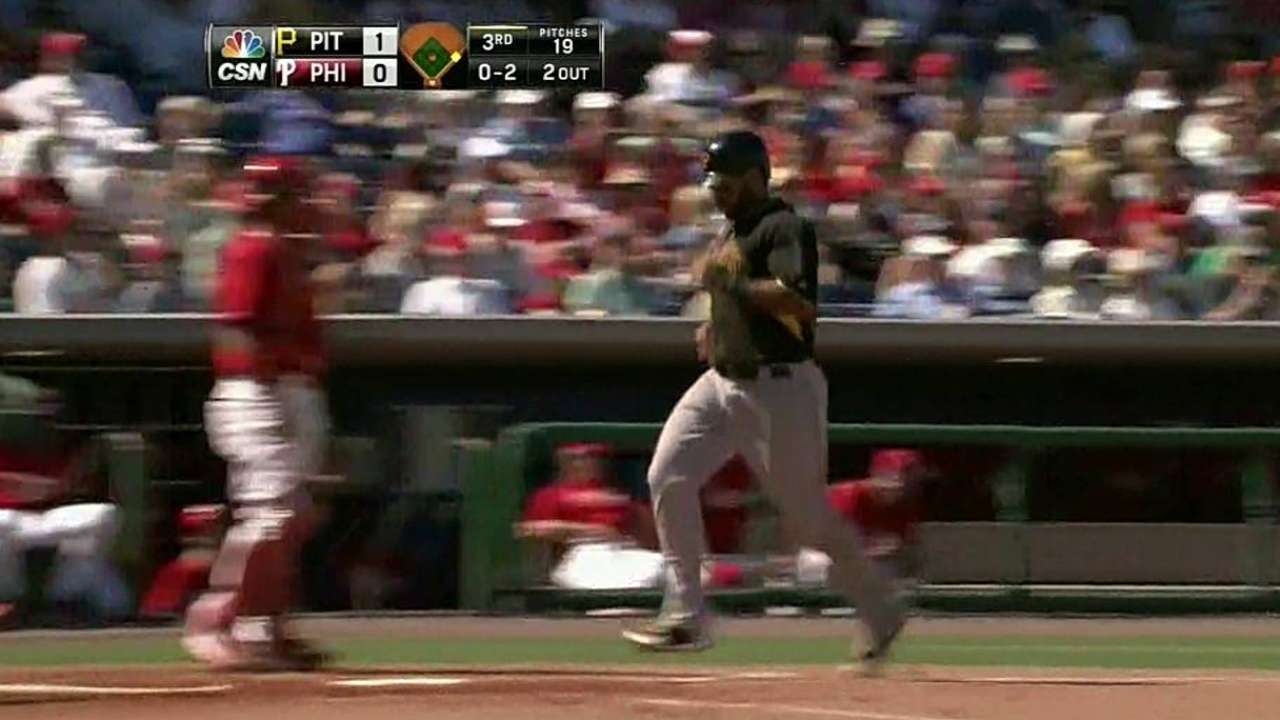 CLEARWATER, Fla. -- It seemed to be almost too much of a coincidence that A.J. Burnett's first start with the Phillies would come against the Pirates, right? Could he have possibly planned it that way?
"I didn't," Burnett said. "But it sounds good."
And that was the way it worked out Sunday afternoon at Bright House Field, with Burnett tipping his cap toward the Pirates' dugout before throwing two innings against his former team in his Philadelphia debut.
Burnett struck out Jaff Decker to lead off the game, gave up a hit and a run in the first inning, and plunked two of his former teammates -- Pedro Alvarez and Jordy Mercer -- before laughing about an old inside joke with Alvarez and exchanging text messages with Mercer.
"Being such good teammates with him and having seen him on this side, of course it's weird the first time you see him," Alvarez said. "You get used to that when you play this game. You're used to playing with guys on a team then the next day they're somewhere else."
"It was good to see them," Burnett added. "I always respect everyone and everything in this game; it doesn't matter who you play against. Any team I've played on or guys I've played with, you're respectful of those guys. It was a good time."
Burnett bounced a pitch into Alvarez's back foot in the first inning, something the two former teammates had laughed about before. Alvarez "always got a kick out of guys swinging and getting hit," Burnett said, so as Alvarez was trotting to first, Burnett said the Pirates' third baseman should have given it his best hack.
"You could have been on a highlight reel. That was you," Burnett said. "I need you to swing at that. It costs me another six or seven pitches."
The 37-year-old right-hander went 26-21 with a 3.41 ERA in 393 1/3 innings for the Pirates from 2012-13 before signing a one-year, $16 million deal with the Phillies shortly after Spring Training began. Manager Clint Hurdle laughed as he observed that his only chance to reconnect with Burnett was a wave toward the mound before the game, but Mercer made it clear that Pittsburgh's players and fans have missed Burnett.
"I think Pittsburgh welcomed him and he embraced it, and he was fun. He was fun to watch for two years," Mercer said. "He was a big part of our team, a really big part of our team. We're happy he's over there. We know he's in a good place, and we wish him the best of luck."
Adam Berry is a reporter for MLB.com. Follow him on Twitter at @adamdberry. This story was not subject to the approval of Major League Baseball or its clubs.