Surprise McCutchen sighting at Pirate City
Reigning NL MVP attends winter workouts, along with shortstop Mercer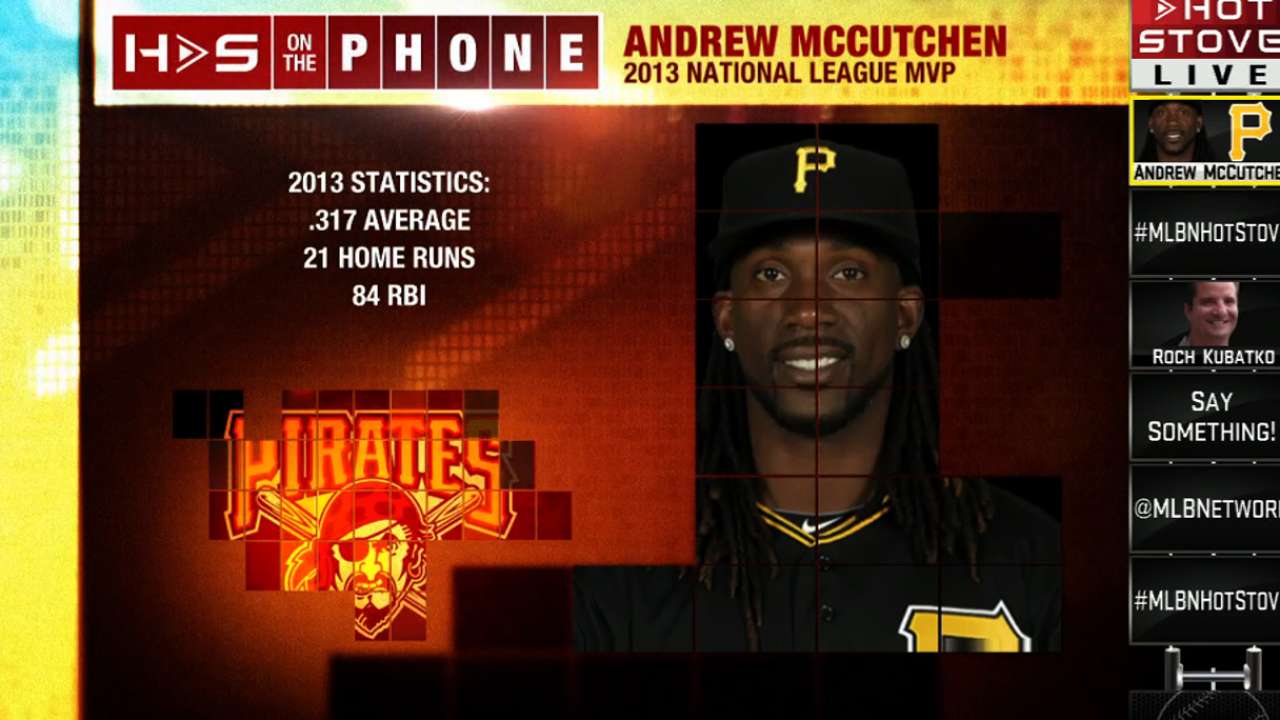 Fans strolling among the four workout fields of Pirate City on Monday morning in Bradenton Fla., did double-takes at the sight of those familiar dreadlocks.
Surprised, amazed, impressed to see Andrew McCutchen join the drills? All of the above. You would not expect a National League Most Valuable Player to participate in early-January workouts designed to shake the rust off younger prospects.
But this is McCutchen, someone forever committed to stepping up his game regardless of the levels already reached. His Florida residence may have played a part in his his camp presence, but convenience had less to do with it than an awareness of the responsibility of being a team leader.
In fact, McCutchen and shortstop-elect Jordy Mercer are the only two projected regulars attending the Pirates' voluntary workouts. More than half of the 40-man roster, as well as 10 other invited players, are expected for what the club considers an important start-your-engines event, with manager Clint Hurdle on hand for his first look at key pieces of his 2014 club.
"Guys enjoy getting to know each other, and it's the first stage to turning the page [from the offseason] and getting everybody's baseball energies flowing again," general manager Neal Huntington says about the workouts, which have a different purpose in the middle of the club's quiet offseason.
Whereas in the past the workouts offered the first opportunity for newcomers to mix with their new teammates -- a year ago, more than a dozen offseason acquisitions joined in -- this session includes only two rostered additions: outfielder Jaff Decker and right-hander Edinson Volquez. But also among the newcomers are several signed to Minor League deals with an invitation to Spring Training, including the latest, outfielder Chris Dickerson, who signed Monday.
Top pitching prospect Jameson Taillon is also on hand, as well as Gregory Polanco, who took a leave from Escogido in the middle of the Dominican Republic Winter League playoffs to participate.
Fourteen of the 21 pitchers on the Bucs' roster are expected in camp, with much of the early interest focused on left-hander Wandy Rodriguez, taking his first steps on the comeback trail from the forearm injury that ended his 2013 season in early June.
Tom Singer is a reporter for MLB.com and writes an MLBlog Change for a Nickel. He can also be found on Twitter @Tom_Singer. This story was not subject to the approval of Major League Baseball or its clubs.