To Hurdle, mentality key to Pirates' chemistry
To Hurdle, mentality key to Pirates' chemistry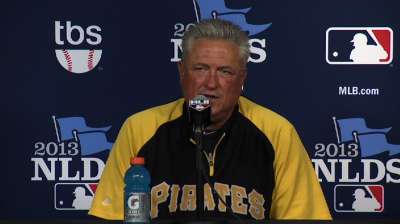 PITTSBURGH -- To be called a pirate -- with a lower-case "p" -- is one of the higher compliments Pirates manager Clint Hurdle can give a player. He throws it around freely in reference to pitcher Francisco Liriano, who will start Game 3 of the National League Division Series against the Cardinals on Sunday (4:30 p.m. ET on TBS).
Of course, it's a figure of speech, given that actual piracy is an international crime. But by signing with the Pirates, overcoming an elbow injury and giving experience and machine-like quality to the rotation -- especially at PNC Park (8-1, 1.47 ERA in 11 starts), Liriano has lived up to what Hurdle believes a pirate must be like in terms of attitude and approach.
"Well, you know, you can do research -- I haven't been able to talk to a real pirate lately," Hurdle said, drawing laughs at his news conference Saturday. "But in the movies that I've watched and the books that I've read, there seems to be a spirit of I really don't care what anybody thinks anymore. 'I'm crossing the line. I'm going to become a Pirate. It's not about mom or dad or brother or sister, not about where I used to work. I'm going to be my own man. I'm going to hope to latch on to a bunch of other men who feel the same way, that are like-minded, and try to get something special done.'
"Many of those men [his players] have gotten to that point in their career."
To think, Liriano, who turns 30 on Oct. 2, probably just thought he signed a two-year, $7 million contract last offseason.
But anyone who overcomes starting the season on the 60-day disabled list because of the elbow problem and by now is a key member of the team that ended a long postseason drought just might have a little Errol Flynn or Tyrone Power in him. Or, he may just be an effective pitcher (16-8, 3.02 ERA) who has fit in with a new team, which is just as good.
"Thank God I get along with everybody," said Liriano, who pitched for the Twins in the 2009 and '10 American League Division Series. "Just try to be part of the team and try to do everything I do with my heart. So I love baseball, and just being here is like a home. I'm having a good time here, and hopefully continue doing that."
Tom Singer is a reporter for MLB.com and writes an MLBlog Change for a Nickel. He can also be found on Twitter @Tom_Singer. Thomas Harding is a reporter for MLB.com. Follow him on Twitter @harding_at_mlb. This story was not subject to the approval of Major League Baseball or its clubs.