Alvarez gaining foothold against lefty relievers
Alvarez gaining foothold against lefty relievers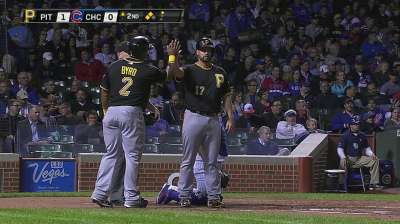 CHICAGO -- Pedro Alvarez formed two impressions in Tuesday night's game here:
One, he would already be considerably over the 100-RBI mark if it were not for ground-rule doubles. In the last month alone, the Bucs' third baseman has lost ribbies to about a half-dozen of them -- including Tuesday's second-inning liner into Wrigley Field's right-field ivy with a pair of runners on base.
Two, Alvarez is no longer patsy to opposition managers' reflexive reach for southpaw relievers when he comes up in a late key situation, having made the necessary adjustments to hurt them -- he's produced 13 RBIs off lefty relievers this season.
"That has been an automatic move for managers, and he'll often see two [lefty relievers] in one game," said Pirates manager Clint Hurdle. "So you have to take into consideration the opportunities. But he is showing very good signs of being more consistent in his approach against left-handers."
The most obvious sign is Alvarez's willingness to cut down on his swing, especially with a two-strike count, and hit the ball up the middle or to the opposite, left field. His two-run double in the fifth inning Tuesday was rocketed down the left-field line.
"Repetition helps, and his game-planning has improved as well," Hurdle said. "He's covering [pitches] away and reacting [when pitches come] in. We saw a sequence [Tuesday] night where he saw a lot of [breaking balls] away, then got one fastball -- and he took a very aggressive swing at it."
Alvarez, who took up residence in the lineup's six-hole with the arrival of Justin Morneau, normally is the only left-handed hitter amid three righty swingers. Having him neutralize the moves to those lefty relievers can build big innings.
Tom Singer is a reporter for MLB.com and writes an MLBlog Change for a Nickel. He can also be found on Twitter @Tom_Singer. This story was not subject to the approval of Major League Baseball or its clubs.