Pirates hope to get Marte at-bats in game soon
Pirates hope to get Marte at-bats in game soon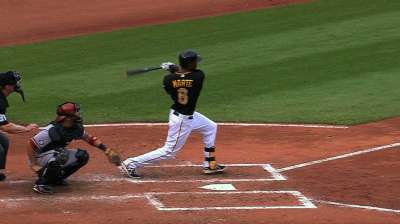 PITTSBURGH -- Starling Marte continues to inch his way back toward returning to the Pirates' starting lineup.
The Pirates' left fielder and leadoff hitter took a step forward in his rehabilitation from a bruised right hand Thursday when he batted against rehabbing left-hander Wandy Rodriguez in a simulated game. It marked the first time Marte faced live pitching since being placed on the disabled list Aug. 19.
Marte also faced live pitching prior to Saturday's game with the Cubs when he faced lefty Kris Johnson.
"I think it went well. Marte got six at-bats and bunted a couple of times," Pirates manager Clint Hurdle said. "I think what we are trying to get him to understand is that he's not going to be pain-free. There's not going to be a pain-free day from this point on when you go up there and you're going to try and hit. So, understanding the tolerance of the pain, it doesn't happen every swing and it doesn't happen more when it's a miss or a hit. It all depends, is what we found out today.
"He took those swings, and we'll run him back out for the regular batting practice and I'll talk to him again and we'll see where that takes us. He could be ready to get in some real game at-bats. We might need another day. I'll know later this afternoon."
Marte continues to feel discomfort, although he said, "It's much better."
"He's aware of the pain," Hurdle said. "I just made sure that he understands it's not going to go away. If we want to wait for it to go away, we're probably talking 2014.
"There's a lot of guys in September that have different things that are probably nagging them a little bit. He's got one. We'll see where he can take it, and I think you've got to give him the opportunity to get some at-bats when and if you do get him in there, and see how they play out."
Marte has been an integral part of the Pirates' offense this season, hitting .282 with 25 doubles, 10 triples, 11 home runs and 36 stolen bases in 123 games.
George Von Benko is a contributor to MLB.com. This story was not subject to the approval of Major League Baseball or its clubs.