Postseason tickets go on sale Wednesday
Postseason tickets go on sale Wednesday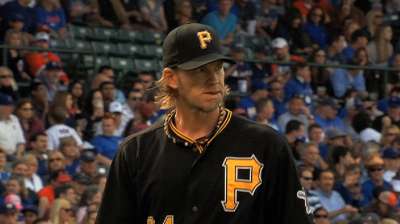 PITTSBURGH -- The Pirates have a chance to make their first appearance in the postseason since 1992.
The club announced on Friday that a limited number of tickets for possible National League Wild Card and Division Series games at PNC Park will go on sale to the general public on Wednesday at 10 a.m. ET. At that time, fans will have the opportunity to purchase a maximum of four tickets per person for the one possible Wild Card game and three possible Division Series games.
Fans are encouraged to purchase tickets online at Pirates.com. Tickets will be sold on a first-come, first-served basis, and all are subject to availability.
Fans wishing to purchase tickets at the PNC Park main box office may do so through a random numbered distribution system to determine ticket buyers' positions in line when tickets go on sale. The Pirates will distribute numbered wristbands on Federal Street near the PNC Park main ticket office on:
• Monday from 10 a.m. to 2 p.m.
• Tuesday from 10 a.m. to 2 p.m.
• Wednesday from 7 a.m. to 9 a.m.
Each fan who visits the distribution table will receive one specially designed, numbered wristband that will be attached to their wrist, and the matching number will be entered in a random drawing. Fans must be 12 years of age to receive a wristband, and only one per person will be distributed.
On Wednesday at 9 a.m., the Pirates will randomly draw one number from the corresponding wristband numbers. The fan with the matching numbered wristband will be first in line. Fans will then line up in numerical order from that point.
Fans can also purchase tickets by calling 1-877-893-BUCS.
George Von Benko is a contributor to MLB.com. This story was not subject to the approval of Major League Baseball or its clubs.