Next step for Wandy unclear; Marte still limited
Next step for Wandy unclear; Marte still limited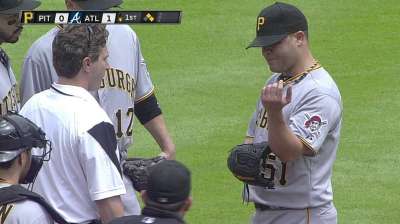 PITTSBURGH -- Pirates manager Clint Hurdle provided an update on left-hander Wandy Rodriguez and outfielder Starling Marte on Friday.
Rodriguez pitched a five-inning simulated game Thursday, throwing 67 pitches. The Pirates want to see how his arm responds Friday before deciding whether to activate him from the disabled list. He has been out since June 6 with left forearm tightness.
"We reached out to Dr. James Andrews to ask his opinion on the next step," Hurdle said. "We haven't gotten a report or thought back from him. So we're on hold 'till we accumulate some information."
Marte faced lived pitching Thursday for the first time since going on the disabled list on Aug. 19 with a bruised right hand, seeing action against Rodriguez during his simulated game. The Pirates activated Marte on Sept. 7, but he has been limited to serving as a pinch-runner and a late-inning defensive replacement. The Pirates don't have a timetable for when Marte can return to the lineup.
"There was some discomfort," Hurdle said. "We've got him going out to take batting practice today. We're trying to find another option for some live batting practice that we're comfortable with to ramp up his opportunity to get back."
Marte reported that there was pain when he swung the bat.
"I feel better," Marte stated. "But it still hurts. I can throw and I can play defense."
Marte was a spark plug in the lead off spot, and the Pirates would love to have him for the stretch drive.
"I would anticipate that when he shows us the ability to swing the bat, that we're going to plug him back in the top of the lineup in left field," Hurdle said.
George Von Benko is a contributor to MLB.com. This story was not subject to the approval of Major League Baseball or its clubs.