Liriano benefits from improved fastball command
Liriano benefits from improved fastball command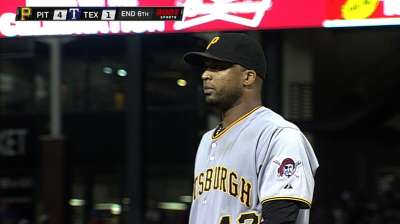 PITTSBURGH -- Francisco Liriano has had a brilliant season for the Pirates, and he notched his career-high 16th win in a 5-4 victory over the Rangers on Tuesday.
Liriano became the first Pirates left-hander since John Smiley and Zane Smith in 1991 to win more than 15 games. Liriano has received a decision in each of his 23 starts since signing as a free agent in February, the most for the Pirates since Larry French got a decision in each of his first 24 starts in 1930.
Liriano has been healthy, and that is a big reason for his success this season.
"Everything feels good," Liriano said. "Everything feels great and I feel a hundred percent, and I'm just trying to get ready every start and trying to go deep in every game."
Liriano is sporting a 2.92 ERA, and he has recorded 144 strikeouts in 142 innings.
"I always had my changeup," Liriano explained. "I just had trouble locating my fastball before, and I went home and I just worked on my fastball and worked on my fastball in my bullpens, and I have been getting better every start. That makes all the difference."
"Command of the fastball has improved over the years," Pirates pitching coach Ray Searage noted. "It was a problem earlier. Now with the command of the fastball -- he always had good command with his offspeed pitches, the slider and the changeup -- now he's got three weapons to go to war with.
"Now he can pitch inside, which goes hand in hand with the fastball command. Then you can't sit on one pitch with the guy. You have to catch him when he has a bad day, which -- he's going to have them -- but in the long run, he's done a tremendous job for us and he's really grown into himself."
George Von Benko is a contributor to MLB.com. This story was not subject to the approval of Major League Baseball or its clubs.