Bucs still trying to get Marte's bat back
Bucs still trying to get Marte's bat back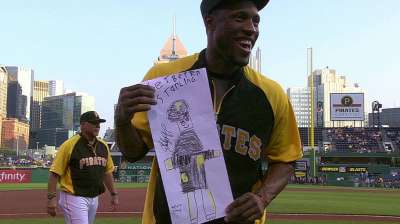 PITTSBURGH -- Pirates left fielder Starling Marte (right hand contusion) was activated from the disabled list on Sept. 7, but has only appeared as a defensive replacement or pinch-runner since then. He tried to swing a bat prior to Thursday's 3-1 win over the Cubs.
He pinch-ran for Gaby Sanchez in the eighth inning, but was picked off, and he remained in the game to play left field in the ninth, but no balls were hit his way.
"He's out swinging against Wandy Rodriguez," Pirates manager Clint Hurdle said before the game about Marte, whose last at-bat came on Aug. 18 and is hitting .282 on the season. "Physically, he's able to run and we had him in the game on Wednesday playing defense -- his throwing is back in place. The last piece is swing the bat with aggressive swings, and he's going out there to do that."
The Pirates would love to get Marte's bat back in the lineup for the stretch drive, as they're in the hunt for the National League Central title.
"I don't know how much pain he is going through," Hurdle said. "We'll find out about that, as well we'll find out what the pain was. It could be minimal. I saw some early swings, and he was letting it go and it will be about velocity and spin and if that's going to be a challenge and we'll try and replicate that off of some of the pitching machines. We'll take one of the pitchers and we might have to use him one day for some live stuff to piece it together."
George Von Benko is a contributor to MLB.com. This story was not subject to the approval of Major League Baseball or its clubs.