Bucs option Johnson, add fresh arm in Reid
Bucs option Johnson, add fresh arm in Reid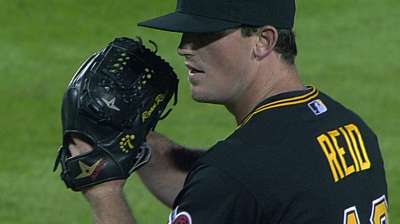 SAN DIEGO -- The Pirates recalled right-hander Ryan Reid from Triple-A Indianapolis on Monday and optioned left-hander Kris Johnson to the same Indianapolis club.
Reid serves as a fresh arm for a pitching staff that has been taxed of late, most recently Sunday in a 16-inning loss to Arizona. Johnson made his Major League debut in that game and took the loss, going six innings for a pitching staff that had three relievers who were unavailable.
The callup is Reid's third stint with the Pirates this season. Reid pitched in six games in June for Pittsburgh, posting a 1.00 ERA in nine innings. He allowed seven hits and two walks to go with six strikeouts. Reid also pitched two innings July 4.
Manager Clint Hurdle said he had a positive message for Johnson following the fill-in effort Sunday.
"I told him I was just so proud of him," Hurdle said. "It's one of the great honors you have as a Major League manager, is penciling a guy's name in the lineup to make his Major League debut. The job he did for us was exciting to watch and obviously well-needed for our club and our bullpen."
Johnson allowed two runs on five hits in six innings in relief. He walked two and struck out five.
Tim Powers is a contributor to MLB.com. This story was not subject to the approval of Major League Baseball or its clubs.