GM Huntington talks pitchers, catchers
GM Huntington talks pitchers, catchers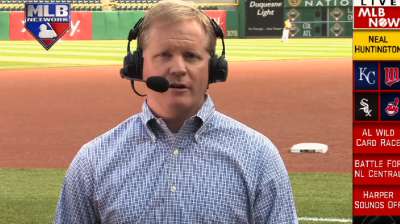 DENVER -- Pirates general manager Neal Huntington provided a series of updates just before the start of Sunday's game against the Rockies:
• Huntington said All-Star starter Jeff Locke, in the midst of his first full Major League season, is not on the same type of innings or pitch limit as rookie Gerrit Cole. That is in part because Cole pitched in the fall Instructional League for each of the last two years.
"In Jeff's case, innings-wise, pitch-wise, he's fine," Huntington said. "He's thrown a large number of pitches in the Minor Leagues last year and the tail end of the big leagues last year.
"At the same time, we want to be cognizant of the fact that he's made every turn. He and Gerrit are our starters that have answered the bell on a consistent basis. So there may come a point in time where we give them a little bit of an extra breather as well."
• The Pirates are still in the market for a third catcher to give them additional depth for a potential postseason run. Huntington noted fewer players had cleared waivers than in recent years, which could make it an especially difficult year to find the man they were looking for behind the plate.
The organization's deadline to have the player in their organization is Aug. 31, the latest players can join and still be eligible for the postseason roster.
"We're very comfortable with [Russell Martin ] and Tony [Sanchez]," Huntington said. "It's that depth -- Is there something better than what we currently have? -- heaven forbid we have an injury or a third catcher in September."
• Pittsburgh's GM confirmed that Wandy Rodriguez would be brought back as a starter and not a bullpen arm. On Saturday, Rodriguez threw his first bullpen since injuring his left forearm in early June, and he is on schedule to throw another bullpen Wednesday in addition to a simulated game next weekend in Pittsburgh.
"He's not going to start at five [innings] and 80 [pitches], but we don't have to start him at one and 20 as we do in Spring Training," Huntington said. "He'll throw a couple sides and see how the sim game BP segment of this goes -- does he need two, does he need three, does he need one? Then, how quickly can we get him out of rehab?"
• Right-handed pitcher James McDonald started his throwing program at the Pirates' Spring Training complex and should throw a simulated game later this week.
Though a starter at the beginning of the year, McDonald will most likely return as a reliever, and Huntington said the plan was to build McDonald up to three innings and 50 pitches and decide how to move forward from there.
"Word from Florida is that he feels great and he's anxious to get competing again," Huntington said.
• Pitcher Jeff Karstens is on schedule to start a throwing program in mid-August. Though he has spent much of his career as a starter, if Karstens returned, it would be as a reliever, Huntington said.
"He's working towards it; he wants to come back and help this club, he wants to contribute and be a part of this and we're certainly not going to hold him back," the GM said. "But at the same time, we got to be smart about his long-term as well as moderate-term."
Ian McCue is an associate reporter for MLB.com. This story was not subject to the approval of Major League Baseball or its clubs.