Bucs activate Hughes, option Black day after long relief
Bucs activate Hughes, option Black day after long relief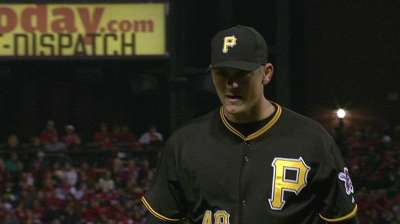 PITTSBURGH -- The Pirates activated reliever Jared Hughes from the disabled list before Friday's game against the Rockies and optioned reliever Vic Black to Triple-A Indianapolis.
Hughes was placed on the 15-day disabled list on June 8 with right shoulder inflammation. The 6-foot-7 righty made seven rehab appearances since mid-July, allowing nine hits and no runs over eight innings. Hughes said his shoulder feels great, and added his sinker and two-seam fastball were playing well. Evaluators in the organization agreed.
"Every one of the reports came back that his ball had really good late life, really good action," Pirates manager Clint Hurdle said. "That was one of our concerns here that we weren't seeing as much consistency with it as we had in the past."
Hughes has a 4.96 ERA and 1.59 WHIP in 15 appearances with the Pirates this season after appearing in 66 games in 2012. He will rejoin one of baseball's best bullpens -- tops in the league in WHIP and opponent's batting average, and third in ERA.
"I don't mind being thrown into the fire," Hughes said. "That's what I live for."
Black made his Major League debut on July 25 and made two more appearances for the Pirates, including one in Thursday's 13-0 loss to the Cardinals. He surrendered two runs and four hits over four innings with Pittsburgh, which recalled him on July 23 when closer Jason Grilli landed on the DL with a flexor strain in his right arm.
Black threw 41 pitches over 2 2/3 innings Thursday and has to take two days off, which went into the decision to option him, Hurdle said.
"There are always positives for these men to take," Hurdle said. "So to knock down a lot of firsts -- first game, first pitch, maybe his first time warming up and not getting in the game. All that being said, the familiarity with the travel, he has his mind wrapped around it."
The 25-year-old Black has a 2.31 ERA and .161 batting average against over 29 appearances with Indianapolis this season, serving as the closer. He has 15 saves in 17 chances.
"He doesn't need to go down and absolutely recook or redo anything," Hurdle said. "He just needs to go down and be aggressive with that fastball and throw that breaking ball whenever he wants to, because he can. That breaking ball can be a separator. He has a chance to be a guy that can wipe out an inning at the back end of a game."
Steven Petrella is an associate reporter for MLB.com. This story was not subject to the approval of Major League Baseball or its clubs.