Pirates stand pat through non-waiver Trade Deadline
Pirates stand pat through non-waiver Trade Deadline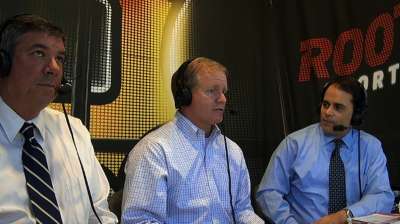 PITTSBURGH -- For the first time in 14 years, including the six-year tenure of general manager Neal Huntington, the Pirates were inactive through the non-waiver Trade Deadline.
The inertia has less to do with the Bucs' lofty current standing than with other teams' refusal to entertain Huntington's willingness to "do something stupid."
"No question, we forced the issue," Huntington said soon after the Deadline had passed. "I made offers that made me incredibly uncomfortable. But I did so with the idea of wanting to help this club.
"I was willing to do something stupid -- but not insane."
Huntington acknowledged focusing his energies on acquiring offense, but in a market he termed "very shallow."
It was a generally weak market for the Pirates' biggest need -- a right-handed-hitting outfielder. Precisely because of that, the cost of players who were available spiraled out of a sensible range, with such veterans as David DeJesus, Marlon Byrd and Mike Morse priced prohibitively. The Pirates were not willing to give up anything for Alex Rios, offering the White Sox only the opportunity of salary relief for an outfielder who has $17.5 million remaining on his contract.
"We looked exhaustively for ways to try to help this club," Huntington said. "At the same time, we believe in this club. We've had a great next-man-up approach."
Huntington was referring to overcoming injuries by recalling players from the club's deep Minor League system.
Deals between Major League clubs can continue to be consummated, but now only after the player(s) in question pass through waivers. Huntington confirmed that as a possible venue for acquisitions -- players with hefty contracts, such as Rios, are certain to pass through waivers. But waiver calls are made in reverse order of clubs' won-loss records, and right now the Bucs' turn would come last.
"After more games are played, more teams may feel like they're out of it," said Huntington, citing the scenario in which players are likely to be put on waivers, "so we'll certainly continue to be active, But our challenge is, we want to be sitting in the back of the pack."
Tom Singer is a reporter for MLB.com and writes an MLBlog Change for a Nickel. He can also be found on Twitter @Tom_Singer. Steven Petrella is an associate reporter for MLB.com. This story was not subject to the approval of Major League Baseball or its clubs.