Wandy feeling good after long-toss sessions
Wandy feeling good after long-toss sessions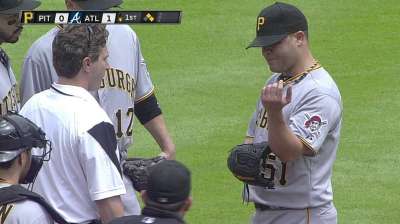 MIAMI -- Pirates manager Clint Hurdle said Wandy Rodriguez was "encouraged" after making two sets of 70 long tosses from 80-90 feet on Friday. Rodriguez was scheduled to do two sets of 60 long tosses from the same distance on Saturday.
"There's been good improvement," Hurdle said. "He felt very good after yesterday's throwing program."
If Saturday's throwing program goes well, Hurdle said Rodriguez could have Sunday off. The manager said the team could potentially design a new plan for Rodriguez on Monday.
"Whether that includes mound work or not, I don't know yet," Hurdle said. "We have him throwing back-to-back days. That's pretty good progressive activity. We'll see where he shows up when we get home."
Joe Morgan is an associate reporter for MLB.com. This story was not subject to the approval of Major League Baseball or its clubs.