Pirates keep options open in tight trade market
Pirates keep options open in tight trade market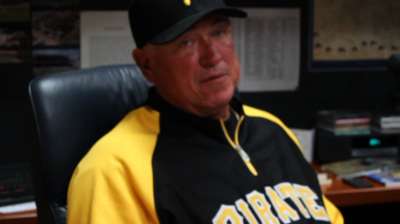 MIAMI -- July 31 has been a busy day for the Pirates in recent years. With the club fighting for its first playoff berth since 1992, general manager Neal Huntington could make yet another Trade Deadline move in 2013.
Acquiring a power-hitting right fielder would benefit Pittsburgh, but the expanded Wild Card race resulted in a tight trade market with reduced available options.
"This extra Wild Card has really become challenging," Pirates manager Clint Hurdle said. "As much benefit comes with it, it's also a time of year where there are some problems that can come with it because you're not out.
"There's a number of teams off the top of my head that I can envision, four or five, that yeah, that's a tough position to be in right now."
Pittsburgh has decided to be a buyer during the past two seasons, pulling off deals at the July 31 non-waiver Trade Deadline each year. The Bucs acquired Derrek Lee and Ryan Ludwick in 2011, and dealt for Gaby Sanchez and Chad Qualls in 2012.
While Lee, Ludwick and Qualls each left Pittsburgh once the season ended, Sanchez is a player under team control for several years.
"We've been active the last two years, and we've gone different ways the last two years, so it's not like we're going one certain way," Hurdle said. "We've gone the way of the rental player. We've gone controllable players. So we're going to keep our options open and stay involved in discussions. We could take this thing right down to the wire."
Huntington is exploring options and has consulted with Hurdle on what kind of players would benefit the Pirates in the National League Central and Wild Card races. Hurdle said the process is constantly evolving.
"We had a list of names, we were working off a sheet, he had me prioritize and we just continue to progress from off of that," Hurdle said. "Other names outside that circumference might jump up from time.
"Sometimes, you're looking to create trades, maybe it's a two-way deal. Sometimes, a three-way deal. You can get a little more creative and ask questions about guys that weren't on the original map that was laid out for you."
Although what the Pirates potentially do as the Trade Deadline looms remains unclear, Pittsburgh is clear in its approach to seek the help it needs for an October push.
"We know who we are, what we are, what limitations we have, what opportunities we have," Hurdle said. "There's no pipe dreams."
Joe Morgan is an associate reporter for MLB.com. This story was not subject to the approval of Major League Baseball or its clubs.