Grilli's forearm requires rest, not surgery
Grilli's forearm requires rest, not surgery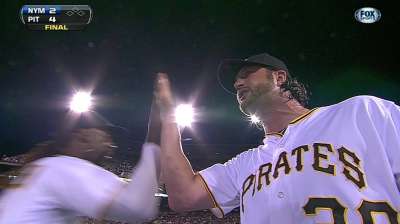 MIAMI -- All-Star closer Jason Grilli will not require surgery to repair a flexor strain in his right arm, the Pirates announced on Friday. After meeting with team doctors and Dr. James Andrews, Grilli will rest to treat the injury.
Grilli will be re-evaluated in the next 10-14 days to determine when he will be ready to begin a throwing program. Although there is no timetable for his return, flexor strains typically sideline pitchers for between four and eight weeks.
The 36-year-old right-hander, who is tied for the National League lead with 30 saves, was placed on the 15-day disabled list on Tuesday after experiencing forearm tightness in the ninth inning of Monday's 6-5 win over the Nationals.
"I'm happy for him," Pirates manager Clint Hurdle said of hearing Grilli will not need surgery. "I'm happy for us. It's out of our hands. Once it happened, whatever's done is done. It just takes time to find out exactly what you're dealing with.
"I'm more relieved for him. Obviously, our team's going to be happy because there's a chance we can get him back. There's a chance we can get him back still with a lot of games left on the docket."
Grilli's familiarity with the team doctors and Dr. Andrews, who performed Tommy John surgery on Grilli in 2002, was key to what Hurdle described as "the proper steps" in regard to evaluating the injury.
"He wanted to make sure that he was able to reach out and get looked at by the people he felt comfortable seeing and needed to see -- for him to gather all of the information he felt he could to make the most sense of it," Hurdle said.
"I think he's in a comfortable place now, as far as knowing what he's going to deal with -- the rehab process ... the steps he'll be taking moving forward."
Right-hander Mark Melancon will fill in for Grilli, who has a 2.34 ERA, a 0.92 WHIP and 66 strikeouts in 42 1/3 innings. Melancon is 2-1 with a 0.93 ERA and a 0.81 WHIP in 48 1/3 innings.
Although right-hander Bryan Morris (2.91 ERA in 43 1/3 innings) and left-hander Justin Wilson (2.18 ERA in 53 2/3 innings) earned late-inning opportunities against the Nationals this week, Hurdle is setting nothing in stone behind Melancon.
"We'll see how the game plays," Hurdle said. "It could be more of a committee setup, whether it's matchups or history, a combination of the two, or who's hot. Maybe somebody will grab the ball and run. I imagine we'll continue to use the guys collectively."
Joe Morgan is an associate reporter for MLB.com. This story was not subject to the approval of Major League Baseball or its clubs.