Defense excels behind great pitching for Pirates
Defense excels behind great pitching for Pirates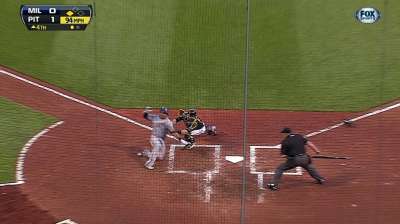 PITTSBURGH -- The Pirates' pitching has been as good as anyone's in baseball this year. But good pitching can only take a team so far if the defense behind it isn't there.
Pittsburgh has excelled at both. The club leads the Majors in defensive efficiency, or the rate balls put in play are converted to outs, through 80 games. At the halfway mark, manager Clint Hurdle sees no reason why it can't continue.
Hurdle pointed to Saturday's 2-1 win over the Brewers as an example of why and how the pitching and defense have fed off each other. Francisco Liriano allowed one run in six innings and got some help from Neil Walker in the fourth, when the second baseman nailed the speedy Carlos Gomez at home with the infield in.
"They feel that. The energy that he gives them to know that [Liriano is] going after people and not trying to walk anybody," Hurdle said. "Then the energy they give him with the plays they make to be efficient with the 27 outs, be efficient with the ball and handle it properly. And that just continues to recycle."
Jordy Mercer has been one of the club's biggest surprises, both defensively and offensively. He took over for Clint Barmes as the full-time shortstop a few weeks ago, and Hurdle has been pleased with what the 26-year-old, who bounced between Pittsburgh and Triple-A Indianapolis earlier in the season, has done.
He showed his range a few times last night, and Hurdle said once Mercer started showing he was capable of playing a full, consistent game at shortstop, he could see everyday time.
"I've always been confident in my defense. I think that's one thing that never lacks with me," Mercer said. "I've always been a defensive-minded guy, taken a lot of pride in my defense, so the confidence has always been there."
Steven Petrella is an associate reporter for MLB.com. This story was not subject to the approval of Major League Baseball or its clubs.