Strikeouts glaring for struggling Pirates offense
Strikeouts glaring for struggling Pirates offense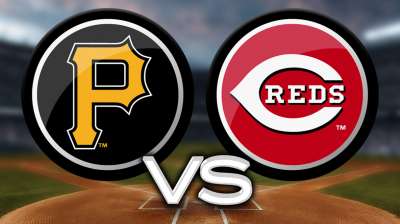 CINCINNATI -- Tuesday's 4-0 win against the Reds encapsulated the good and the bad surrounding the Pirates this season.
Pittsburgh received more quality pitching, starting with Charlie Morton and ending with closer Jason Grilli. That's nothing new, as the Pirates entered Wednesday with a 3.29 ERA, good for third in the Majors.
Unfortunately for the Pirates, the familiar offensive struggles persisted, though they did scratch out enough runs to win. After posting three runs in the first, the Bucs added just one more in the seventh.
The Achilles' heel on Tuesday, as it has been all season, was strikeouts, as Pittsburgh batters struck out a season-high 17 times.
At the beginning of play Wednesday, the Braves were the only National League team to strike out more times (645) than the Pirates (599) this season. That's contributed to Pittsburgh ranking 24th in the Majors in runs scored with 266 before taking on the Reds on Wednesday.
"You don't have to go much further than that to look at why we're being challenged offensively," manager Clint Hurdle said. "You saw the game last night. We need to do a better job of competing within the batter's box -- these guys get it -- and not chasing, to a man."
As a team, the Pirates have swung at 31.6 percent of pitches outside the strike zone this season, according to Fangraphs. Hurdle said everyone has put in the extra work and film study, but it comes down to execution.
To this point, pitching has kept the Pirates alive, but Hurdle said the offense will take them to the next level.
"We're pushing it as much as you can push it," Hurdle said. "I don't think we'll be able to push it for a 162-game season. I just don't. There's got to be more offense along the way, and I believe there will be. We've just got to take it upon ourselves to make it happen.
Jeremy Warnemuende is an associate reporter for MLB.com. This story was not subject to the approval of Major League Baseball or its clubs.