Mercer again at short, but Barmes still in mix
Mercer again at short, but Barmes still in mix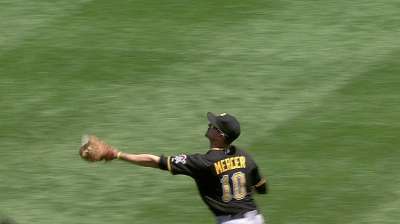 CINCINNATI -- For the third straight day, Pirates manager Clint Hurdle went with Jordy Mercer at shortstop, as the Bucs began a three-game series against the Reds. He went 1-for-2 with a double and a walk in the 4-1 loss.
Mercer's name has been in the starting lineup more and more of late, but that doesn't mean Hurdle is abandoning Clint Barmes at short.
"I'm not going to go there now," Hurdle said when asked if Mercer had a chance to take over the job permanently. "But I've spoke to both of them, and Mercer's going to get some reps here because of the quality of his play and the way he's swinging the bat."
Including Monday, Mercer has started seven of the Pirates' 12 games since June 4. In the previous six starts, he batted .400 (10-for-25) with four doubles and six runs. Barmes entered Monday 1-for-his-last-20.
Hurdle has also been happy with Mercer's performance defensively. Although the 26-year-old won't blow anybody away with his quickness or range, Hurdle said he's been learning how to use angles to his advantage. Barmes has helped make that learning process a little easier.
"Barmes has learned to play shortstop by playing angles," Hurdle said. "He does it as well as anybody in the game. He works with [Mercer] every day. Clint Barmes is actually helping Jordy get better every day."
The next time Barmes is in the starting lineup -- whenever that may be -- Hurdle said it will be for a chunk of games. In the meantime, Hurdle has emphasized to Mercer to simply be steady and not try to make it on to the highlight reels.
"Be extraordinary at the ordinary," Hurdle said. "When a ground ball is hit to short, it ends up an out. That's what he's been doing."
Jeremy Warnemuende is an associate reporter for MLB.com. This story was not subject to the approval of Major League Baseball or its clubs.