Hurdle not matching wits with Mattingly in opener
Hurdle not matching wits with Mattingly in opener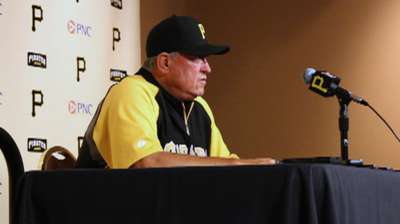 PITTSBURGH -- Opposition players aren't the only ones scouted by Major League teams, who also compile "books" on managers.
Well, maybe not books, but "we have a page on managerial tendencies every time we play an opposing team," Pirates manager Clint Hurdle said.
For the second time in three games, however, Hurdle's page was of little use Friday night: Dodgers manager Don Mattingly was serving a one-game suspension, with Trey Hillman, the former skipper of the Royals from 2008-10, taking his place. On Wednesday, Bruce Bochy was also sitting out due to a one-game suspension, and the Giants were managed by Ron Wotus.
"You can expect their teams to do the same things," Hurdle said, "but there's always the dynamic that a different guy might not want to play it the same way. Not because they intentionally try to manage the game differently, but they might not be as comfortable doing some of the same things as the manager."
What are some of those managerial tendencies on that "page"?
"What do they tend to do in the bottom of the order?" Hurdle said. "Do they scratch around with the hit-and-run? Squeeze? Delayed steal? What risks do they take in different running situations? Do they like bat-handlers to get people moving? With certain managers, you do have a heightened awareness of what they'll do."
Tom Singer is a reporter for MLB.com and writes an MLBlog Change for a Nickel. He can also be found on Twitter @Tom_Singer. This story was not subject to the approval of Major League Baseball or its clubs.