Pirates get into position to snare prep stars
Pirates get into position to snare prep stars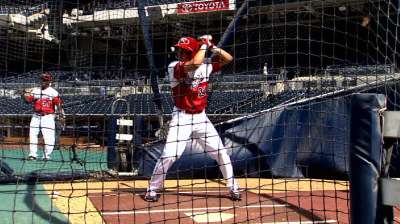 CHICAGO -- Following through on expectations to turn their attention to position players, the Pirates appeared to ace the first round of Thursday's First-Year Player Draft with the selection of two high-ceiling and highly rated prep prospects.
The Bucs made Georgia outfielder Austin Meadows their top choice at No. 9, then came right back at No. 14 with Washington catcher Reese McGuire, who had been projected by many as their likely first selection.
"We got two players we feel very good about, and about being able to select them," Pirates general manager Neal Huntington said. "We're excited about the upside they have."
If initial reactions are indicative, the two 18-year-olds share that excitement.
"It's a great, humbling experience. I've heard a lot of good things about the Pirates, about their good development system, and it's a great feeling to become part of the team," said Meadows, who soon after Commissioner Bud Selig called out his name posted on his Twitter account, "I'm a Pittsburgh Pirate!"
"The confidence they showed in me built up my confidence," McGuire said. "I'm so excited. It's a dream come true."
Also coming true were predictions that the Bucs were going to look elsewhere, now that their organization teems with such high-end pitching prospects as Gerrit Cole and Jameson Taillon. And, with the big league club now in a competitive mode, they didn't need sudden impact players but could afford to plan longer range. With their third pick of the evening, at No. 51 in the second round, the Pirates tabbed left-hander Blake Taylor out of Dana Hills High School in Southern California.
"Getting an extra three years of development in our system is a very good thing," said Huntington, contrasting the timeline of high-school graduates to those of college juniors. "Getting three extra years out of an 18-year-old is a positive."
Typically, both prep standouts will have to weigh college options vs. the Pirates' offers. Meadows, who is considering Clemson, is at a slot of $3,029,060. McGuire is at $2,569,800 and has a waiting scholarship at San Diego.
McGuire sounded like his mind has already been made up.
"I've talked with my family, and I'll go do what is best," McGuire said. "Professional baseball is what I've dreamt of, and what my goal has been. So I'm probably leaning towards the pro."
Meadows called his direction "a big family decision, and we'll make it in the next few weeks." But the Pirates have two factors in their corner: members of his extended family residing in the Pittsburgh area, and Andrew McCutchen.
"I can't wait to meet McCutchen. He makes the game look easy," said Meadows, who referred to having "a lot of family -- aunts, cousins -- in Pittsburgh."
"Having them there definitely makes this more special," he said. "I hope I can live up to it, and make the family there proud, too."
While hard-throwing right-handed pitchers have been Huntington's main desirables, Meadows reflects another of the GM's favorite targets: center fielders, the position he played for Grayson High School in Loganville, Ga.
Former Major League GM John Hart described Meadows as "the biggest upside bat left in the Draft" following the selection of Loganville neighbor and lifelong friend Clint Frazier as the No. 5 pick by the Indians.
"I'll definitely reach out to him tonight, after all this," Meadows said of his buddy Frazier.
Numerous analysts rated Meadows -- 6-foot-2, 195 pounds and left-handed all the way -- as the high school player in this Draft pool closest to being big league-ready.
"We like the athlete, the frame and the tools package," Huntington said. "He does a lot of things very well."
As does McGuire, perhaps a little more conspicuously, standing out as a young catcher who has been calling his own game "since Little League." He comes not only from a baseball family, but a catcher family.
"Baseball's in our blood," McGuire said. "My dad and my uncle were both catchers. Mom played softball. It's awesome to have an athletic family background."
McGuire also is a left-handed hitter -- a valuable and rare commodity among catchers -- who batted .436 in 26 games for Kentwood Senior High School in Kent, Wash.
Meadows batted .535 with 19 extra-base hits (four homers, along with a triple and 14 doubles) and 28 RBIs in his senior season.
Meadows was taken as the compensation choice for the Pirates' failure to sign their top '12 selection, Stanford right-hander Mark Appel -- the Astros' choice as the overall No. 1 pick this time around.
The selections of Meadows and McGuire are major departures from the previous norm of the six-year-old Huntington regime. They are the first prep position players the Pirates have taken with their top pick since Neil Walker and McCutchen were consecutive Nos. 1 in 2004-05.
Day 2 of the Draft continues with Rounds 3-10, streamed live on MLB.com on Friday, beginning with a preview show at 12:30 p.m. And Rounds 11-40 will be streamed live on MLB.com on Saturday, starting at 1 p.m.
MLB.com's coverage includes Draft Central, the Top 100 Draft Prospects list and Draft Tracker, a live interactive application that includes a searchable database of Draft-eligible players. You can also keep up to date by following @MLBDraft on Twitter. And get into the Draft conversation by tagging your tweets with #mlbdraft.
In the Pipeline
Meadows and McGuire would appear to both have reservations in Pittsburgh, but it will take time. Especially when it comes to position players, the Pirates take the ketchup approach: Slow, but worth the wait. Starling Marte is not a bad example; he was signed at 19 and despite standout success every step of the way, he did not get to Pittsburgh until he was 23.
Meadows and McGuire are looking at similar timelines. The obvious intrigue with Meadows is that he will turn 23 in the season in which McCutchen's still-fresh, six-year deal will expire. McGuire represents a new tack for the Pirates, who in 2009 used their No. 1 pick on a college catcher (Tony Sanchez, out of Boston College) whose development has been a disappointment.
The last prep catcher drafted by the Pirates was Walker, whose subsequent position change reflected the fates of many high school catchers. But McGuire seems more committed to, and more developed at, that position than the typical peer, and he will be hard to move.
Tom Singer is a reporter for MLB.com and writes an MLBlog Change for a Nickel. He can also be found on Twitter @Tom_Singer. This story was not subject to the approval of Major League Baseball or its clubs.