Clutch hits in low supply for Pirates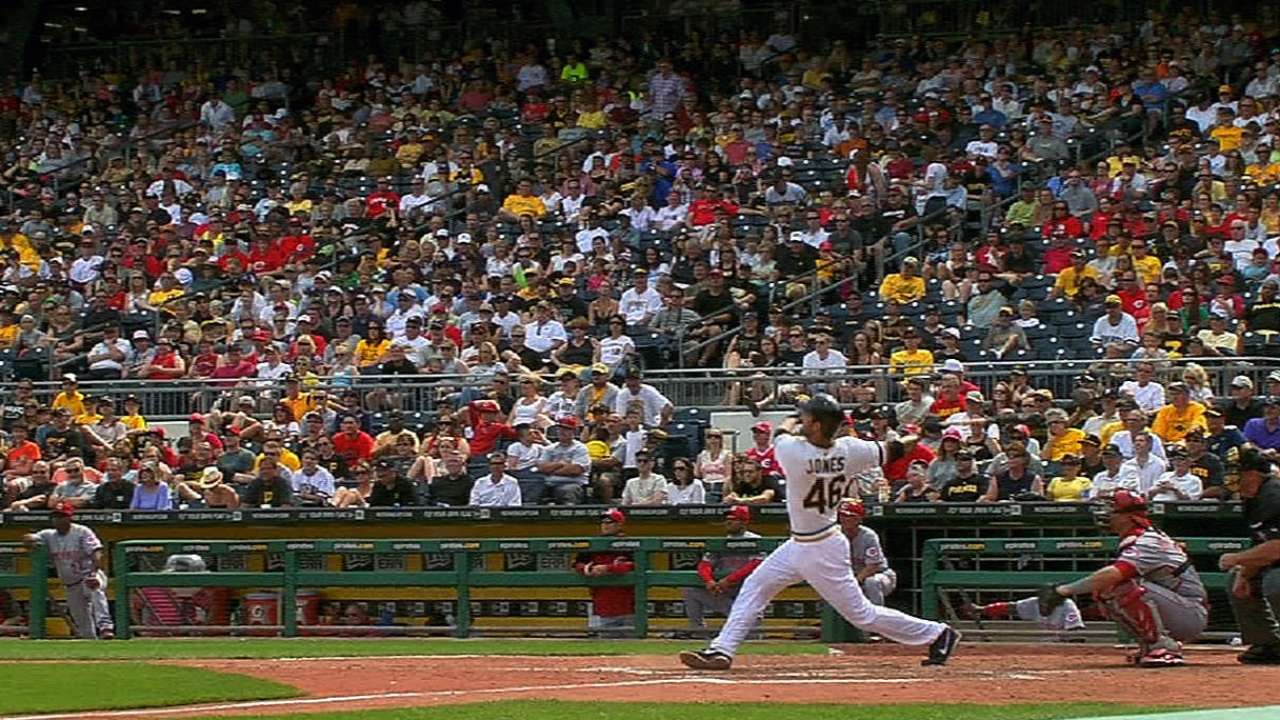 ATLANTA -- One day after Garrett Jones' monster home run found the Allegheny River on the fly on Sunday afternoon in Pittsburgh, manager Clint Hurdle would only compliment his first baseman's achievement with a few qualifiers in tow.
"Unfortunately, those are the kinds of swings we took for the whole homestand, and we actually hit one of them," Hurdle said. "So, the good side is we hit that one at the time we hit it, but the 47 other that were swung and missed, we're trying to connect the dots with the hitters a little bit as we continue to work on this average with runners in scoring position."
The Pirates will certainly take the long ball whenever they can get it, but they have been more concerned with improving upon the more practical ways of manufacturing runs. As of Monday's action, Pittsburgh is hitting .219 with runners in scoring position this year, just two points ahead of Seattle for the worst average in baseball. Of the seven runners the Pirates left on base in Monday night's 7-2 loss to the Braves, five were stranded on second base.
"It's the hardest thing to do in baseball, in my opinion, two-out hits and hitting with runners in scoring position," second baseman Neil Walker said. "Just as a group and as individuals at the plate, you have to simplify things. You have to understand the situation, you have to know that you can't try to do too much."
Walker is hitting .190 in 42 plate appearances with runners in scoring position this season, a clip placing him among the least productive of the Pirates' everyday players. Pedro Alvarez, Brandon Inge and Russell Martin also have averages below .200 in those situations.
"We're not concerned about it as a group," Walker said. "Those numbers will turn around, we know that, but sometimes you go through ruts that it seems tough to drive guys in."
It is a problem that is easy to diagnose, but difficult to remedy. Walker noted that the players who maintain a mature approach at the plate and don't try to do too much with every at-bat will often find their numbers turn around.
"I think knowing the situation when you have runners in scoring position is very big -- who's hitting behind you, how they're going to attack you, this and that," Walker said. "I can't say it's more individual or not more individual, it's just one of those things where you have to simplify things. There's no physical thing you have to do to hit guys in. You just have to compete in the box."
Eric Single is an associate reporter for MLB.com. This story was not subject to the approval of Major League Baseball or its clubs.