On Mother's Day, Bucs get pink pop from Barmes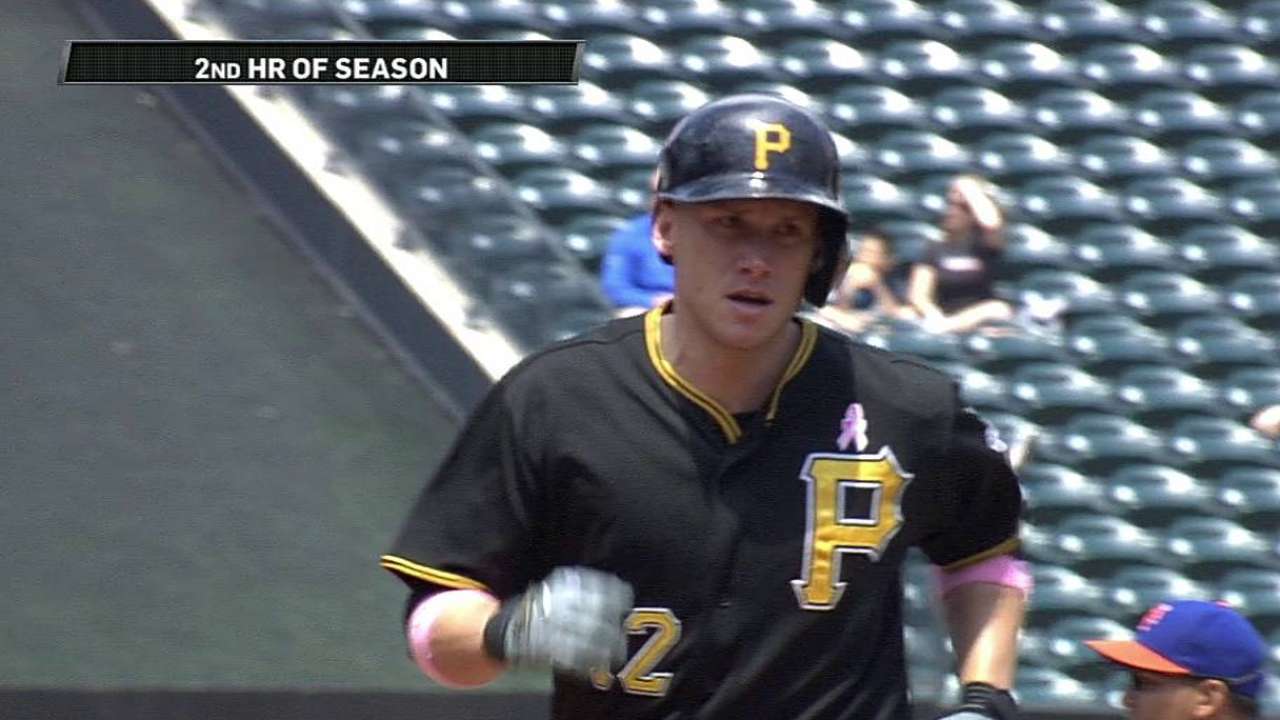 NEW YORK -- Manager Clint Hurdle wanted to make this clear: "I told my mother she's my favorite mother."
"I love this day," he said. "It's a great day."
And he endorsed Major League Baseball's Mother's Day program, and all the pink it entails. Hurdle promised to wear something pink, but probably not the pink Phiten that was on his desk.
"I don't like things on my neck," he said. "Someone gave me one once, and I put it in my back [uniform] pocket," Hurdle said.
Travis Snider, Garrett Jones, Starling Marte, Pedro Alvarez, John McDonald and Clint Barmes, all in the starting lineup, used pink bats Sunday in recognition of Mother's Day and breast cancer awareness. Snider wore pink spikes, Mike McKenry used pink batting gloves and Andrew McCutchen work one pink wrist band.
Barmes, swinging the pink, knocked a home run off Matt Harvey in the third inning of the Pirates' 3-2 victory against the Mets. It was just Barmes' second this season, with the other coming against Stephen Strasburg on May 4 in Pittsburgh.
Barmes hits home runs far less frequently than Strasburg and Harvey surrender them. Strasburg has allowed five so far this season, Harvey three. It's a home run go-figure.
"I have no explanation," Barmes said.
He has hit 83 homers in his career, but 61 came when he was a member of the Rockies, pre- and post-humidifier. A dozen more came last season when his home was cozy Minute Maid Park in Houston. So what do we do with that evidence?
Even his bats are not factors in this oddity. He used one of his own bats, a black model against Strasburg. And Sunday, he borrowed a pink bat from John McDonald and swatted a pink-stitched baseball over the blue wall with the orange stripe atop it at Citi Field.
"I don't think the color had much to do with it," Barmes said. "I had my own [pink] bats, but John's felt better."
Marty Noble is a national reporter for MLB.com. This story was not subject to the approval of Major League Baseball or its clubs.