Sanchez given six-game suspension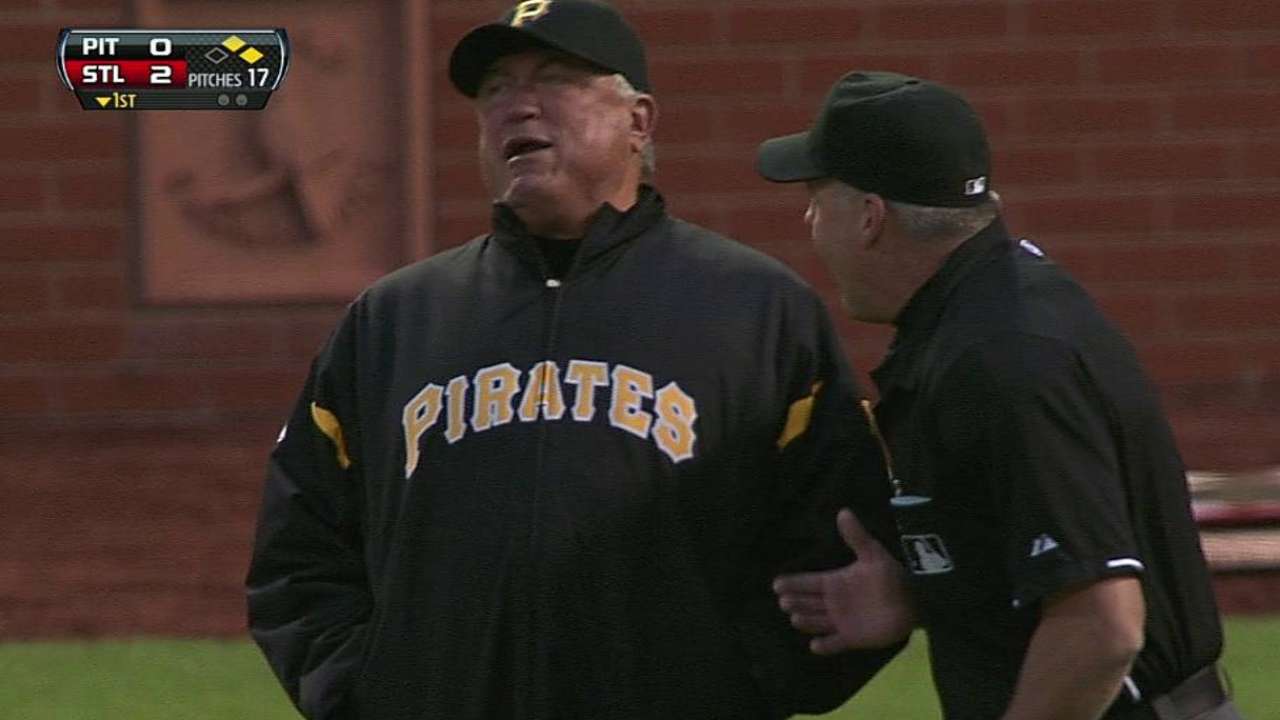 ST. LOUIS -- Jonathan Sanchez was in the Pirates' bullpen for Saturday afternoon's game. But he was deeper in Major League Baseball's doghouse.
Sanchez was given a six-game suspension, along with an unspecified fine, after having been adjudged by Joe Torre, MLB vice-president of baseball operations, of "intentionally throwing a pitch" and hitting the Cardinals' Allen Craig in the first inning of Friday night's game.
Sanchez has chosen to appeal the discipline, which will be held in abeyance during that process, and was available to work in relief Saturday against the Redbirds.
Torre rendered the swift decision following a morning phone conversation with Pirates manager Clint Hurdle.
"There's a certain protocol in these situations," Hurdle had said of his talk with Torre, whom he lauded as the ideal arbiter in such cases. "We're fortunate to have Joe in this position. He has worn the managerial shoe, but that doesn't mean he will always take the manager's side, because he's in a different situation now."
Sanchez was immediately ejected by plate umpire Tim Timmons after his first pitch against Craig struck Craig high on the left shoulder. Matt Carpenter and Carlos Beltran had begun the game with home runs, and Matt Holliday's sharp single to center had led to Craig.
Timmons told Sanchez his intent "was obvious" in waving him off the field. Hurdle was also ejected during the ensuing argument, and his batting coach, Jay Bell, drew Timmons' thumb in the fifth inning for jawing about Starling Marte's having gotten hit for the second time by the Cardinals' Lance Lynn.
Despite warnings to both benches having been issued in the wake of Sanchez's ejection, neither pitch to Marte nor a later one by reliever Mitchell Boggs that clipped Gaby Sanchez led to any repercussions.
"I think we've all seen those instances where they throw that warning out ... and somebody glances somebody and now they feel obligated to throw them out when it's obvious they weren't trying to hit anybody," Cardinals manager Mike Matheny said Saturday. "It puts a lot more judgment on the umpires, but hopefully they use their good judgment and can try to follow what intent is."
"At the end of the day," Hurdle said, "the only person who knows what happened is Jonathan. I know this about Jonathan: He knows he has to pitch well to keep his spot, and anything that takes away from that isn't productive."
Tom Singer is a reporter for MLB.com and writes an MLBlog Change for a Nickel. He can also be found on Twitter @Tom_Singer. This story was not subject to the approval of Major League Baseball or its clubs.