Veteran Inge returns to Bucs ready to show versatility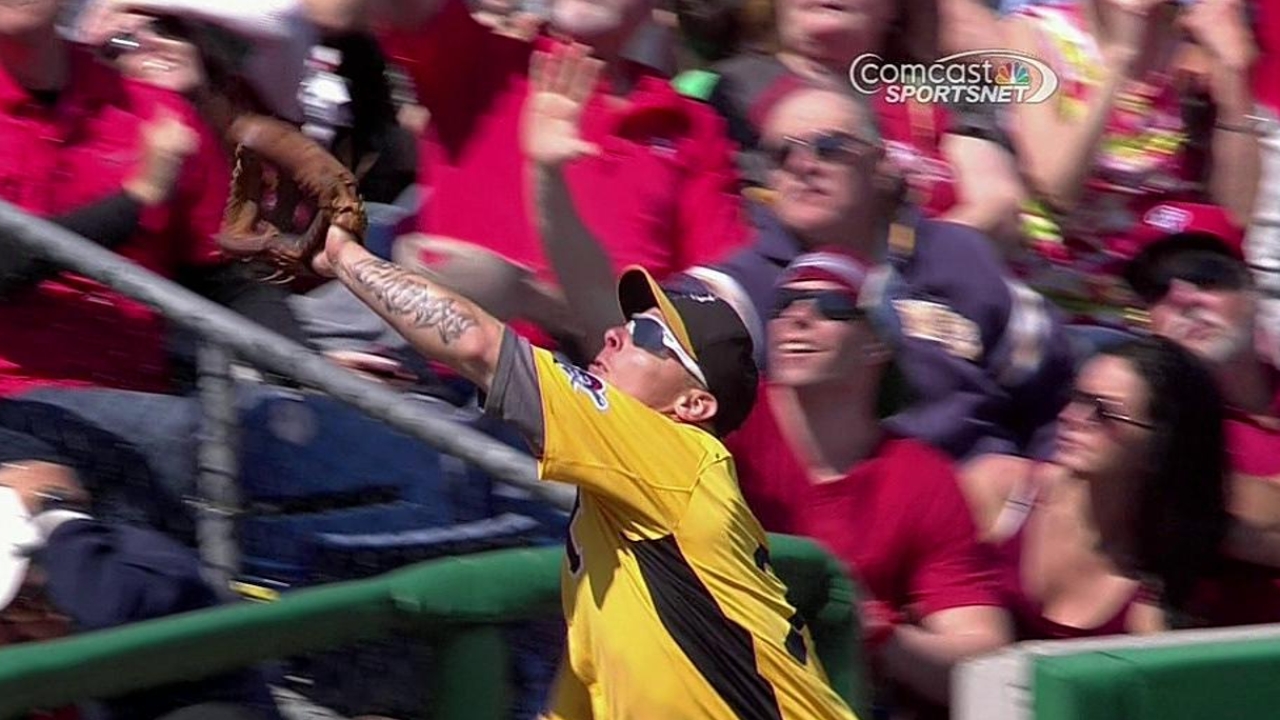 PHILADELPHIA -- Brandon Inge had good reason to be in a joking mood on Tuesday afternoon at Citizens Bank Park.
Inge arrived in Philadelphia, where the Pirates were set to play the Phillies in the second of a four-game set, one day after he played shortstop for Triple-A Indianapolis. The veteran utility man completed his rehab with the Indians after fracturing his scapula in Spring Training. Inge started at third base against Phillies left-hander Cole Hamels in his first game back, and he hit a long RBI double in his second at-bat.
"I always want to play," said Inge, who suffered the injury on March 14 when he was hit by a pitch. "Baseball has been my life, but at the same time, I'll do whatever these guys want to help out."
Inge joined the Pirates this past offseason knowing that he would be a bench player. The veteran, who the Bucs made room for by optioning Alex Presley to Triple-A, played six different positions in the field with Indianapolis, including a return to shortstop, a position he played at Virginia Commonwealth University.
It's that versatility and the hope that Inge can produce some power against left-handed pitching that makes him a fit for the Pirates.
"He's able to catch a spark and get hot. When he gets hot, that's when you find spots for him," manager Clint Hurdle said. "He's a veteran presence that adds value to the club and doesn't get outside of himself. I do look for him to provide a piece of the offense we don't have right now.
"We need to find a way to be better against left-handed pitching. That was one of the soft spots for us last year, and it's jumped out already this year."
What the Pirates and Hurdle don't expect is for Inge to play at shortstop this year, as he sits third on the depth chart behind Clint Barmes and John McDonald. That doesn't mean Inge didn't thoroughly enjoy his return to the position while in Indianapolis.
"It was like riding a bike," said Inge, who was told by one umpire -- with no malice intended -- that he was 12-years-old the last time Inge played short in 1998 with VCU. "It was easier than playing second, where everything is reversed."
He will have to hit better than the .150 average he posted, but the reality is, Inge's real Spring Training was in Indianapolis, and he feels that number will improve now that he's in more of an early-season form.
"I was actually putting some good wood on the ball down there," Inge said. "Plus, they pitch you differently. It's good. Lot of stuff -- breaking balls. It's a good test for coming back up here."
"I think if you are just grabbing the offensive numbers, the quality at-bats ramped up from the time he started to the time he finished," Hurdle said.
Michael Radano is a contributor to MLB.com This story was not subject to the approval of Major League Baseball or its clubs.