Locke heads into season with confidence high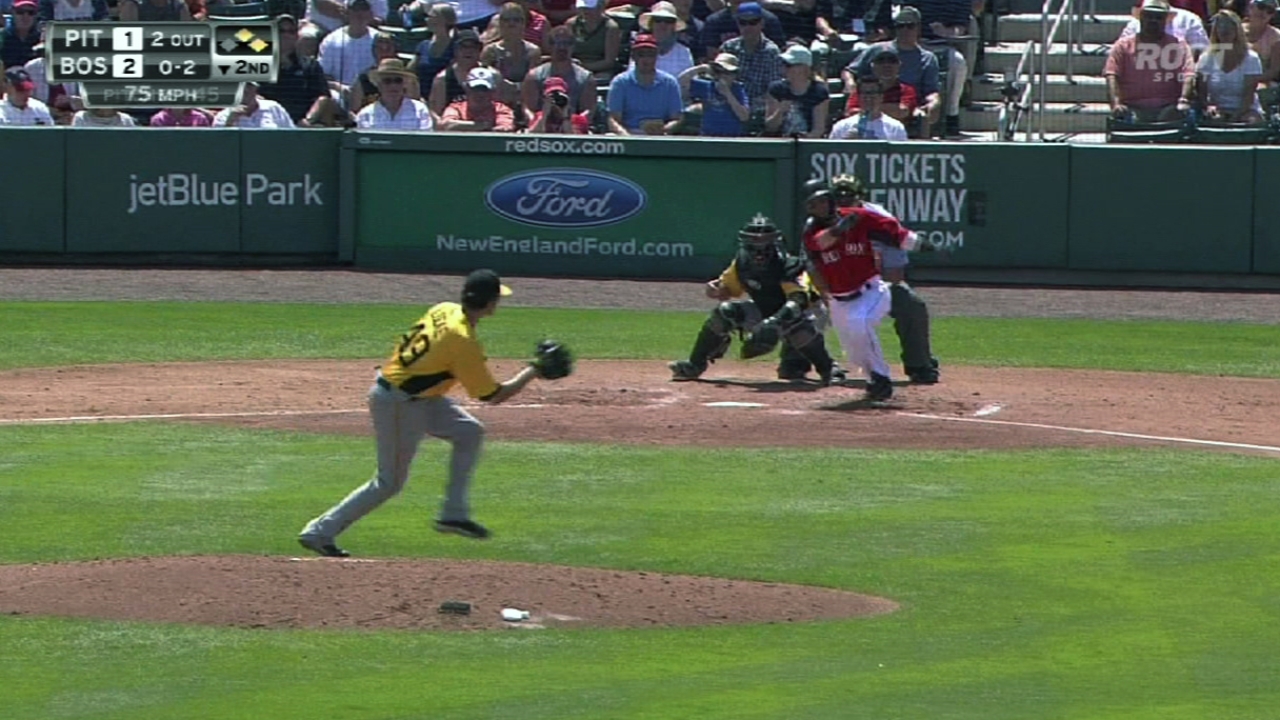 TAMPA, Fla. -- Jeff Locke took the mound Thursday afternoon with all the confidence in the world, having been named the Pirates' fifth starter a day earlier.
But after tossing six shutout innings against the Yankees at George M. Steinbrenner Field with his best fastball-changeup combination all spring, he can head north feeling that much better.
Locke allowed four hits and struck out three in six efficient innings on both clubs' getaway day. Sure, the Yankees were swinging early and often as they prepared to break camp, but Locke still looked at the outing as a confidence-booster.
"It's easy to feel good about today's outing, especially when it's the last one, heading out today," Locke said. "I'll be in Pittsburgh tonight at some point, and you feel a lot better about that outing when you're in Pittsburgh. I'm excited, ready to get roaring."
Locke finished the spring with a 3-1 record and 2.63 ERA, leading the Pirates with three wins over his seven games (six starts). He felt like he was getting ahead of hitters better than he had all spring, and he worked in his changeup more often and more effectively than in his previous Grapefruit League starts.
Pirates manager Clint Hurdle added that Locke was throwing all his pitches well, but the changeup was an "equalizer" for him. And pitching with the comfort that his next start would be in the Majors didn't hurt, either.
"Time will tell. I've seen it happen, and that's one of the best things you get to enjoy as a manager," Hurdle said. "As hard as the day is in some areas, there's equally a lot of opportunities that you're bestowing upon guys and being the one at least to share the good news with them first. He cut his teeth twice at the Major League level and took some hard lessons. He didn't get his first win until his last start, and he had a few starts."
Locke will have to pitch somewhere between now and his first turn in the rotation, but he didn't know exactly when or where that will come. He did know that he will be with the Pirates at PNC Park for Opening Day -- his first in a Major League uniform.
"It's super exciting, just talking to the veteran guys around here saying all the time that Opening Day doesn't get old. It's never the same. It's always exciting," Locke said. "It's going to be like a playoff-type, World Series-type environment just because everyone's so happy to be out there again playing in front of the home crowd. So it's going to be a lot of fun, I'm sure, for me because I've never been a part of a big league Opening Day before.
"I can only speak to Triple-A Opening Days. I was so excited for that one, so I can only imagine that this one will definitely hold a candle to it."
Adam Berry is a reporter for MLB.com. Follow him on Twitter at @adamdberry. This story was not subject to the approval of Major League Baseball or its clubs.