Rotation hopeful Locke able to limit hometown team
New Hampshire native doesn't record strikeout, but stays in mix for fifth-starter spot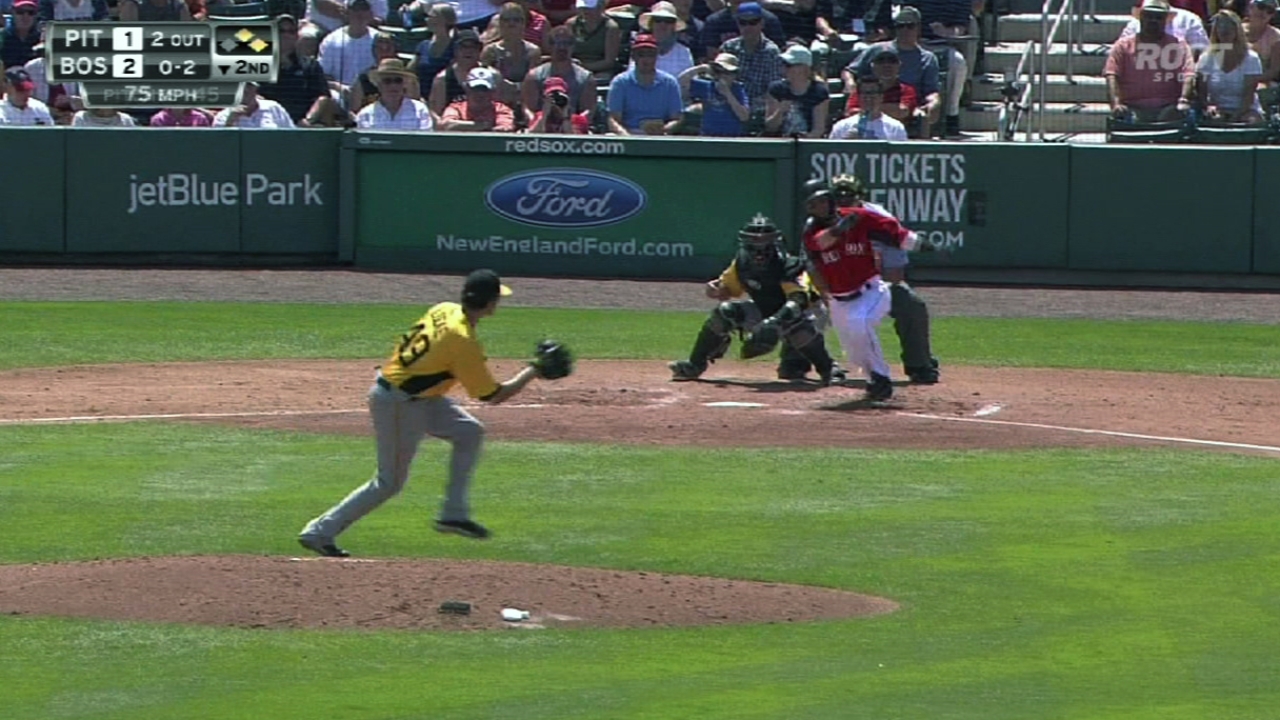 FORT MYERS, Fla. -- Facing Jacoby Ellsbury and Dustin Pedroia was a rush for Pirates left-hander Jeff Locke, who grew up with a share of Red Sox season tickets in nearby New Hampshire. Winning a job with the Bucs this spring, likely, would be the bigger rush.
Locke went four innings and gave up three runs, two earned, in the Pirates' 5-3 road win over the Red Sox on Saturday. He gave up seven hits and one walk, but kept the damage to a minimum without recording any strikeouts.
"Obviously I don't have anything to say about the decisions that are going to be made here in the next week," Locke said. "You know, because it's not my call. But I'll tell you what, if I am part of that or if I do find my way into that, I'll be the best Jeff Locke I can be. And if not, I'll try and be the first guy up there when need be. I just want to do anything I can to help out the club."
While it's a boon to Locke that he could pitch in relief or as a starter, pitching coach Ray Searage said the team likes Locke as a starter.
"We'd like to have depth in the rotation," Searage said. "God forbid anything happens to one of these guys, we need that depth, we got it with him. We've got it with [Kyle] McPherson. Those guys are both vying for that fifth spot. … He's only making our decision tougher by the way he goes out there and presents himself."
Facing the Red Sox, who fielded most of their regulars, was something the kid in Locke can appreciate -- and also a solid test as the regular season approaches.
"Absolutely, it's kind of a rush out there," Locke said. "For me growing up, being a Red Sox fan and now getting to step on the field with the guys I was watching play when I was in high school, and they were doing all the great things, it's a lot of fun to go out there and compete against them."
Evan Drellich is a reporter for MLB.com. Follow him on Twitter @EvanDrellich. This story was not subject to the approval of Major League Baseball or its clubs.