Pirates acquire McDonald from D-Backs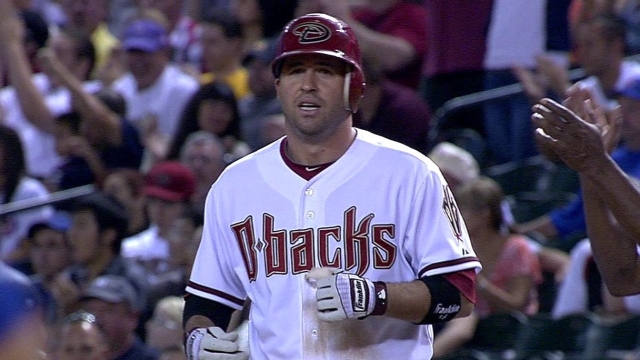 LAKE BUENA VISTA, Fla. -- The Pirates have acquired infielder John McDonald from the D-backs for a player to be named later or cash considerations, general manager Neal Huntington announced Wednesday.
The move comes two days after Chase d'Arnaud, who was expected to make the team as a backup shortstop, had surgery to repair a partially torn ligament in his left thumb. To make room for McDonald on the 40-man roster, d'Arnaud was placed on the 60-day disabled list.
The 38-year-old McDonald played 70 games for Arizona last season at shortstop, second base and third base, and had a .996 fielding percentage, making only one error in 469 chances. He hit .249 with six home runs and 22 RBIs.
"He's obviously a very accomplished defensive player. Veteran presence. Quality guy on and off the field that provides us with some depth and stability," Huntington said. "At a spot where we all of a sudden didn't have a lot of depth and stability.
"First and foremost, we liked the defense. We liked the player a lot. Secondly, he comes with some experience. He's been through the battles of a Major League season and we expect he's going to give us some versatility off the bench and we can rest [starting shortstop] Clint Barmes when appropriate. He provides us some organizational depth at a position where there's not a lot of industry depth."
McDonald will make $1.5 million this year and can be a free agent at the end of the season.
Paul Hagen is a reporter for MLB.com. This story was not subject to the approval of Major League Baseball or its clubs.