Making rotation bid, McPherson bounces back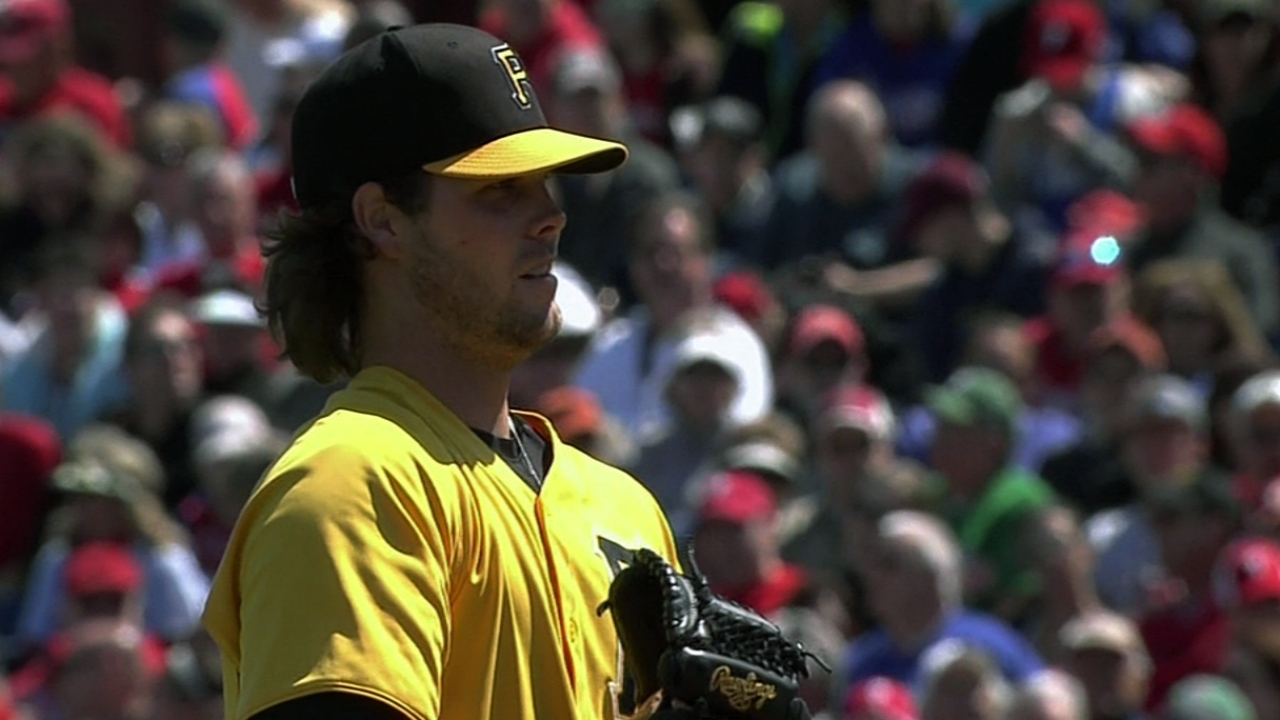 CLEARWATER, Fla. -- In the latest turn of what he termed a "roller coaster of a spring so far," right-hander Kyle McPherson showed Thursday at Bright House Field why he's still in the mix for a spot in the Pirates' rotation.
Facing a Phillies lineup that included as many as six of their Opening Day starters, McPherson breezed through five scoreless innings, allowing only four hits with one strikeout. And as Pirates manager Clint Hurdle said, the results were representative of the way he pitched.
"That was a nice five-inning snapshot of what you're looking for from him," Hurdle said.
That hadn't been the case this spring for McPherson, competing with left-hander Jeff Locke for the final spot in the rotation, as he'd allowed eight earned runs on nine hits and four walks in his previous 7 2/3 innings.
But he put it all together Thursday, inducing early contact, keeping the ball down in the zone and letting the Phillies serve up ground balls and catchable fly balls.
"Fortunately the early contact was in my favor today," McPherson said. "Balls on the ground and some fly balls that we could handle, and I was able to go deep enough into the ballgame to give the team a chance."
On top of that, McPherson blanked a lineup loaded with left-handed threats, including Ryan Howard, Chase Utley and Domonic Brown, while staying within his prescribed 65-70 pitch count well enough to get through five innings. All that's left for McPherson to do, Hurdle said, is repeat Thursday's performance on a consistent basis.
As for that fifth-starter competition, McPherson said everything you'd expect him to -- that he's focusing on his work on a day-to-day basis rather than thinking about possibly landing a spot on the Opening Day roster. Locke, meanwhile, has given up six runs on 15 hits and six walks while striking out 10 in 13 1/3 innings over four starts.
As expected, Hurdle wouldn't tip his hand when asked if he's seen either pitcher create any separation.
"I wouldn't tell you if I did," the manager said with a grin. "You guys are watching the same games I am. You're seeing what I see."
On Thursday, the Pirates saw a "snapshot" of McPherson at his best, one they certainly wouldn't mind seeing more of this spring.
Adam Berry is a reporter for MLB.com. Follow him on Twitter at @adamdberry. This story was not subject to the approval of Major League Baseball or its clubs.