Inge excited for opportunity with blue-collar team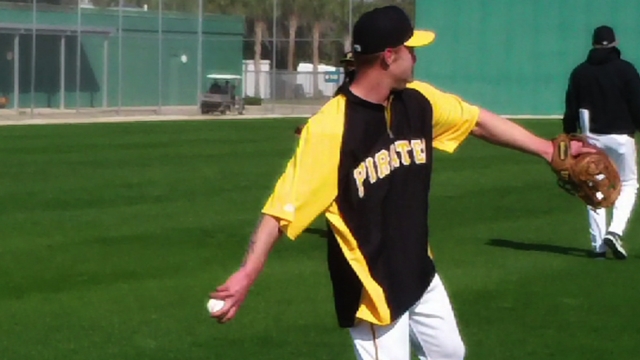 BRADENTON, Fla. -- The postseason pedigree of the Pirates clubhouse took quite a leap Saturday morning, when Brandon Inge stepped through the doors. The versatile veteran and his 23 playoff games, sought by several teams, were drawn to the black and gold by blue.
"I'm a huge fan of blue-collar teams over the years, no matter their record at the end of the season. In my eyes, this team always plays hard. I like that. I want to be a part of that," said Inge, who reported to camp three days after agreeing to a Minor League deal with the Bucs that included an invitation to Spring Training.
"For me, it seemed like a good fit," Inge continued, "offering a better chance for an opportunity to help turn the team around. To be honest with you, I kinda enjoy that. You look over the years, and the big top-dollar teams don't always turn out the way they expected."
Inge will have an opportunity to prove his value in a reserve infielder's role, but has been told to not overdo it too quickly. He underwent surgery on his throwing shoulder in September. But while he proclaimed himself pain-free, he acknowledged that he still has to build up strength in the joint.
"I can throw, and I want to go out there and let it go, but we've set sights on April, so there's no reason to push it and get hurt in the process," Inge said.
A 35-year-old Virginia native who broke in with the 2001 Tigers as a catcher and through the years has started at five different positions, Inge will go through his 15th Spring Training, but the first outside of Lakeland, Detroit's spring home. Last season, he signed with the A's after Detroit released him in late April.
"I've never felt more like a rookie," he said with a laugh. "It's cool, a fresh start. It'll be a blast. I play to have fun, and after two minutes in the clubhouse I could tell it'll be the same here. I don't really know any of the guys, so I can mess with all of therm."