Young slugger answers Bell at first base
Record-breaking rookie season should lead to stability at position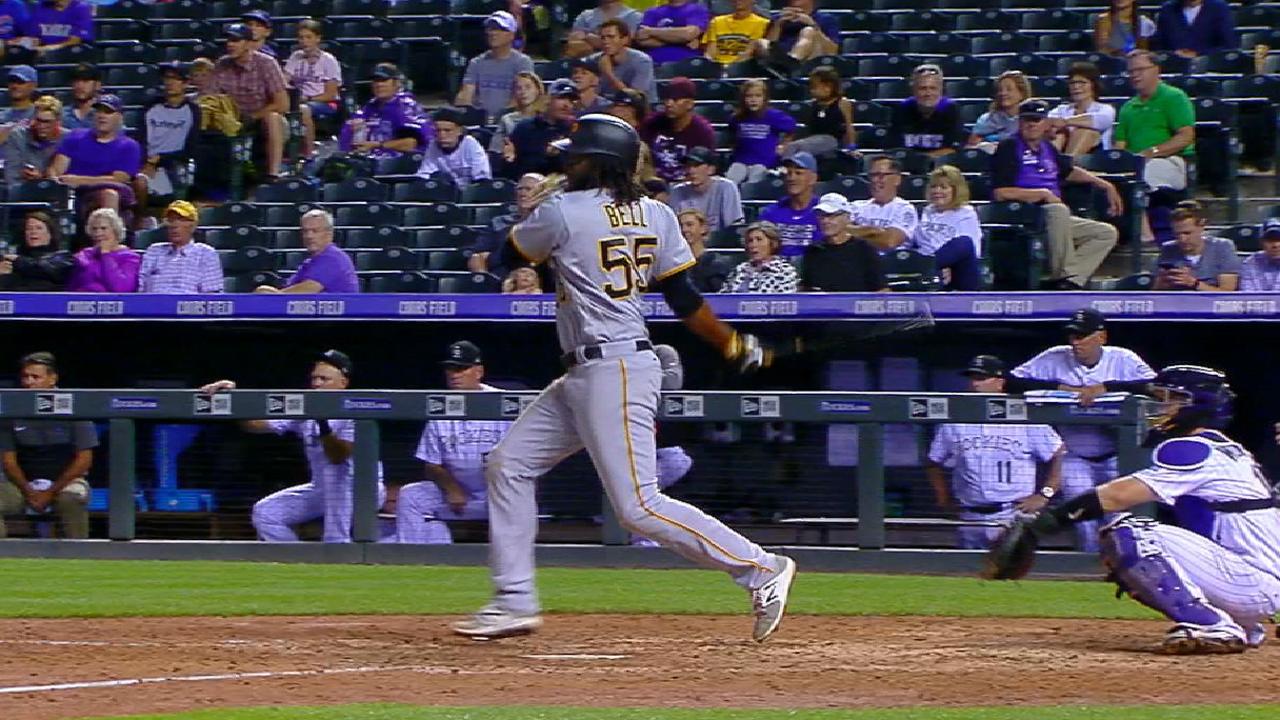 PITTSBURGH -- For all the questions the Pirates faced throughout this frustrating season, one answer emerged. They finally found their first baseman.
Josh Bell was a bright spot during a mostly disappointing year. He had a slash line of .255/.334/.466 with 26 home runs and 90 RBIs and silenced three preseason criticisms. After left knee surgery in February, would he hold up physically during his first full Major League season? Could the Pirates trust him on defense? Would he hit for power?
Yes, yes and yes.
Bell led the team with 159 games played. He developed into a reliable defender at first base and produced six Defensive Runs Saved. Offensively, he finished first on the team in RBIs and second in homers, set the National League record for most home runs by a switch-hitting rookie and tied Jason Bay's club record for most long balls by a rookie.
"I'm in a good place," Bell said. "I'm happy to say I made it."
But Bell readily acknowledges he is not a finished product. His rookie season was full of growing pains, especially from a rocky Spring Training through a May slump that made him wonder if he'd be sent down to Triple-A. After that, he bounced back to hit .271/.348/.483 in his final 105 games.
"The game's a lot different up here," Bell said. "I know what I need to do to have success for next year, so I'm excited about that."
Bell spent previous winters taking "1,000 swings a day," he said, constantly working and tinkering. This offseason will be different. The native Texan is planning to spend some time in California, driving up the coast and hiking and watching the Pacific Ocean -- leisure he didn't think he had time for in the past.
There will be work, too. Bell believes his improvement at first base was due in large part to the flexibility he gained by dedicating himself to yoga, so he'll do it every day he can this offseason. He won't need another crash-course at first base, but he will address his throwing issues by lowering his arm slot during offseason workouts with infield coach Joey Cora and special assistant Kevin Young.
"I've got five months to focus on that. I can reteach myself how to throw," Bell said. "If I can do that, first base will be that much more fun."
Bell had to compromise certain workouts as he returned from knee surgery, so he'll also focus on strengthening his lower body. Bell came to appreciate the significance of durability by watching teammate Josh Harrison, who was plunked by 23 pitches yet played nearly every day until September.
"You learn from guys like that. You have success by playing every day," Bell said. "I definitely wouldn't have as many RBIs or homers if I'd had 10 or 15 fewer games. It's really important. That's what this offseason is going to be focused on -- being able to play 162, but also maintain strength throughout those 162."
Next March, Bell can stop a carousel that's spun for the better part of the past decade. He should become the first Pirates first baseman to make consecutive Opening Day starts since Adam LaRoche did so from 2007-09. In between came Jeff Clement, Lyle Overbay, Garrett Jones, Gaby Sanchez, Travis Ishikawa, Pedro Alvarez and John Jaso.
Now, the position belongs to Bell.
"It's always been a little bit of a revolving door for us. Josh stepped in in a big way," general manager Neal Huntington said. "He's going to be fun to watch."
Adam Berry has covered the Pirates for MLB.com since 2015. Follow him on Twitter and Facebook and read his blog. This story was not subject to the approval of Major League Baseball or its clubs.