Inbox: Any young power hitters on the way?
Beat reporter Adam Berry fields Pirates fans' questions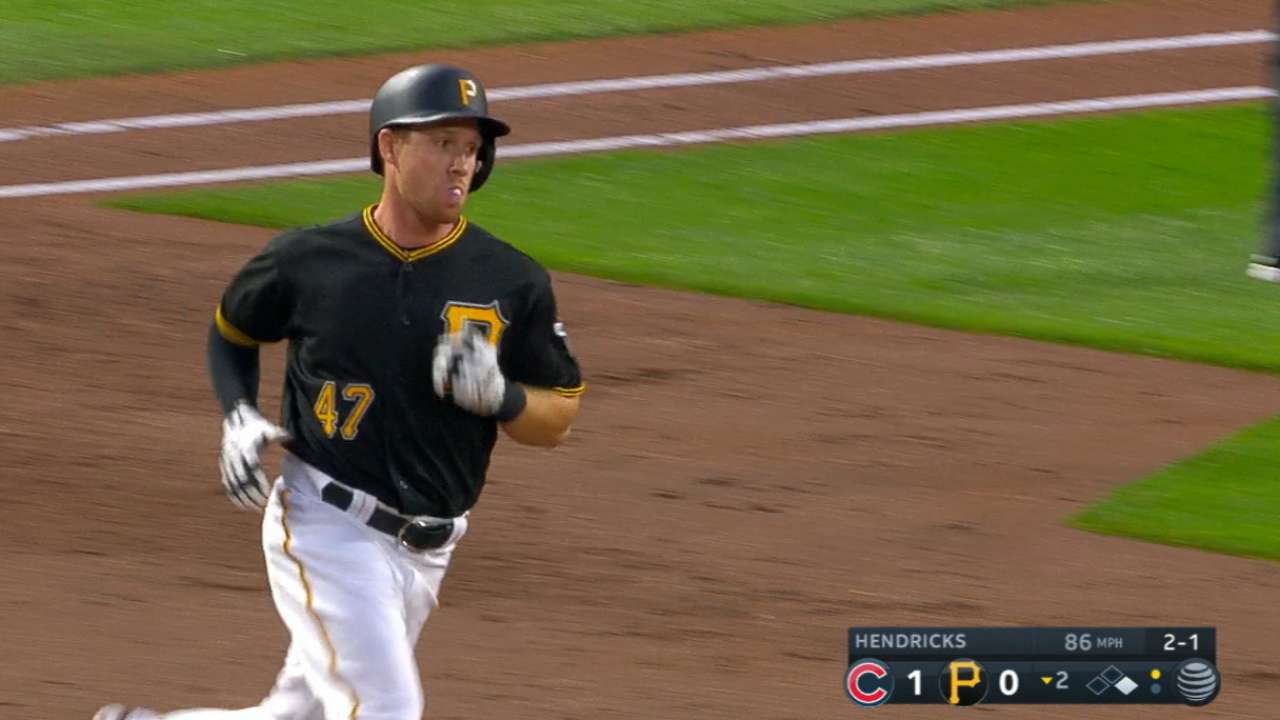 It seems the Pirates have some good young arms on the Major and Minor League levels, but I check the Minor League stats and see very few bats coming our way. Do you think they will focus on this in the Draft, or have I overlooked someone with power in the Minors?
-- Randy H., Tuscola, Ill.
It's not as simple as focusing on hitters in the Draft, because it takes years for even the most advanced prospects to reach the Majors, and they still need to keep a steady stream of pitching running from the Draft to Pittsburgh.
As you said, they've got plenty of young arms in the Majors and interesting pitching prospects throughout their system: Nick Kingham, Clay Holmes, Mitch Keller, Brandon Waddell, Taylor Hearn, Luis Escobar, Shane Baz and so on. Keller and Baz have frontline potential, and there's enough quality depth to dream about a fully homegrown rotation.
Six of their top 10 prospects, according to MLB Pipeline, are hitters -- but they aren't necessarily middle-of-the-order bats. Shortstop Kevin Newman is more of a contact hitter. Shortstop Cole Tucker, 21, and third baseman Ke'Bryan Hayes, 20, could grow into more power, but they're not "power bats." Former first-round pick Will Craig, now a first baseman, has a higher on-base percentage (.386) than slugging percentage (.368) the last two years.
So, no, I don't think there's a 40-homer bat hiding in the system -- maybe not even a consistent 30-homer guy. Jordan Luplow led the system with 23 homers this year. Only three players hit more than 15. Their top prospect is outfielder Austin Meadows, who still projects to be a difference-maker if/when he's healthy, but he's not a pure slugger.
I'll also say this: Josh Bell never hit more than 14 homers in the Minors, then he hit 26 for the Pirates this season. GM Neal Huntington often stresses their desire to develop well-rounded hitters with power, not one-dimensional power hitters.
Keep an eye on second baseman Kevin Kramer, whose Double-A debut was interrupted by a broken hand. He hit his first Arizona Fall League homer on Tuesday and could develop into a solid offensive second baseman in the mold of Neil Walker.
Shortstop Adrian Valerio showed some pop in Class A West Virginia. Third baseman Oneil Cruz, acquired for Tony Watson, has a massive, 6-foot-6 frame that should produce power. Outfielders Conner Uselton and Calvin Mitchell, drafted in June, are said to have raw power, and 17th-round pick Mason Martin swatted 11 homers in the Gulf Coast League.
• Submit a question to the Pirates Inbox
What happened to the baserunning? We were so aggressive in the pre- and early season, and then it dropped off.
-- Alan M., Mount Carmel, Pa.
There's an easy answer: Starling Marte was suspended 80 games, Josh Harrison was injured late and Gregory Polanco was injured often. The Pirates ranked 11th in the National League with 67 steals overall, and only three players stole more than 10 bases: Marte (21), Harrison (12) and Andrew McCutchen (11).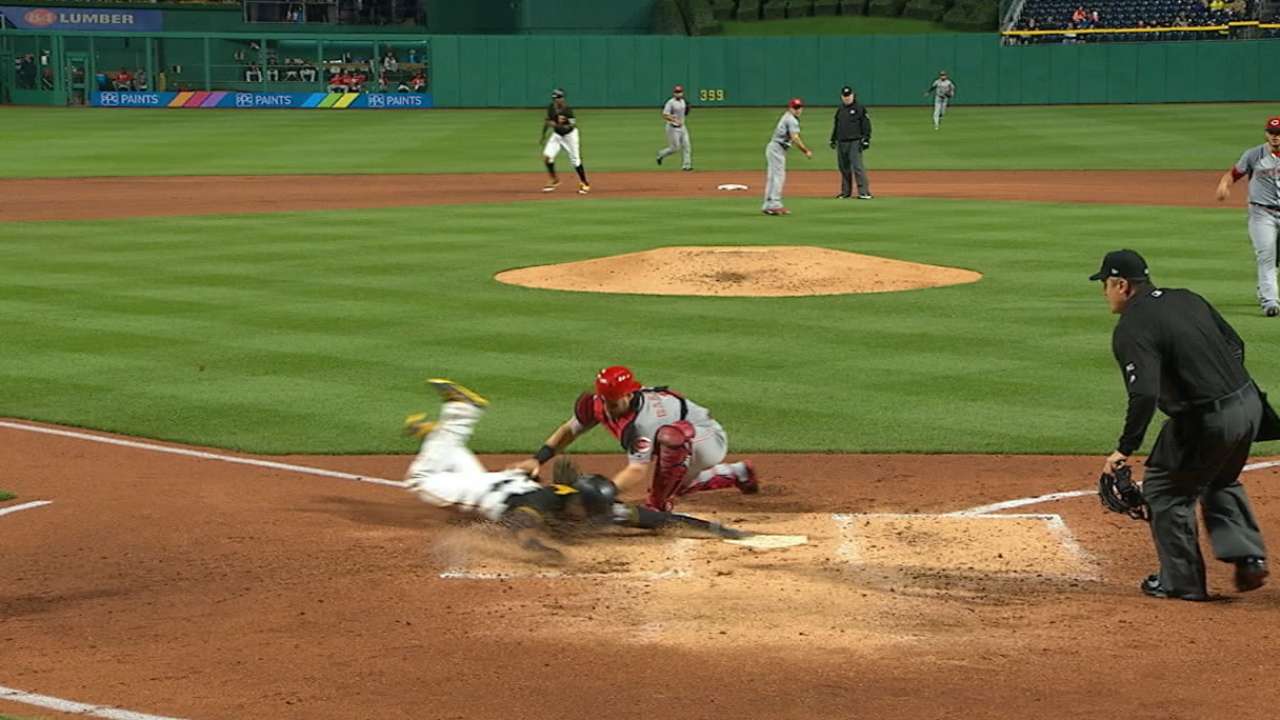 Compare that to last year. Marte stole 47 bases despite missing a month, Harrison stole 19 despite getting on base less often, and Polanco swiped 17 as the team stole 110, sixth-most in the NL.
If we assume McCutchen's peak base-stealing days are behind him -- he has a total of 28 the past three years -- then their running game is largely dependent upon Marte, Harrison and Polanco staying healthy and getting on base.
Will Kingham get a serious shot at making the starting rotation?
-- John P., Scranton, Pa.
He'll be in the competition, sure, but the Pirates believe they can secure a fourth Minor League option so he can go to Triple-A Indianapolis if he doesn't earn a spot. Most likely, Kingham, 25, will get that fourth option and spend a little more time in Triple-A before making his Major League debut later next season.
Why don't the Pirates bring back Jim Benedict now that the Marlins have let him go? The combo of Benedict and Ray Searage did some really nice things with both the starters and bullpen. That seems to have regressed since his departure.
-- Paul C., New Brighton, Pa.
Huntington said the club will "evaluate if there's a potential fit" for Benedict and Marc DelPiano, both former Pirates officials recently let go by the Marlins. Benedict was widely praised for his contributions here, as you mentioned, but the Pirates also like the work of pitching coordinators Scott Mitchell and Justin Meccage.
Adam Berry has covered the Pirates for MLB.com since 2015. Follow him on Twitter and Facebook and read his blog. This story was not subject to the approval of Major League Baseball or its clubs.