#AwardWorthy: Vote for Fan Catch, Best Call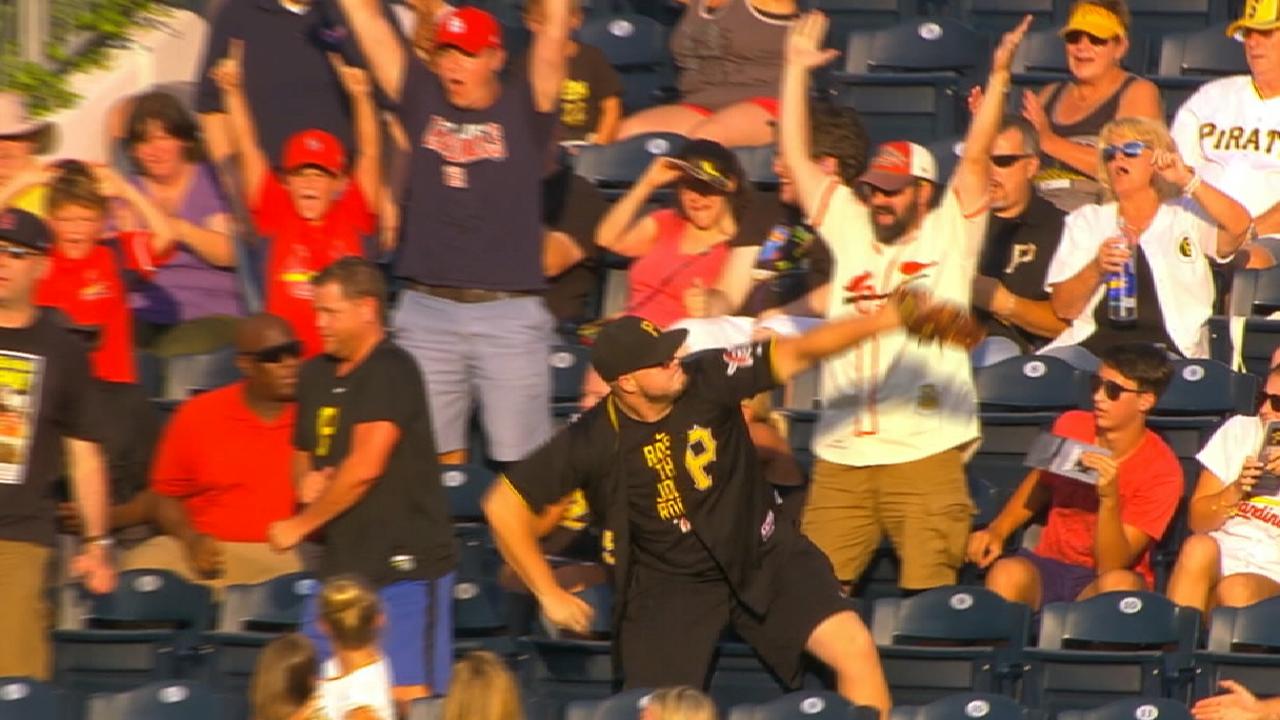 Some teams have a tradition of throwing a visitor's home run balls back onto the field. But one Pirates fan started a tradition of his own.
One Pirates fan leaned forward a row to catch a homer hit by the Cardinals' Jedd Gyorko on July 14 -- and after catching it, he turned around and launched it into the Allegheny River. That bold choice earned him a nomination for Best Fan Catch in this year's Esurance MLB Awards.
• Vote for this season's best stars and moments in the Esurance MLB Awards
Pirates radio announcer Greg Brown has also been nominated for Best Call, TV/Radio, for putting the exclamation point on Pittsburgh's 5-4 victory over San Diego on Aug. 6 thanks to Sean Rodriguez's walk-off homer.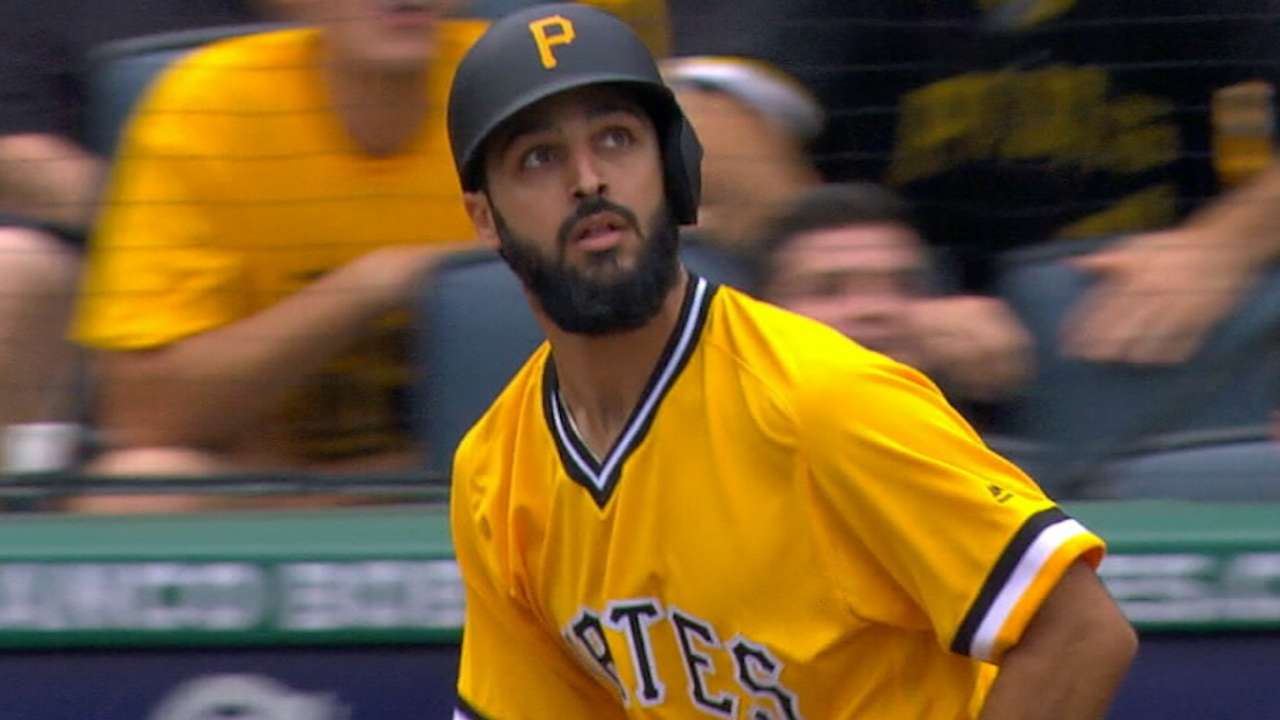 The Esurance MLB Awards annually honor MLB's greatest achievements as part of an industry-wide balloting process that includes five groups, each of which accounts for 20 percent of the overall vote: Media, front-office personnel, retired MLB players, fans at MLB.com and Society for American Baseball Research (SABR) members.
The MLB Awards are an all-inclusive program, encompassing the top players and performances from both the American and National Leagues from Opening Day through the end of the postseason.
Voting led off with seven categories on Sept. 18 at mlb.com/awards, serving as the grand entrance of a program that will unveil nominees for Best Call, TV/Radio; Best Major Leaguer, Postseason; and Best Postseason Moment following the Fall Classic's final out. The ninth inning of voting will begin around BBWAA Awards week, which opens when the Jackie Robinson Rookie of the Year Award winners are unveiled on Monday, Nov. 13. Voting for the final five categories will begin at 7 p.m. ET on the following dates:
• Best Executive: Thursday
• Best Rookie: Monday
• Best Manager: Tuesday
• Best Pitcher: Wednesday, Nov. 15
• Best Major Leaguer: Thursday, Nov. 16
MLB Awards season will culminate on Friday, Nov. 17, when winners are announced live on MLB Network and MLB.com starting at 8 p.m. ET.
On the ride to the game, Jeff Arnold told his girlfriend that if he caught a Cardinals home run ball, he'd throw it into the river. She didn't think much of it, despite their seats being three rows beyond the fence. But, sure enough, Gyorko's ball found him.
"I put all my weight into it, about 285 pounds," Arnold said. "I threw all of that into the river. I had to use this whole area and just launched it. If you're a Pirates fan -- a true Pirates fan and a true Pittsburgher -- you'll throw away home run balls into the river."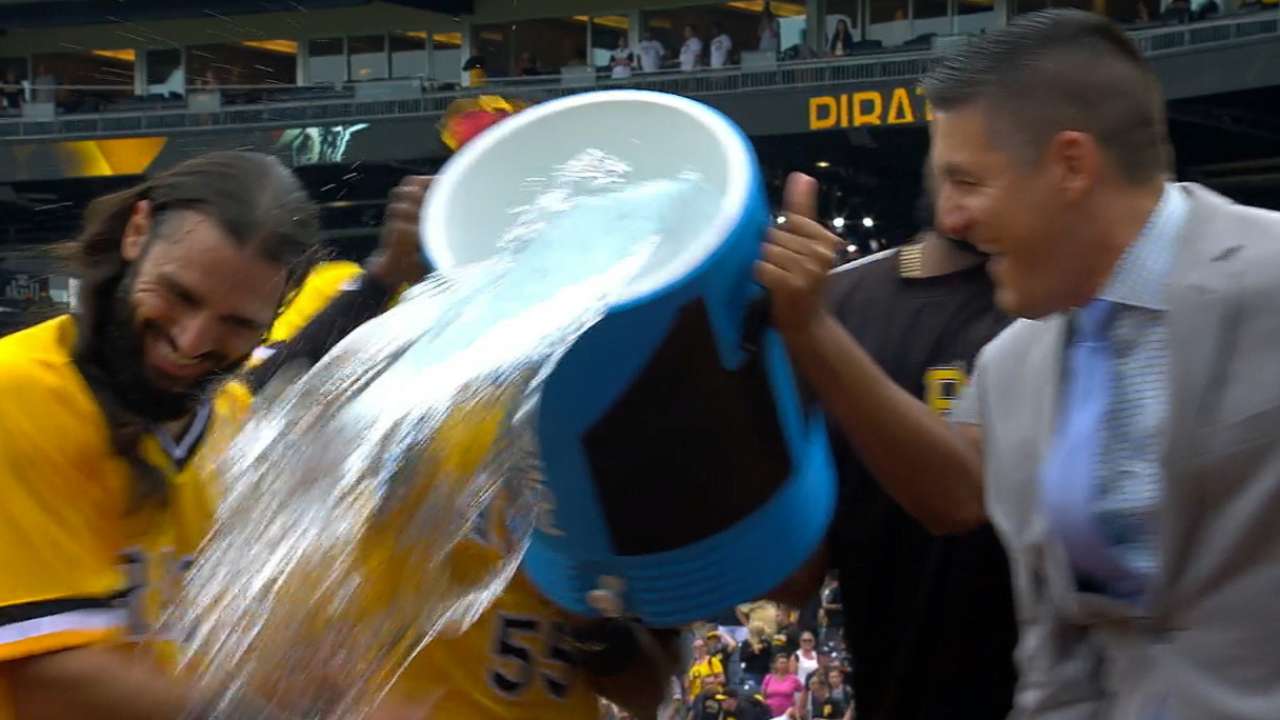 Rodriguez's return to the Bucs had the Pirates' radio broadcast team on the edge of their seats. Acquired from the Braves in a waiver trade on Aug. 5, the utility man came back like he never left, sending a pitch from Padres reliever Buddy Baumann into the left-field seats to break a 4-4 tie and send Pittsburgh home a winner.
Brown was in disbelief as he watched Rodriguez round the bases, emphatically calling out, "Serpico is back!"
Ben Weinrib is a reporter for MLB.com. Follow him on Twitter at @benweinrib. This story was not subject to the approval of Major League Baseball or its clubs.