Frazier's walk-off HR ends Bucs' 7-game skid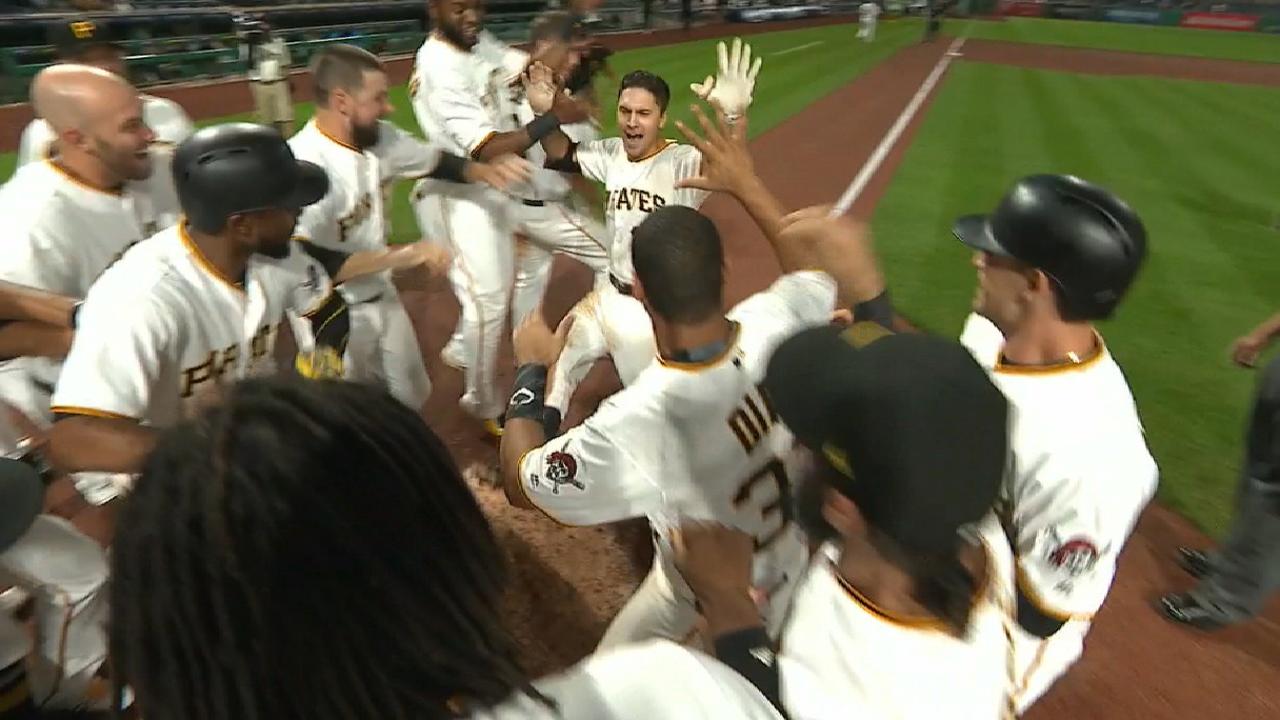 PITTSBURGH -- Brewers closer Corey Knebel picked a bad night to have a bad night.
With the Rockies' and Cubs' losses already on the out-of-town scoreboard, Knebel's eighth-inning error snapped his streak of 21 straight saves, and his leadoff walk in the ninth extended the inning for Adam Frazier's two-out, two-run, walk-off home run in a 6-4 Pirates win over the Brewers at PNC Park on Wednesday night.
"When Knebel made that error in the eighth, that was pretty big for us. That guy's going a little bit, and you could feel the energy on their side let down a little bit [for the] first time all series," Frazier said. "Just happy I could come through there in the ninth."
Frazier's first career walk-off homer denied the Brewers a three-game sweep and much more. Instead of pulling even with Colorado in the race for the second National League Wild Card and gaining a game on NL Central-leading Chicago, the Brewers remained one game back of the Rockies and 3 1/2 games behind the Cubs going into a four-game showdown with Chicago at Miller Park beginning Thursday night.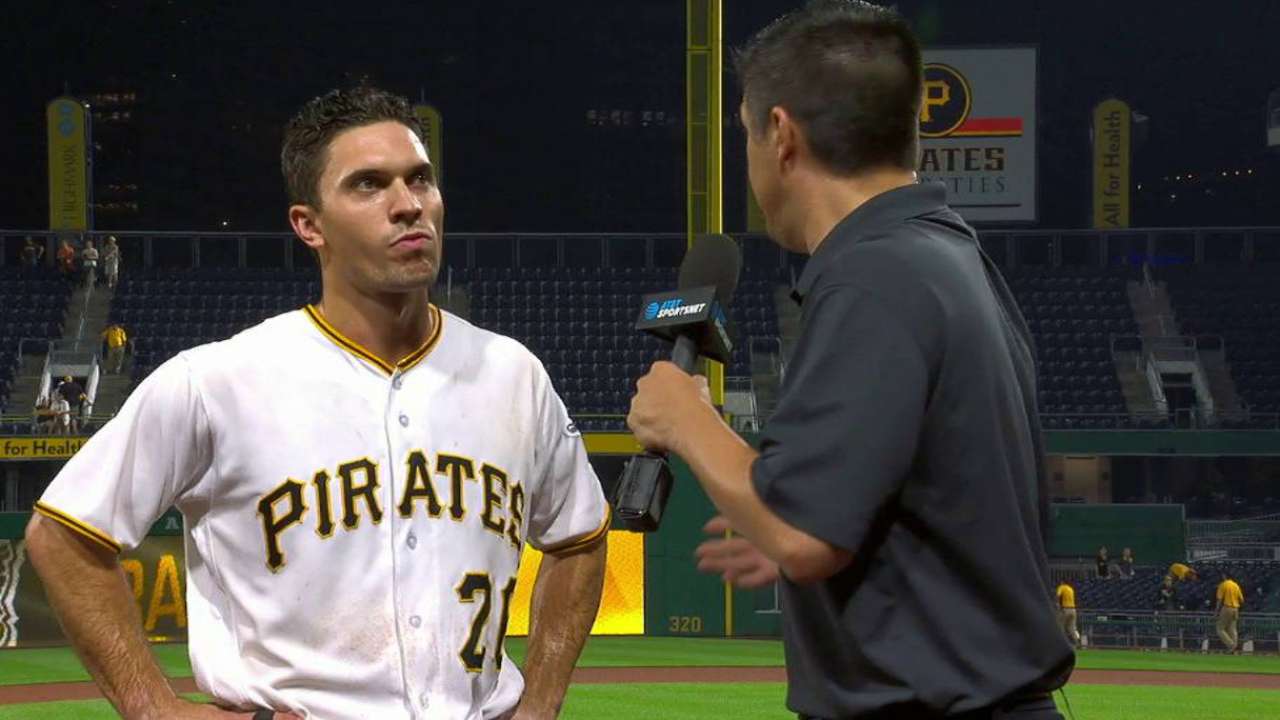 "Last time I checked, we're still in the race, so that's a good feeling," Knebel said. "We're still right there. Just shake this one off and get ready for tomorrow, especially being the Cubs."
Jesus Aguilar and Domingo Santana hit solo home runs off Pirates starter Steven Brault for one Brewers lead, and they took another in a seventh inning that saw Milwaukee manager Craig Counsell employ a pinch-runner and four consecutive pinch-hitters. The last of those batters off the bench was Stephen Vogt, who worked a bases-loaded walk from Pirates reliever A.J. Schugel for a 4-3 Milwaukee lead.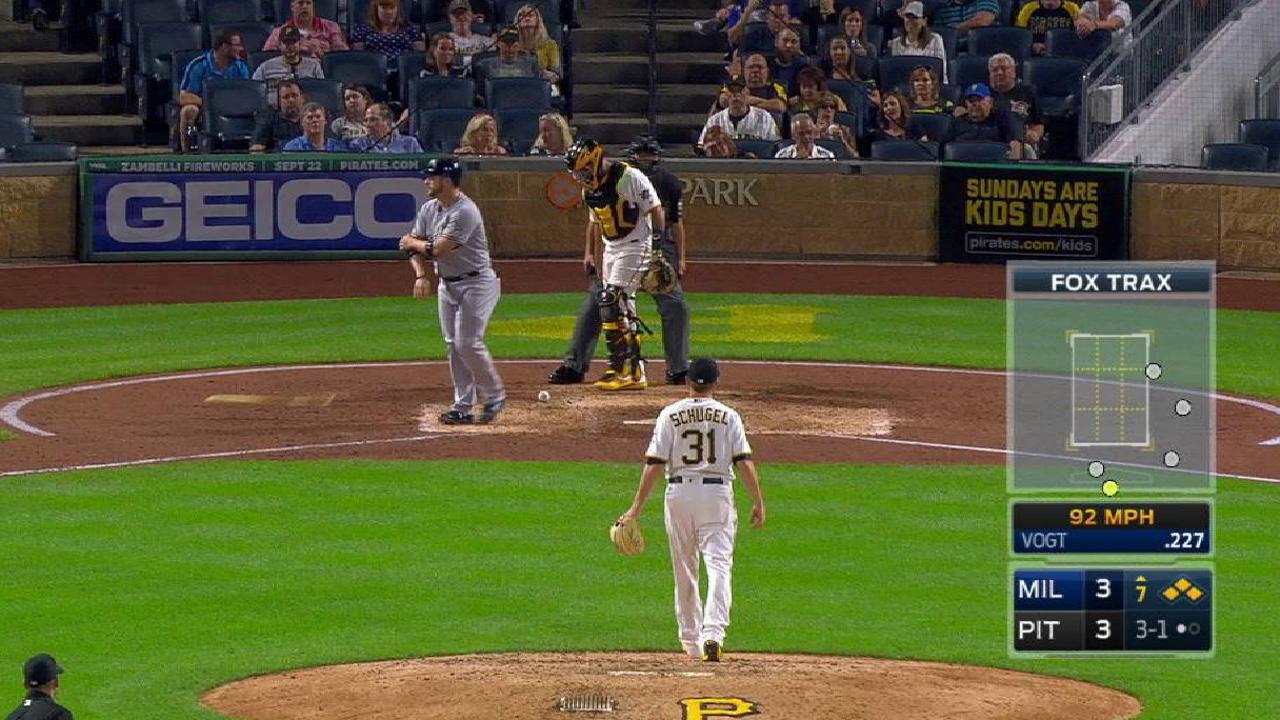 Knebel, called upon for a four-out save in his third straight day of work, lost that lead on an errant throw to first base in the eighth inning, then lost the game in the ninth after walking Elias Diaz to open the frame. Frazier, who had a two-run triple in the third inning that hit high off the right-field wall, cleared it for only the second home run Knebel has allowed in his last 30 appearances.
Never mind a homer; Knebel had not surrendered a run in 24 of his previous 25 games.
"He's good. He's really good," Frazier said. "Just try to get to the heater. … He's still a really good pitcher. That's the first time I was able to get inside a ball and get the barrel to it. That's all I got."
Brewers catcher Jett Bandy originally called a curveball, but Knebel shook him off and waited for the sign for an inside fastball.
"[Bandy] said I got it in there, and Frazier just got the head out," Knebel said. "It's what I wanted to throw, and he got it."
Aaron Wilkerson's first Major League start was cut short in the Pirates' three-run third inning, so Counsell made it another bullpen day for the Brewers, calling upon seven relievers to cover the Brewers' final 6 1/3 innings. Even with three-hole hitter Ryan Braun stranding seven men on base as the Brewers went 1-for-9 with runners in scoring position, they came within four outs of pulling it off.
• Counsell goes all-in with 'pen, bench vs. Bucs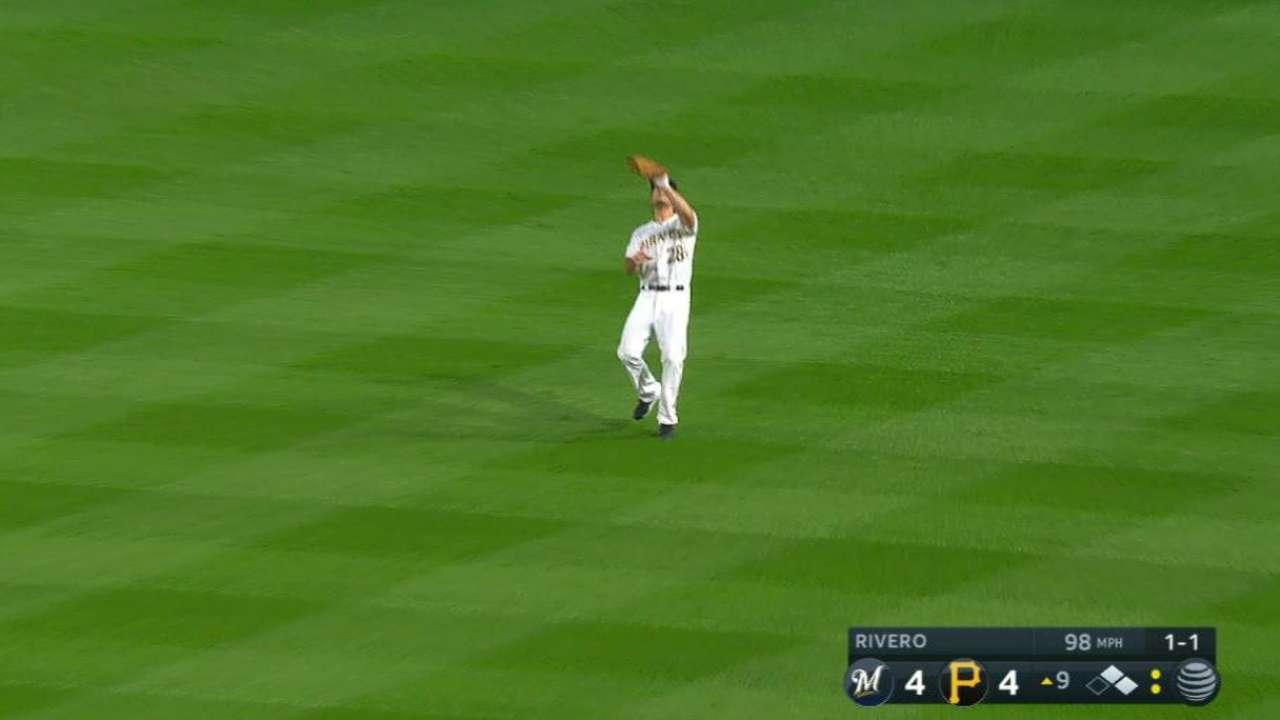 "We had runners on base in multiple innings, and to add on that next run obviously would have been a big deal," Counsell said. "We've got to come back [Thursday against the Cubs] and go get 'em. The atmosphere we're going into is good for us, because after a game like this, you're going to be very aware of what's going on. I'm excited about it and these guys are excited about it."
MOMENTS THAT MATTERED
Streaks snapped: Brewers pitching had not issued a walk in 30 consecutive innings or allowed a run in 25 innings entering the third, when the Pirates brought both streaks to an end. Jordy Mercer followed Diaz's leadoff double with a walk, and two batters later, Frazier ripped a two-run triple for a 2-2 tie. Starling Marte's single drove in Frazier and made it a 3-2 Pirates lead, marking the first time in four games that Milwaukee trailed.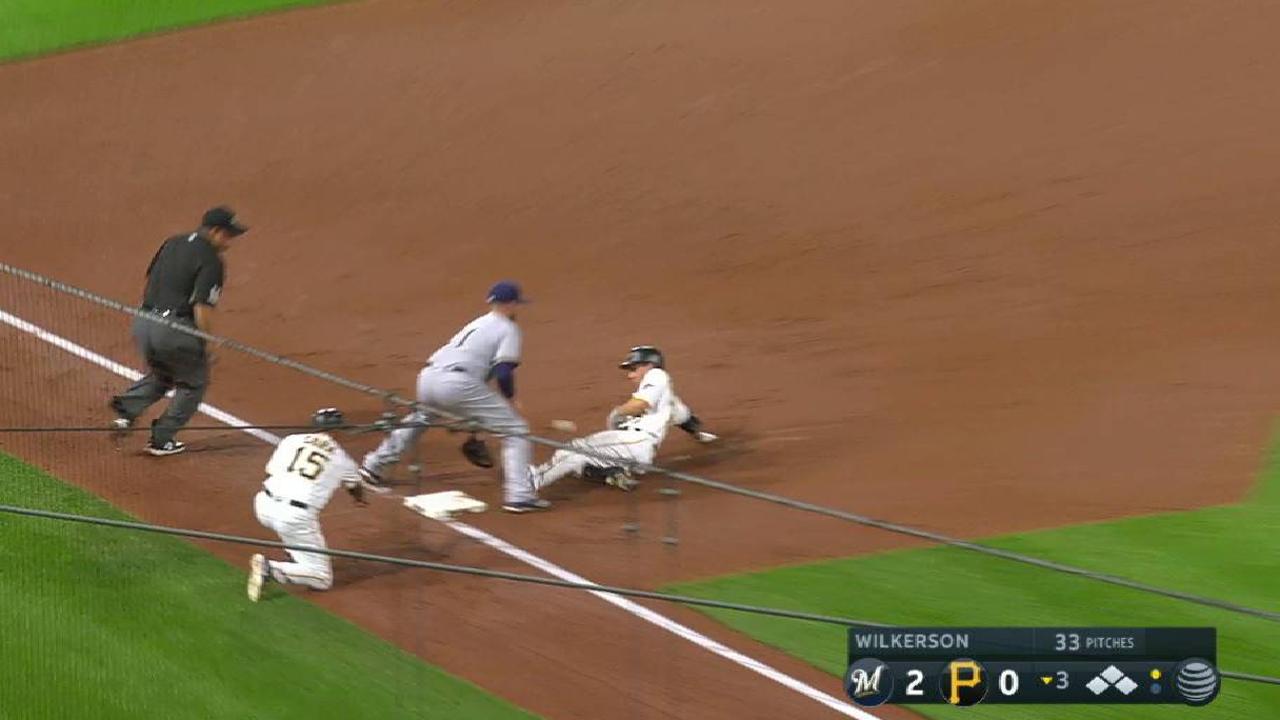 Thames comes through: Before Vogt's clutch walk provided a lead, Eric Thames came off the bench in the seventh to deliver one of his biggest hits of the year -- an opposite-field double to tie the game at 3 off Schugel. Thames was 1-for-11 with six strikeouts as a pinch-hitter and 14-for-93 (.151) with runners in scoring position before that big knock.
"Usually, when you're hitting in the moment and you swing, just after contact you don't hear anything because you're so zoned in," Thames said. "But I remember hitting the ball and seeing it go on that path to the left-field corner and hearing the team go nuts. [Orlando] Arcia and those guys were screaming. There was a little energy flowing right there. It was a big moment for us."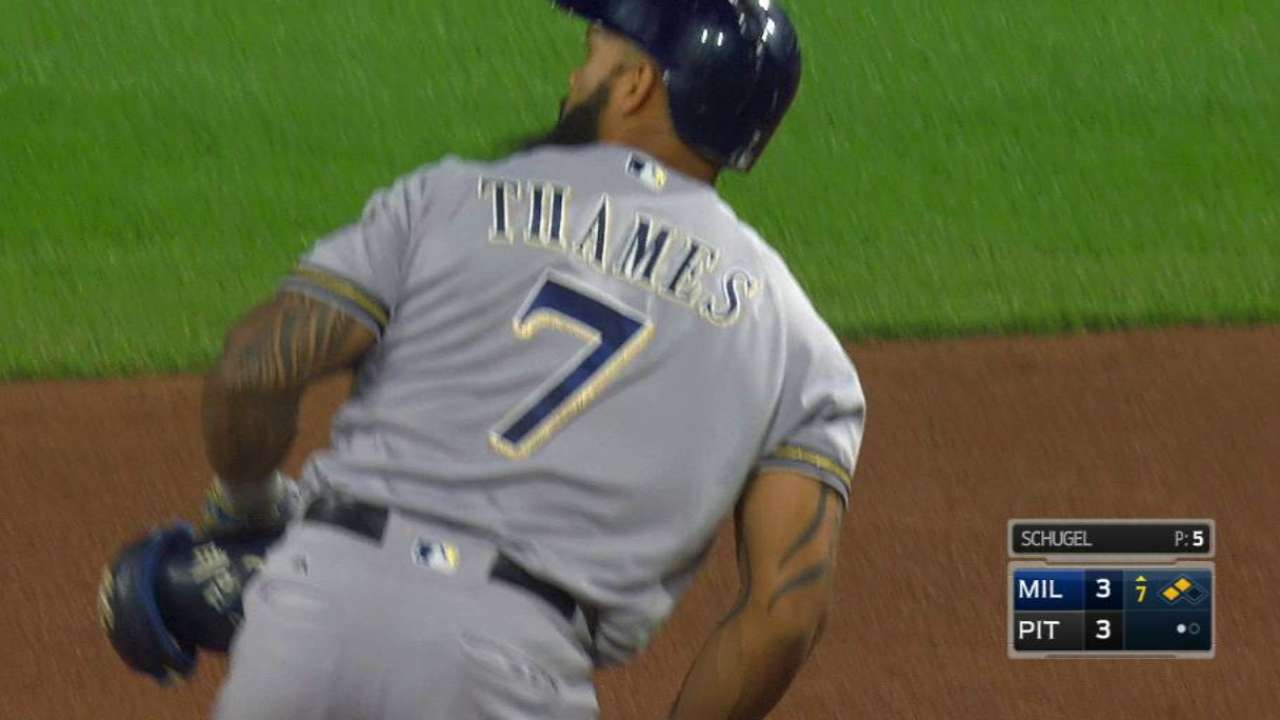 Wide left: If it was not already obvious that Counsell was in "go for it" mode, he reinforced the point when he called upon Knebel for the third straight day, this time asking for a four-out save with the tying runner at second base in the eighth. Knebel's second pitch induced a David Freese dribbler to the third-base side of the mound, where the closer barehanded it and appeared to have time for an inning-ending out at first base. His throw was wide of the bag, however, and Andrew McCutchen scored the tying run from second base.
"I had to be quick, and the ball just slipped," Knebel said. "[Third baseman Travis] Shaw was like, 'I could have told you to eat it, but you got there in time.' There wasn't time to set my feet and throw."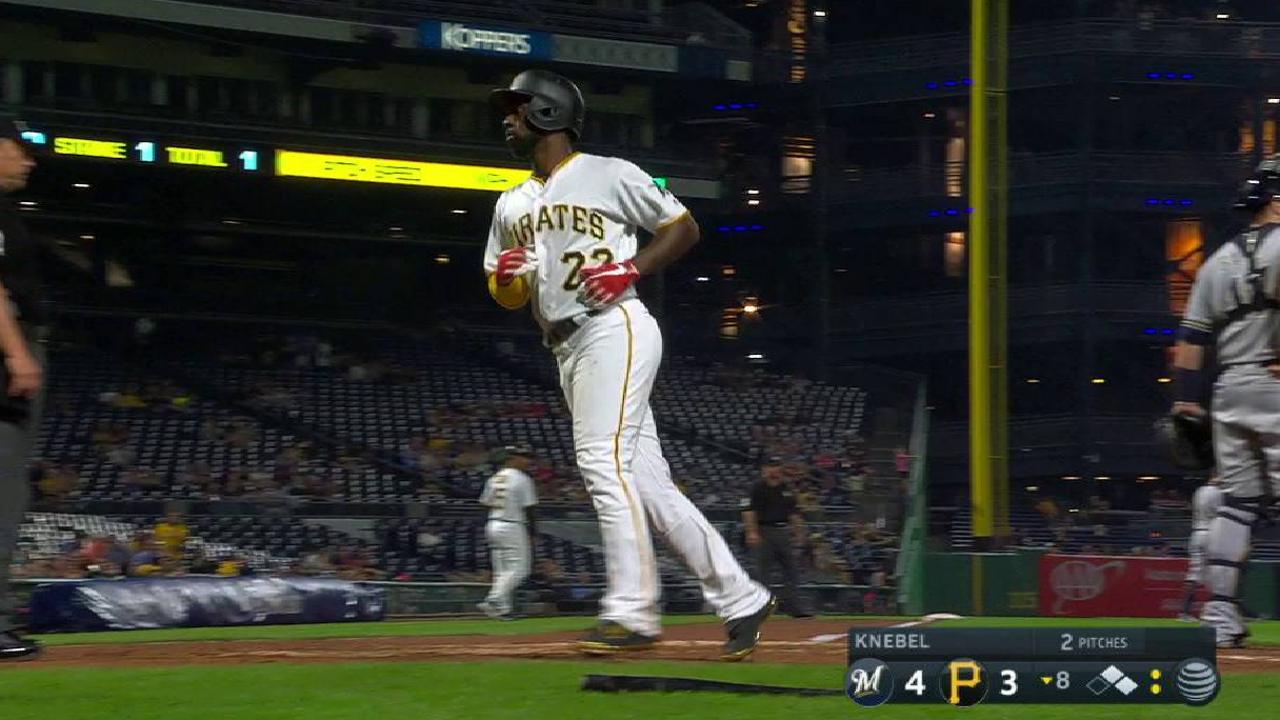 QUOTABLE
"What's one game? There's 162 games, and this is just another one of those games. We're still right there, one behind the Wild Card. It would have been [tied], but it's still one. Ten games left and we're still right there." -- Knebel, on the sting of a missed opportunity to gain on the Rockies and Cubs
"It's like you popped a balloon. It's awesome. You realize it's been a tough little stretch, but we're still a good team. … It's just that things haven't been going our way. Hopefully that will change and we can finish the season on a positive, eight- [or] nine-game swing here at the end."-- Brault, on the Pirates ending their seven-game losing streak
• Brault, Glasnow trending in different directions
WHAT'S NEXT
Brewers: Zach Davies will be on the mound and Miller Park will be packed on Thursday for the start of a huge four-game series between the Cubs and Brewers at 7:10 p.m. CT. Davies and the Brewers will try to pick up where they left off at Wrigley Field on Sept. 10, when he worked seven quality innings to complete a three-game Brewers sweep.
Pirates: After an off-day at home on Thursday, the Pirates will return to PNC Park on Friday to begin a three-game series against the playoff-contending Cardinals. Right-hander Ivan Nova, making his 30th start of the season, will toe the rubber in the opener at 7:05 p.m. ET. Nova is coming off a strong bounceback start on Saturday in Cincinnati.
Watch every out-of-market regular-season game live on MLB.TV.
Adam McCalvy has covered the Brewers for MLB.com since 2001. Follow him on Twitter @AdamMcCalvy and like him on Facebook.

Adam Berry has covered the Pirates for MLB.com since 2015. Follow him on Twitter and Facebook, read his blog and listen to his podcast.

This story was not subject to the approval of Major League Baseball or its clubs.