Consistency eluding Pirates in Central chase
Bucs seemingly taking step forward, two steps back, but have upcoming opportunities vs. rivals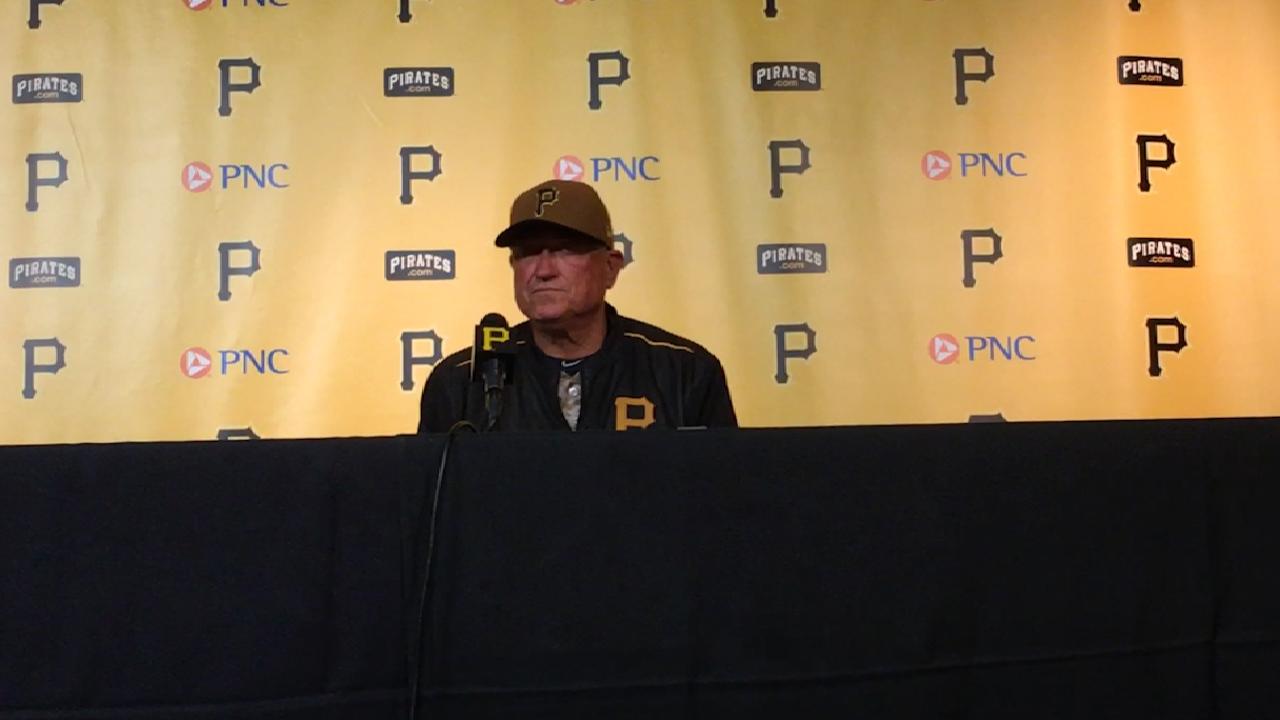 PITTSBURGH -- Twice over the past month, the Pirates scratched and clawed their way back to .500, pulling themselves into the National League Central race, only to lose their grip.
It happened after July 21, when they held a winning record for the first time since early April before losing eight of their next 10 games. And it may be happening now. The Pirates have lost five games in a row, including Thursday's 11-7 defeat against the Cardinals at PNC Park, since climbing back to .500 a week ago in Toronto.
Only three games behind the division-leading Cubs last Friday, the fourth-place Bucs fell 5 1/2 back with Thursday's loss.
"Not going to sit here and say disappointed. Would we like to win? Yeah," said second baseman Josh Harrison, who went 3-for-5 with a two-run homer in the first inning. "Anytime you lose like that, it's tough."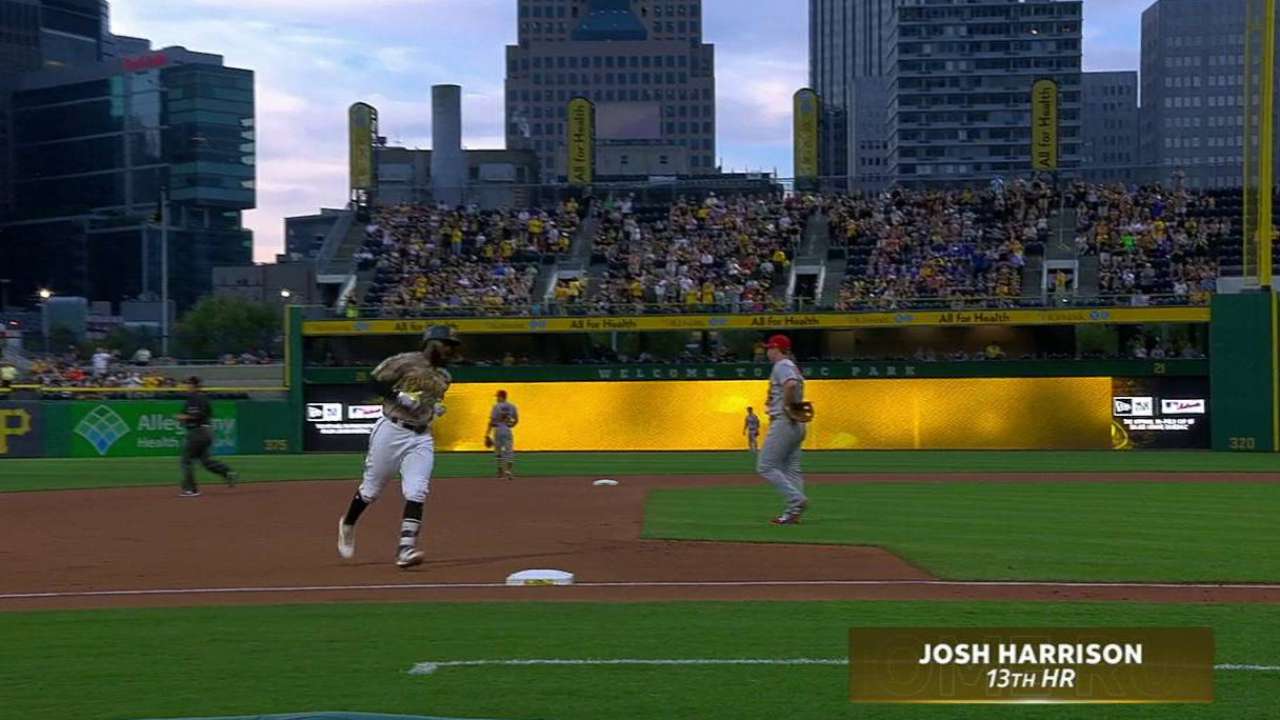 The Pirates have lost the first three games of a 38-game stretch in which they'll face NL Central competition 34 times. They will play seven more games against the Cubs and six more against both the Cardinals and Brewers this season, so they have plenty of chances against the teams they're chasing.
"You look at us in the ninth inning, we kept fighting. We kept plugging," Harrison said of the Pirates' two-run rally. "We're going to keep playing until the game's over. Nothing to hang our heads about. Just got to keep plugging."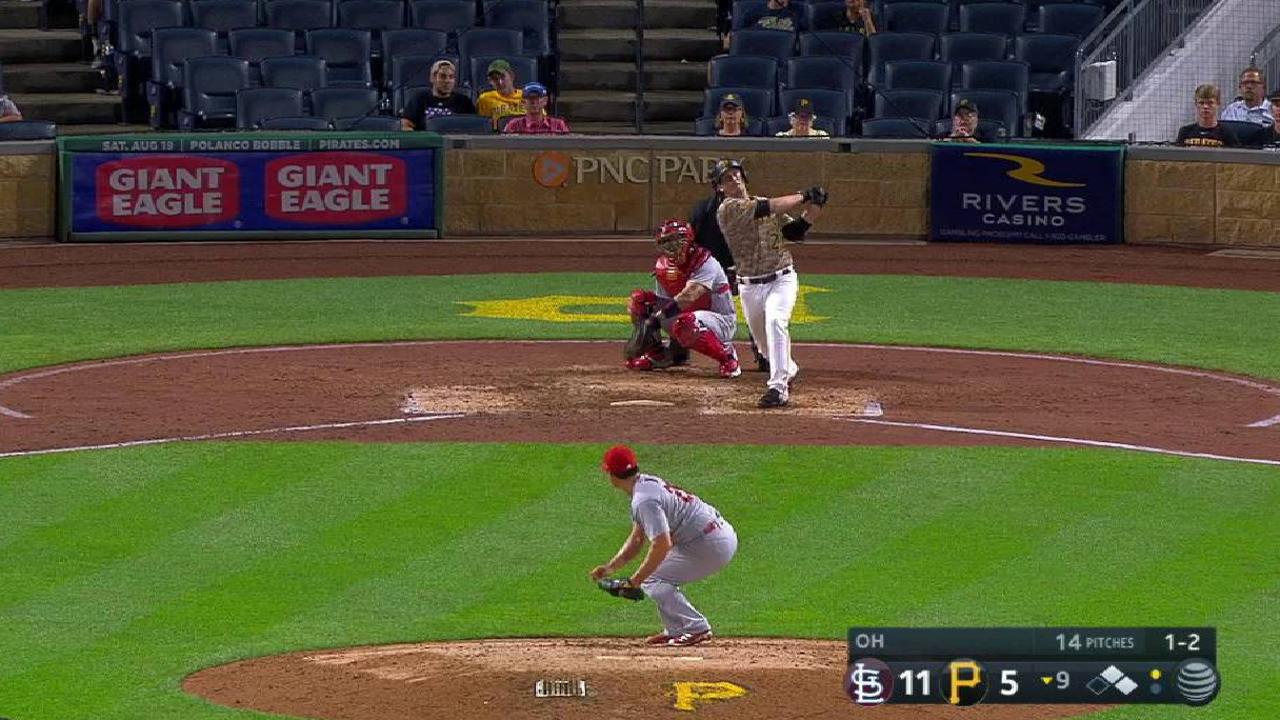 But for the second day in a row, Pittsburgh suffered a frustrating loss after building an early four-run lead.
On Wednesday in Milwaukee, the Brewers blew past the Pirates with a series of home runs. The Bucs were ahead, 5-1, after three innings Thursday night, but the Cards chipped away with one run in the fourth and two more in the fifth against Jameson Taillon.
After striking out six in his first four innings, Taillon wouldn't blame the elements for his rocky fifth. But the intensifying rain clearly affected his curveball grip and command, and walks to Matt Carpenter and Tommy Pham set the stage for St. Louis as both came around to score.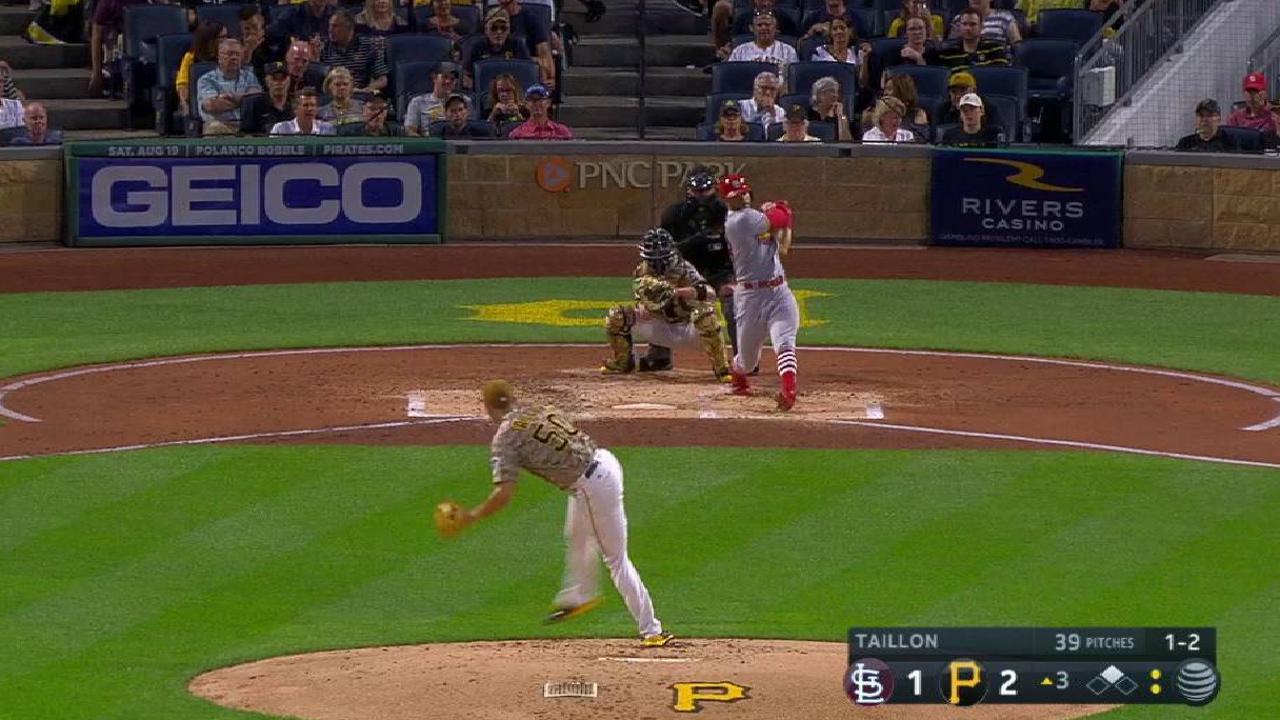 "It's extra frustrating because I felt good. It's not like I felt like I was really grinding or anything," Taillon said. "I felt like it was probably some of the best stuff I've had all year. … Just kind of blinked, and it was four runs."
Taillon exited after five innings and a 72-minute rain delay with a one-run lead, but that evaporated in the seventh. Joaquin Benoit gave up three runs on three hits and a hit-by-pitch, with Dexter Fowler's two-run triple to right serving as the big blow.
Benoit has given up at least one run in four of his six outings for the Pirates. With Juan Nicasio and Felipe Rivero reserved for the eighth and ninth innings, manager Clint Hurdle had few other options. A.J. Schugel pitched the sixth. George Kontos was unavailable. So Hurdle turned to the veteran Benoit, who gave up the lead.
"When you're the manager and you make moves that give up runs, it's always going to fall on my shoulders," Hurdle said. "But no, I don't second-guess the move whatsoever. … The volume of work this year is pretty solid. It's been a short window of opportunity here where the results haven't been as good. I'm not going to put him under a microscope right now."
Adam Berry has covered the Pirates for MLB.com since 2015. Follow him on Twitter and Facebook and read his blog. This story was not subject to the approval of Major League Baseball or its clubs.