'Chet' a Kuhl nickname for Players Weekend
Pirates right-hander to honor alter ego on special jerseys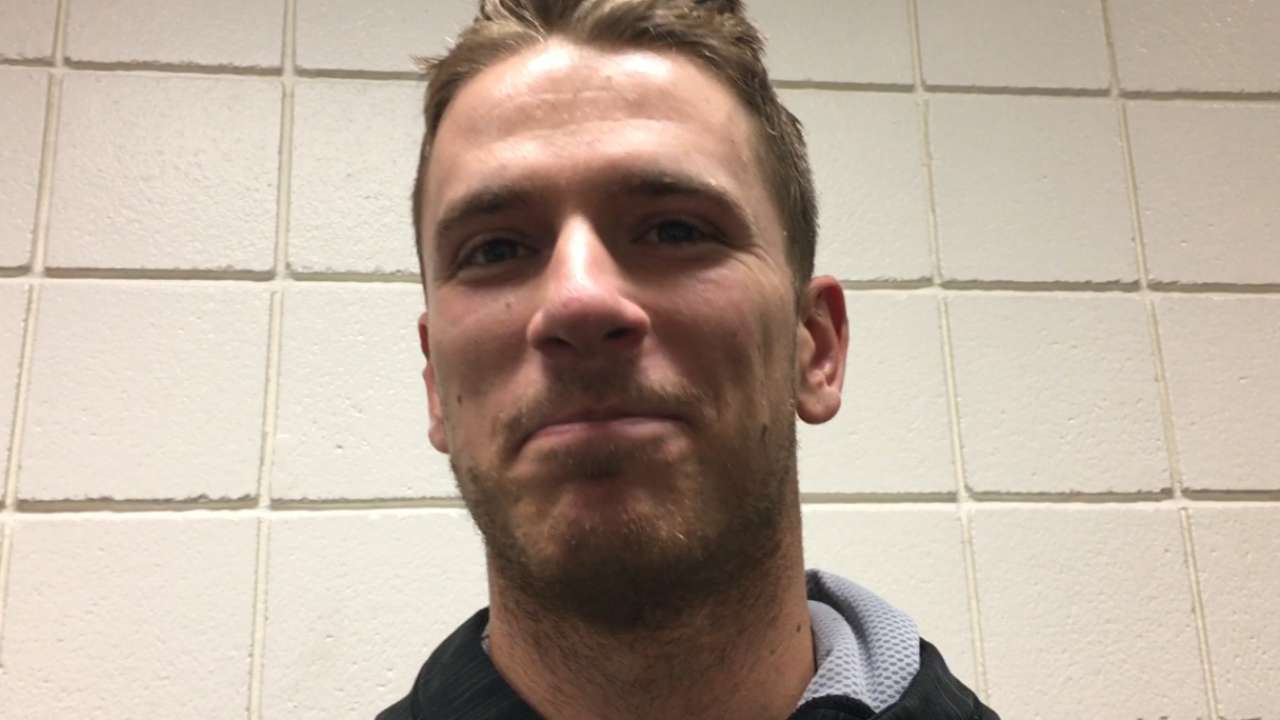 The Chad Kuhl everybody knows is a polite, friendly 24-year-old who was born and raised in Delaware. That's not who he is on the mound, according to teammate Trevor Williams.
The intense competitor who was memorably fired up after a play at the plate in his Major League debut? The starting pitcher reaching back to fire 99 mph fastballs this season? That guy goes by another name: Chet.
Williams bestowed that moniker upon Kuhl, but it became more than just an alter ego during MLB's Little League Classic on Sunday. And on Friday, Kuhl once again will wear "Chet" on the back of his No. 39 Pirates jersey as part of Players Weekend.
• Players Weekend: Nicknames of the game
"Chad is a friendly teammate," Kuhl said. "Chet's the guy out there that throws 100 mph."
MLB and the MLB Players Association are introducing the inaugural Players Weekend from Friday to Sunday, when all players will wear colorful, non-traditional uniforms featuring alternate designs. Players also had the option to have a nickname on the back of their jerseys instead of their last name.
The Pirates will use colorful cleats, gloves, wristbands, compressions sleeves, catcher's gear and bats. They'll also wear specially designed caps as well as T-shirts highlighting a charity or cause of their choice during pregame workouts and postgame interviews.
Each player will wear a special patch on his sleeve showing the progression of a child growing into a Major League player. Their game-worn Players Weekend jerseys will be auctioned, with 100 percent of the proceeds going to the MLB-MLBPA Youth Development Foundation.
• Players Weekend gear available at MLBShop.com
The Pirates and Cardinals were the first teams to show off their unique uniforms, doing so Sunday during the Little League World Series in Williamsport, Pa. The Bucs and Cards squared off at Bowman Field, home of the Class A Crosscutters.
The Pirates chose a wide variety of nicknames. Some turned to their well-known aliases: Andrew McCutchen (Cutch), Josh Harrison (J-Hay), Gerrit Cole (Cole Train), Ivan Nova (Super Nova), Jameson Taillon (J-Mo), Gregory Polanco (El Coffee) and so on. There are a few shortened names: Josh Bell becomes JB, Adam Frazier becomes Fraz, Francisco Cervelli becomes Cisco, Chris Stewart becomes Stew and Daniel Hudson becomes Huddy.
Williams -- whose pitching alter ego apparently goes by "Travis," Kuhl said, while his friendlier side is "Tommy" -- will wear "EV" as a tribute to Pearl Jam frontman Eddie Vedder.
There were a few other surprising choices. Closer Felipe Rivero will be "Nightmare," though some might argue he already is for opposing hitters. Jordy Mercer chose "The Rook," a nickname he picked up at Oklahoma State.
David Freese decided on "Davehuman," an inside joke among friends. One of Freese's good friends goes by Bob and has a dog named Dave. Freese has a dog named Bob. Davehuman, Bobdog.
But there is only one alter ego represented on the Pirates' roster: Chet. Kuhl likes it because it also channels Chet "Rocket" Steadman, the character played by Gary Busey in the 1993 film "Rookie of the Year."
Considering his last name sounds like "cool," he's no stranger to nickname. He's been called Kuhl Whip -- his Twitter handle -- and Kuhl Aid and plenty of other things. But when Kuhl kicked around the idea of printing one of those on the back of his Players Weekend jersey, his teammates responded unanimously.
"Chet's the name around here," he said, smiling.
Adam Berry has covered the Pirates for MLB.com since 2015. Follow him on Twitter and Facebook and read his blog. This story was not subject to the approval of Major League Baseball or its clubs.